I've stayed at several cabin-like accommodation, notably the Pod Hotel in New York, and twice now at the YOTEL chain in London's Heathrow Airport. I wanted to share my experience and a few pictures from my stay to give you an idea of how they work, what the experience is like and what my overall thoughts were just in case you are considering something similar.
Other Yotel locations include:
Europe (Airports): Amsterdam Schiphol Airport, Paris Charles de Gaulle Airport, London Gatwick Airport, London Heathrow Airport
Asia: Singapore Orchard Road
What is YOTEL?
The premise of the YOTEL cabin hotel is to provide airport travellers (solo, business, couples) with their own private space and basic amenities in between flights. A few situations where this make sense are if you have:
A long layover (and don't feel like going out to the city)
A really late arrival (i.e. arriving close to midnight and don't feel safe to go out that late)
An early departure (i.e. leaving at 5AM so you'd have to be back in the airport by 3AM anyway)
Or in a situation where it wouldn't make sense to book a hotel room with the regular 2pm check-in time, and 11am checkout time (or something similar)
If you have some combination of above situations, your first thought may be to book an airport hotel which is typically located right outside of the airport and provides a convenient shuttle to take you to/fro the airport terminal. Easy, and convenient enough.
Whilst that's usually a very good idea, these hotels know most people are willing to pay a lot of money so their rates are typically a lot more than what I'm willing to pay. Plus their checkin/checkout times don't really make sense if your travel times vary significantly. This situation is when it makes sense to look at a lounge (though most lounges are only open until midnight at the latest so this option would be most feasible for situation #1 and not the rest), or other accommodation options.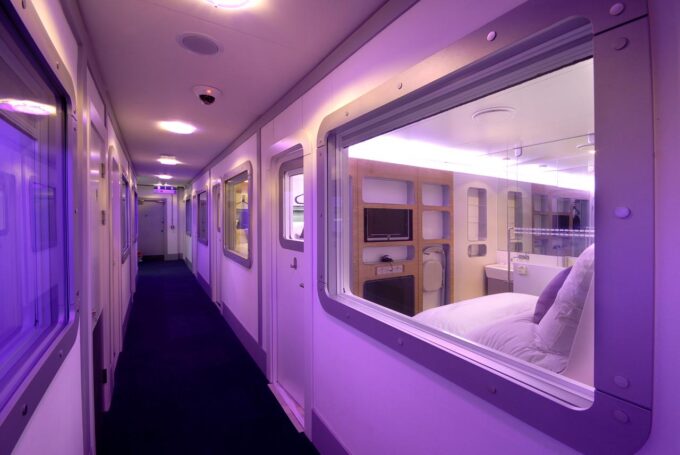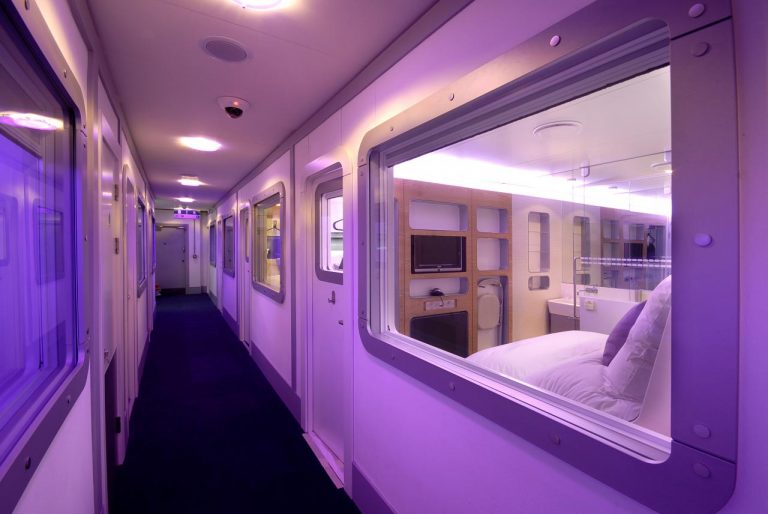 How is YOTEL different?
What differentiates YOTEL from an airport hotel chain (i.e. Holiday Inn, Best Western) is that YOTEL airport hotel is physically located INSIDE the airport terminal (some are airside, and others landside) which means you do not have to leave the airport – a huge convenience factor. This also means that you don't have to worry about exiting and checking in again which can be something to consider in certain airports where checking in could be super busy or inconvenient.
Two other differentiating factors which I love about YOTEL are:
It is open 24 hours (with a concierge) so you can check in at any time of the day (even if your flight arrives at midnight!)
The rooms can be booked per hour (minimum stay has to be 4 hours)
As you can see there's so much flexibility and options so you're not overpaying for anything – you pay for what you want.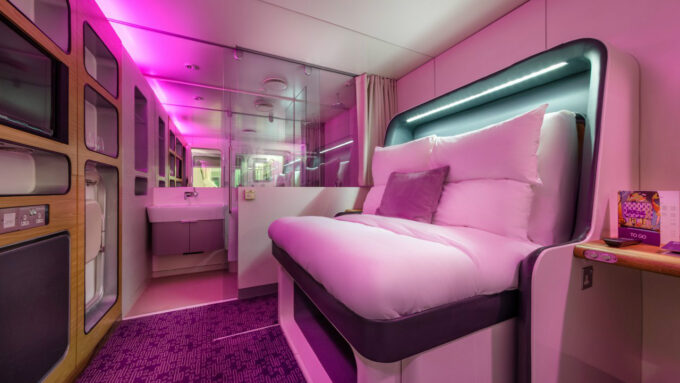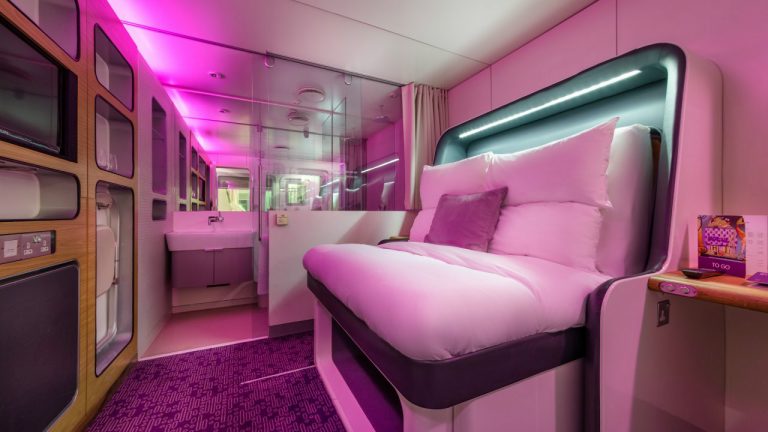 How Could Travellers Like Me Benefit?
While what YOTEL offers may sound like something that only business travellers would benefit from, I have been so grateful for its presence and wish this could be more mainstream and more readily available worldwide. The YOTEL cabins are designed to be luxurious and provide you with a little more than what its name might imply.
I stayed at the Standard Cabin which sleeps 1 person (They have a premium cabin for 2 or 4 as well). The cabins come with a ridiculously comfortable bed, mood lighting, privacy blinds, private rainhead showers, a TV (with plenty of channels to keep you entertained), and a foldable desk so travellers can do a lot in between their flights. Wifi is also free so you can work or check your flight status before you go to bed. The wifi is surprisingly fast and reliable – I was able to stream YouTube for a little bit!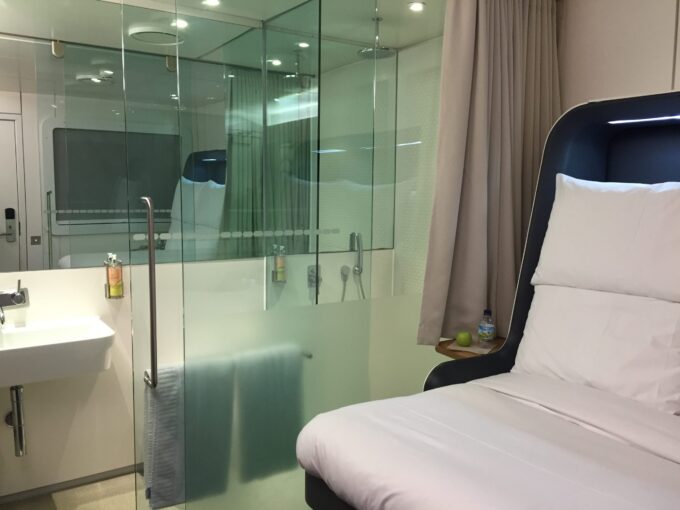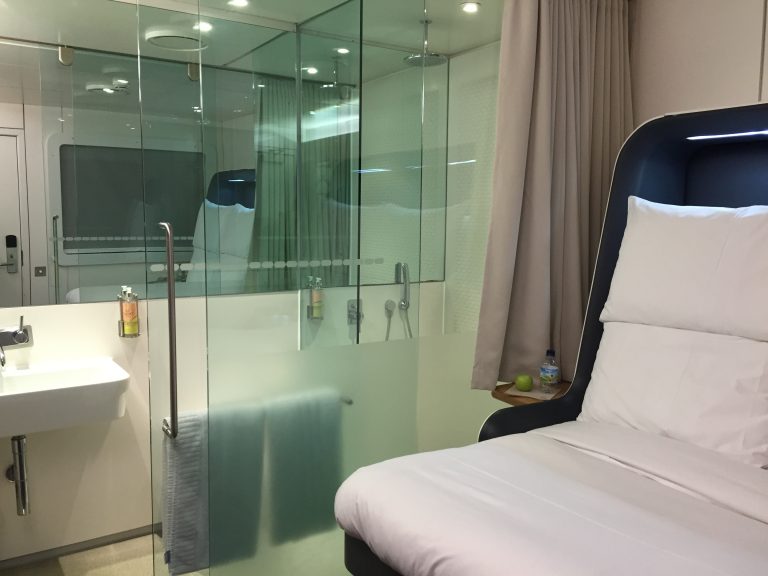 As you know, I travel a lot and oftentimes, quite far. Since I travel solo all the time, I don't really like taking sleeping pills (i.e. to help me sleep during flights), and I always feel so much better when I am freshened up before a flight. Having a YOTEL allows me to safely rest, stretch my legs, feel rested and freshen up before my next flight which is something I consider a luxury when you're on the go all the time.
Since YOTEL's cabins can be booked on a per-hour basis, I find their rates to be a little less (or at par) to what I would pay in a regular hotel room. I've paid anywhere between £37.5-66 for around 8-10 hours stay which is a reasonable price to pay.
I love that you can also book at the last minute – this is another benefit just in case your travel plans haven't been fully decided yet!
What Else to Know
You can book your rooms ahead of time or last minute (about 3 hours in advance)
Rooms must be booked for for a minimum of 4 hours
There are different room options available to cater to solo travellers, couple, and a small family (4 people max)
They have free wifi
They also provide free coffee / tea (ask the concierge)
They also sell a few basics like toothbrush, earplugs, and so on
Although they only mention the New York cabins to be soundproofed, I've found my Heathrow YOTEL cabins to be extremely quiet and peaceful.
My YOTEL Experience
I've really enjoyed my stay in YOTEL cabin hotels – they are a lot more comfortable than the name may imply and I would gladly pay their reasonable rates to get some privacy and rest time. I've only had very pleasant experience when interacting with their concierge and would gladly return during my next trips! The photos online are pretty accurate representations of what the cabins look like so just in case you're looking for nicer pictures, they definitely have it!
If you want to learn more about YOTEL and their offerings, check out their website here!
Pin this for Later!