Staying at Hermes Cave Hotel in Uchisar rather than Goreme, was a very, very good idea for my 2-day stay in Cappadocia. If you're not familiar with cave hotels in Cappadocia (or Kapadokya), a quick check of the #cavehotel hashtag on Instagram will make you want to book your getaway as soon as possible.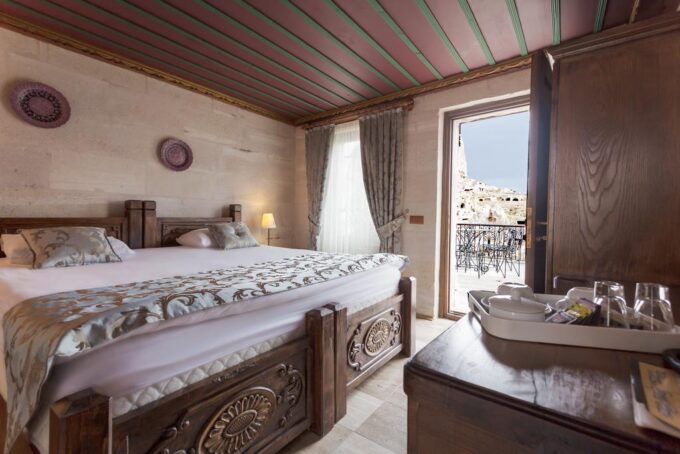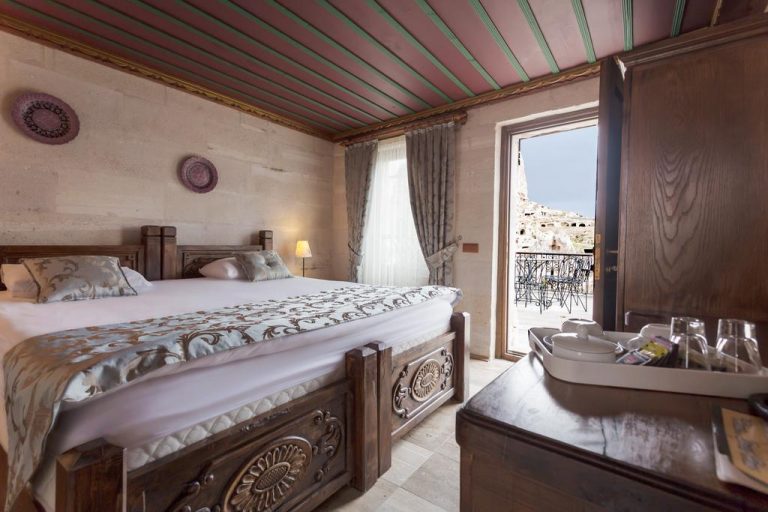 Hermes Cave Hotel may not be as famous as Sultan Cave Suites (the original trendsetter of those breakfast + puppy + hot air balloon shots!), Museum Cave Hotel (the hotel with the sky blue pool and hot air balloons in the background) or Rox Cappadocia (with their tulip-shaped rattan chair), but that's exactly why you should go for it instead! Not only will it be cheaper but there is less crowd to battle to get those Insta-perfect shots!
The photo I used for the above was taken from the terrace of Hermes at 6:30AM in the morning! Note that I didn't have to leave the comfort of my hotel and can run back to my room to warm up if it got too cold!
What's a cave hotel?
Millions of visitors to Cappadocia has led the transformation of ancient local cave dwellings to an exotic, luxurious stays complete with pools, jacuzzi, glass floors and heated floors in most rooms. It's a must-do experience if you're travelling to Turkey as it really feels otherworldly.
As you might have guessed, staying at cave hotels have become extremely popular due to Instagram. Your best bet is to book as early as possible to get your preferred hotel and suite, otherwise you may be stuck staying somewhere far from Goreme or Uchisar (the 2 most popular cities for tourists coming in to explore Cappadocia)
Instagram has really put Cappadocia's cave hotels on the map – not only are they the perfect base to watch hot air balloons take off in the morning, but they also provide a singular experience much like staying at goat-hair tents or sleeping in the deserts in Jordan. Additionally, there are so many different options, budgets, and styles that you can expect to find something that suits your preference.
A Quick Primer to Cappadocia
One of the top experiences for any travellers heading to Cappadocia is staying at a cave hotel. The landscape of Cappadocia has been described as being moon-like – truly, I don't think I've seen anything quite like the landscape of Cappadocia in my travels. As a quick history of the landscape, around 9000 years ago, a volcanic eruption covered much of the landscape of the region.
Years of erosion, wind and rain, throw in a few geological events in the process has carved the landscape into the moon-like wonder that we know of today. Around 1200BC local people began to carve the rocks into homes, community areas, and in 400AD, some of these caves (notably the ones in Goreme Open Air Museum) functioned as churches, monasteries and schools as Christianity began to spread in the region. When Christians were escaping prosecution, they began tunnelling underground and lived as many as 8-storeys below ground.
As a result, it's become somewhat of a must-do for any tourists and travellers heading to this region to indulge in this unique cave hotel experience.
Cappadocia is a region that's still very true to its roots so I don't believe there are chain hotels like the Hilton, or Hyatt nearby. Rest assured, you will be well-taken care of during your stay and that you will have a good time!
Spending 3 Days at the Hermes Cave Hotel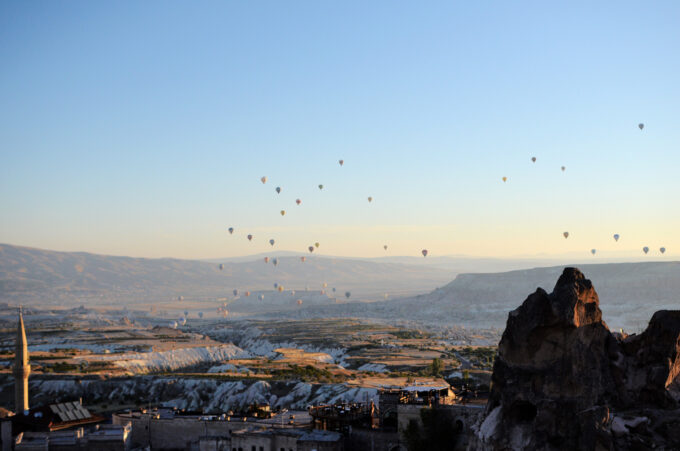 You can find many cave hotels in Goreme, and the cities surrounding it quite easily. I picked Hermes Cave Hotel in Uchisar because it was reasonably priced for luxurious suite rooms, had great views of the hot air balloon taking flight (based on reviews) and it was located right next to Uchisar Castle. I wasn't too impressed by the options I saw over in Goreme, and by the time I was about to book, most of the single/twin options were sold out leaving the more outrageously priced suites left.
Hermes Cave Hotel had phenomenal rating and reviews both on Booking and TripAdvisor. Plus, the location overlooks Pigeon Valley and Uchisar Castle which are 2 highly-recommended things to do in Cappadocia outside of doing a hot air balloon tour so if I finished early or found myself without anything to do, I could walk over or do a few hikes.
I had room #102 which was a Cave Suite with a double-bed and a jacuzzi in the bathroom. Although it only overlooks the pool (which was empty when I visited), it was tucked away in a corner, making it a quieter room.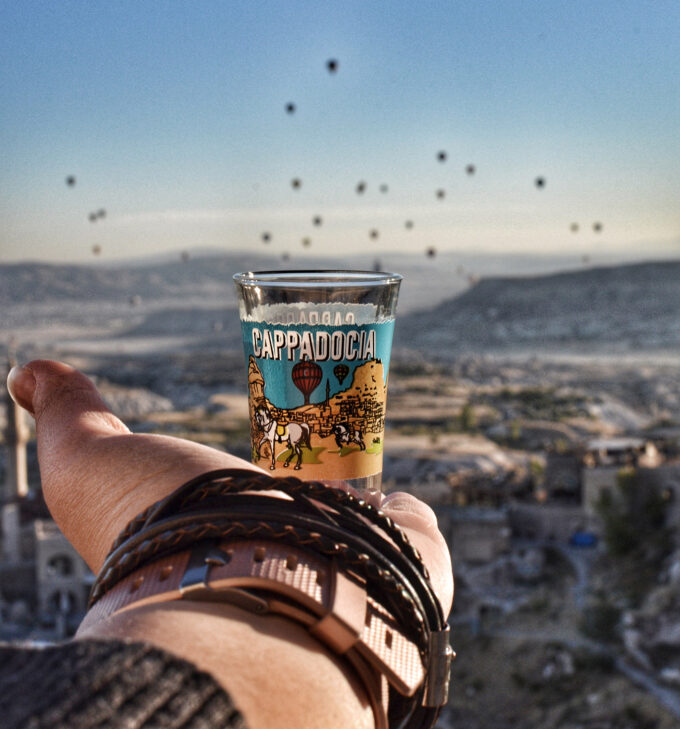 The cave suites are cavernous – mine is probably one of the smaller ones, the others are family, or couple rooms so I can imagine they are at least the same size or even larger. I'd imagine you can fit another double or twin bed here comfortably. The bathroom itself is probably the size of my bedroom at home so there's more than enough room in these suites for one person.
Pro Tip: If you're travelling as a couple, the hotel has a few romantic options, including a 2-floor suite that has a glass floor and jacuzzi overlooking the Pigeon Valley on the lower floor.
Additional amenities in the room includes a flat-screen TV, heated floor, a fan, complimentary water and toiletries. They have a 24-hour reception and travel planning desk so you can book your day trips, balloon rides, and transfers easily. Breakfast is also included, and it was probably the best part of the experience! The double bed mattress was insanely comfortably (like Hilton-comfortable) and the comforter ensures you stay warm during the night.
Hermes Cave Hotel – The Good:
The location is lovely – you're located right next to 2 tourist attractions, and since Uchisar Castle is open until 8PM, you can watch both sunset and sunrise, and return home within a 2-3 minute walk. Being close by to a few cafes, local restaurants, and supermarkets meant you're close by to everything you might need during your stay. As for sunset and sunrise, you can get a great panoramic view of Pigeon Valley and Goreme, including the region where the hot air balloon flies over so it felt like a really fantastic location overall.
Pro Tip: Staying at Uchisar instead of Goreme gives you the same awesome views of the hot air balloon taking off without the price tag (and crowd!)
The staff is simply exceptional – probably some of the most courteous, attentive and friendly staff I've met. I was able to book things at 10PM the night before, and even got a free ride to a restaurant I got recommended for.
Overall, I felt very pampered, and like a very valued-guest and it felt like talking to friends rather than hotel staff. Every time I was sitting in the lounge area, I was immediately offered a selection of drinks – pop, water, Turkish coffee or tea – whatever I want. They also have house wine, beer, and shisha for an extra fee.
The Turkish Breakfast included in your stay is no joke and my favourite part of the whole stay – plan to spend at least 2 hours indulging yourself in the breakfast spread they laid out for you. There's something sweet, savoury and fruity for everyone. It's absolutely delicious and will fill you right up until lunch or later!
Pro Tip: Make time and room for the Turkish breakfast which is complimentary to your stay! It's a fantastic spread and one worth spending hours indulging on!
The room is really lovely – honestly, it had the right feel of that "ancient cave rock home" with the right balance of modernity. The shower had both hot and cold water and the water pressure (super important if you've travelled enough) is great.
Hermes Cave Hotel The Not So Good: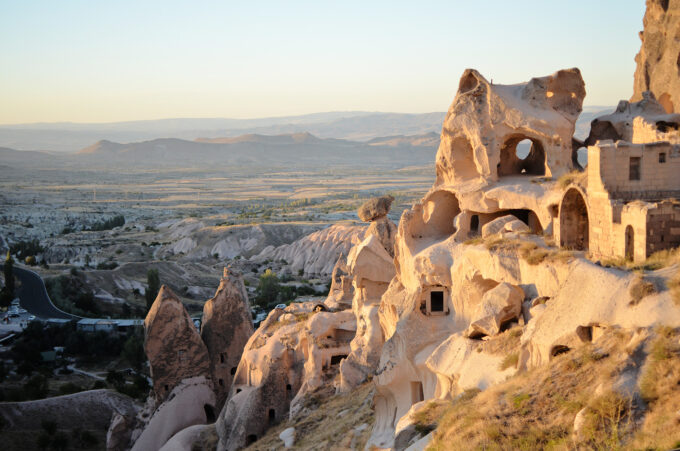 Personally, i found the cave rooms to be quite stuffy. There's not a lot of ventilation beyond the 1 window so if you close your door and window while you're out all day, prepare to come home and ventilate your room before going to bed. That being said, this is likely not the norm – I looked at a few other cave hotels and they have both AC and heated floors to accommodate different preferences/seasons.
I visited Cappadocia in September and although the temperature dipped to 10C at night, the room was still too stuffy for me so much so that I had to blast the fan all the way, and open the window. I also slept in shorts and tank tops. To maintain the cave-like atmosphere, the lights are installed on the floor (no overhead lighting, except the bathroom) so it is quite dark throughout the room, even during the day. I would say this is the biggest downfall to staying in a cave hotel – it can feel a little claustrophobic due to the darkness and stuffiness of the room, despite the cavernous room.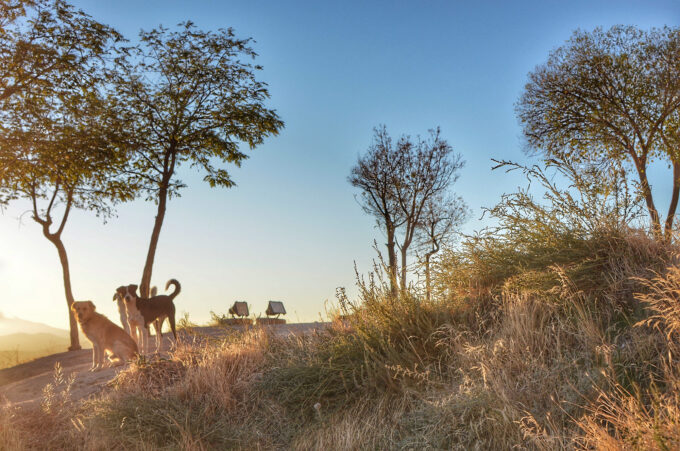 I was a smidgen disappointed by the views, though this isn't the fault of the hotel. Although our hotel was located on a hill (higher elevation meant being able to see both the balloons and landscape below), the Uchisar Castle blocked the progression of the balloons so my photos always had a massive giant rock formation on the right. Fortunately, with a little ingenuity, I was able to get decent shots of the balloons' ascent.
Wifi was a bit problematic during my stay but I don't fault the hotel for this because my phone signal also dropped in the rooms. During the day, the wifi signal constantly dropped, and it was in the evening where I can get continuous wifi. The wifi in the shared space is fine though.
Overall, I think Hermes Cave Hotel is a great base for anyone looking to get the most bang for their bucks. If you're not too fussy about your photos, enjoy hiking and exploring the area, Hermes is a lovely place to stay. If you have a rental car, then not getting the perfect view from the hotel shouldn't be an issue as you can always drive yourself.