With a constant uncertainty surrounding the CAD/USD exchange rate and the Canadian dollars hitting new lows every week, Canadians know our dollars doesn't stretch enough for a US trip these days. However, every once in a while you feel the urge to go, whether it is to visit a family member or there's a great airfare deal to so-and-so city in the US of A, inexplicably you find yourself looking at hotels and cringing at the exchange rage (1.6 anyone??)
I know the struggle well. As someone who travels a lot (I took 6 international trips in 2015, and 2 international trips so far as of Feb 2016), I cringe at how crappy our exchange rate is these days. I mean from a USD$635 booking to CAD$855 bill?
However I digress. A lot of people love going to New York – the lovely Big Apple and you know what? I do too! When the dollar was close to parity, I'd shop like a maniac at Sephora, picking at the latest bits and pieces that happened to hit the US stores so much earlier than ours. I would also spend a fortune walking down SoHo, because why not? These days it's all about the "inexpensive" and free options. Walking around my favourite neighbourhoods like Greenwich Village and SoHo which I discovered recently through various trips!
My first experience in New York was spent in an Airbnb. While I typically really enjoy my Airbnb experience, I didn't like having to compromise location (I was based in a dodgy neighborhood in Brooklyn, my bad!), spent boatbloads of money on the metro, and could only stay out until 6pm because I had to get home before it was really dark. I knew that for my next trip, I needed to find another place.
I came across The Pod Hotel as a recommendation from an Airbnb host in Paris, and ever since, I've directed every friends and family to this hotel as I think it is the best value hotel that you're ever going to get in mid-town Manhattan (Let me know if there's other options that you think I've missed out on!) I've stayed here pretty much every time I've been to Manhattan – it's a great base and I would say is a great hybrid between hotel and hostel without compromising location or safety!
Did I get you excited? Keep reading!
1. Location, location!
The Pod Hotel chain has 2 locations, one located in E 39th St which is a 6 minute walk from Grand Central Station called the Pod 39 Hotel and the other location, on E 51st called Pod 51. Both are located in midtown Manhattan, so picking one to choose highly depends on your personal preference. I've always stayed at Pod 51 as I've always found it slightly cheaper (and these days, even a $10 USD savings means a lot!) For the rest of this review, I'll speak mostly about Pod 51 as it is a location I am most familiar with. There are 2 subway stations about a block from the location makes it the perfect destination for budget travelers like myself. The E, M, and 6 trains run from these stations, making downtown or uptown Manhattan just a subway ride away!
You can find out more about both Pod 39 and Pod 51 as well as the distance to the nearest tourist location on this page of the website.
2. Cost & Overall Value
No matter how strong the Canadian dollra is, staying anywhere in Manhattan will cost an arm and a leg. Paying anywhere from $200/night is probably the norms. And when you're travelling to somewhere that has so many things to do / see and eat, you probably don't want to spend too much money on an accommodation where you're only spending a couple of hours in plus sleeping time.
I've stayed at the Pod 51 Hotel, no less than 4-5 times, and I've paid anywhere from USD$66/night for a single accommodation (this was when the dollar was at parity, so it was a major score!) to USD$134/night for a bunk bed for 2 people (and I actually fitted 3 just because) which works out to be much less than paying for the Airbnb in Brooklyn that I did the first time around. For the price that you're paying and for a location so central in Manhattan, it can't be beat!
3. Ambiance – Hybrid between Hostel and Hotel
I find the Pod hotel chain to be somewhere between a hostel and a hotel. You get the privacy and amenities of a hotel, but the way that the shared bathrooms, rooftop bar, concierge and shared common area at the lobby to be like the more personalized and local experience of a hostel. In the rooms, you get your own towels, linen, safe, personalized TV per bed (so in rooms with bunk beds, you actually have 2 TVs), hair dryer and wifi similar to most hotels and hostels. You also get the concierge who can help you put together personalized trips or tours and a bellhop who helps with booking shuttles and transfers which will make your stay a breeze.
The shared common area has a cafe and is so relaxed and informal similar to how a hostel would run theirs. They have a garden that is open in the summer, and rooftop in addition to the shared common space where you can relax after a day out in Manhattan.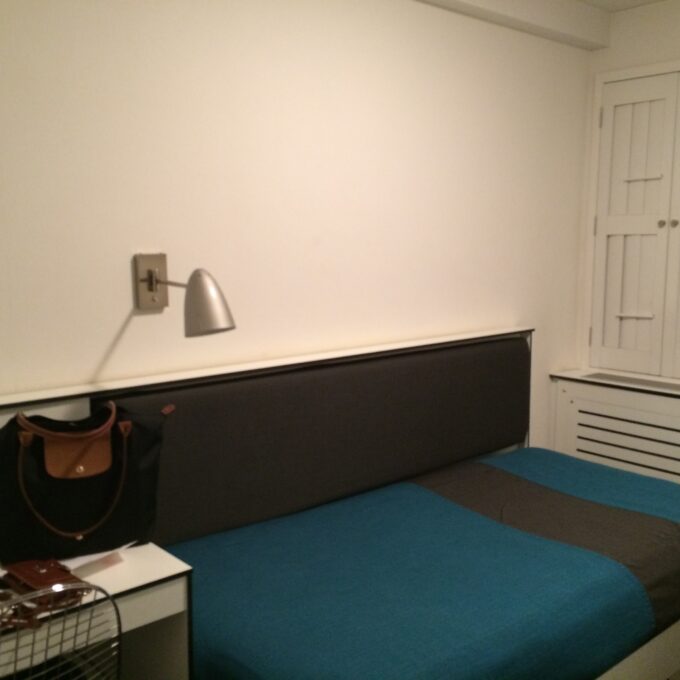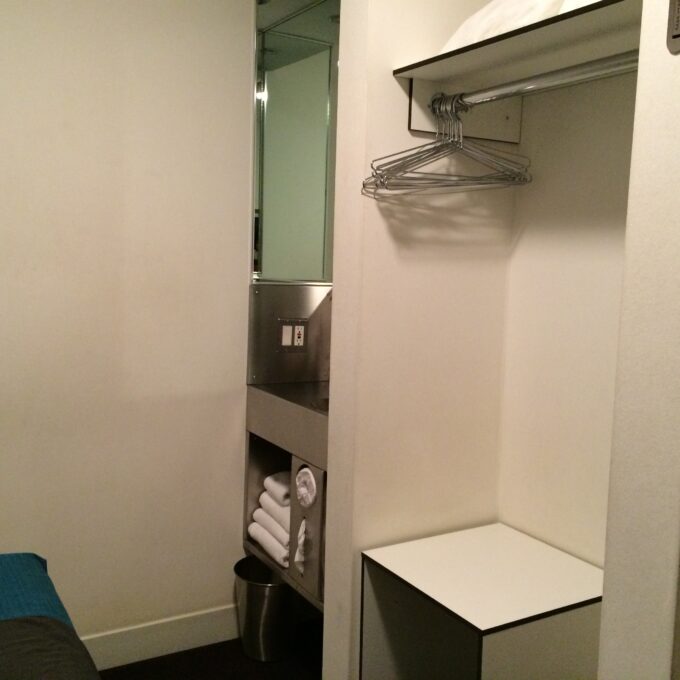 4. The People!
Over the many times I've stayed here, I have met everyone of various age groups including 40+ couples who enjoy the ambiance just as much as a 20 year-old solo traveler like myself. Siblings, friends, couples stay here and because of how this hotel is positioned in the market, there's not many (in fact, I don't think I've seen any!) young children around.
I admit, this hostel/hotel hybrid can be a big hit or a miss. Depending on how full the hotel is, you might end up with people who shower late at night or slam the doors as they leave the showers. I've never found it to be a problem as I can always request rooms that are further away from the elevators/washrooms to avoid this.
5. Cleanliness – Rooms and Shared Bathrooms
I think the most important factor when staying anywhere, is the cleanliness! Especially when you are expected to share bathrooms, and showers, this is a critical factor. I have to say that the Pod Hotel has overdelivered and I found the Pod hotel experience to be much superior than my university days (whether staying in a dorm or with 2 other roommates) despite the fact that we share the bathrooms with more than 2 people.
Most floors have at least 2 showers/bathrooms. In some cases, these are combined, and in other cases, you have a separate shower area from the bathrooms. All the showers/bathrooms can only be accessed by guests with keys. What I find to be most pleasantly surprising was how often the bathrooms are cleaned! Maybe it's just me, but every time I walk into the bathroom / showers, the soaps/shampoos are always full, the trash can is empty, and there is a fresh roll of bathroom tissue. Compared to my university and dorm days, I've never had to wait for a shower/washroom to free up or my not being able to go to the washroom because it is occupied.
There housekeeping which cleans your room on a daily basis (though you can opt-out by placing the Do Not Disturb sign) and fresh linens and towels are provided when your room is being cleaned. Again, hotel experience, and a budget cost, in New York!
6. SO. MANY. OPTIONS!
Let's say you're not too keen about the "roughing it" experience, defined by sharing bathrooms. Let's say you like a little more privacy because you're an older couple. Let's say you need a bigger bed because you're pretty tall (Hey there!)… I think the Pod Hotel does an amazing job at catering to everyone!
There's a bunk bed option for friends/siblings, or full or Queen-sized beds for couples or siblings travelling together. Plus some rooms have the option of having your own private showers! A massive bonus if you're nitpicky about cleanliness!
Overall…
I've always found my stay at the Pod51 hotel to be incredibly enjoyable and immensely good value for the price I'm paying. The washrooms, which are typically something I'm most wary about in shared spaces, are always impeccably clean (I'm sure there are cleaners going around multiple times throughout the day!) and the location is very, very safe. Aside from the 2 subway stations, there is a McDonalds, and 2 cafés nearby for a quick meal. Neighbouring to the Pod51 hotel, is also a number of restaurants (Asian, Vietnamese, and Burger!) and a Panda Express is opening up soon!
Unfortunately, I didn't get a chance to take more pictures in my recent travel but I would say that the pictures on the website are very accurate. True to what you would get! The 1-person pod is spacious enough for 1 person, same thing as the room with Bunk Beds. When you have 3 people in a room for 2… that's another story!
More Info
Pod 51 Hotel 230 East 51st Street, New York, NY 10022 Phone: +1.212.355.0300 Email: [email protected] [www]Pod 39 Hotel 145 East 39th Street, New York, NY 10016 Phone: +1.212.865.5700 Email: [email protected] [www]
Be sure to subscribe to their newsletter as well as sometimes they put out a discount code for stays over $100 or during the low season!
Pin this for Later!
Have you heard of the Pod Hotel chain? Where do you usually stay when in New York?