My first introduction to world travel started when I was quite young when I traveled on family vacations throughout Asia. It was lovely but my parents were definitely more comfort and luxurious travelers. It was perfect and convenient at the time but it left me wanting more… This is why, when I was selected to represent Canada in Doha, Qatar for DohaGoals in 2012, I was beyond excited. The first I had to do was look up things to do in Doha – I mean it's the Middle East with SO many things to discover!
It was going to be my first time in the Middle East. And what could be more fascinating than making Qatar my first global stop?
I had the amazing opportunity to represent my school at the prestigious DohaGoals (Gathering of Leaders in Sports) Forum, along with several of my schoolmates. Top schools around the world, including Harvard, Yale, National University of Singapore, and HEC Paris, were invited to send student ambassadors to attend this international sports conference.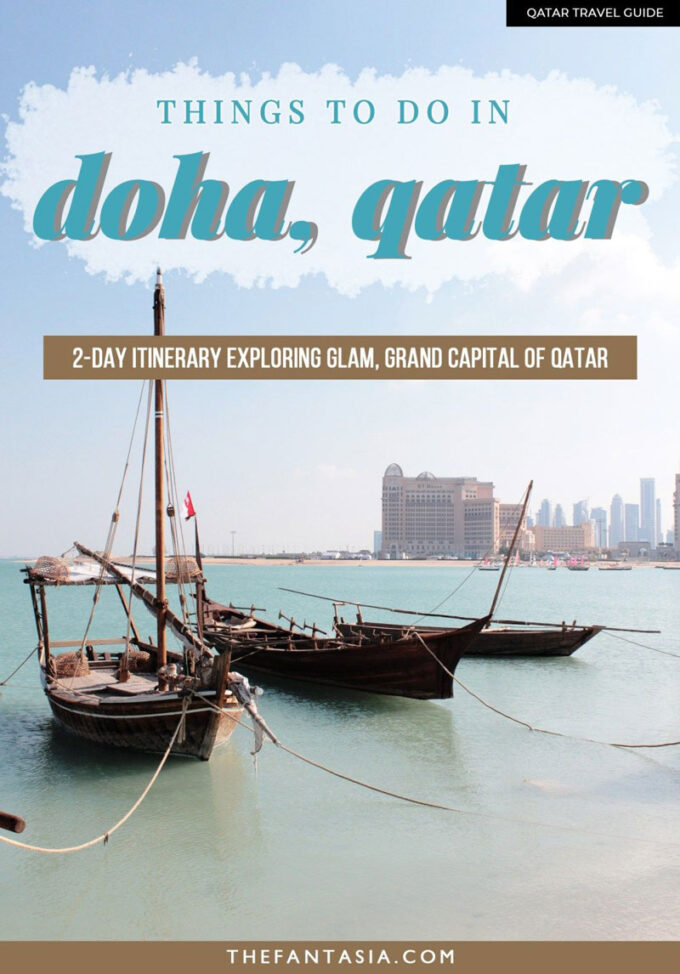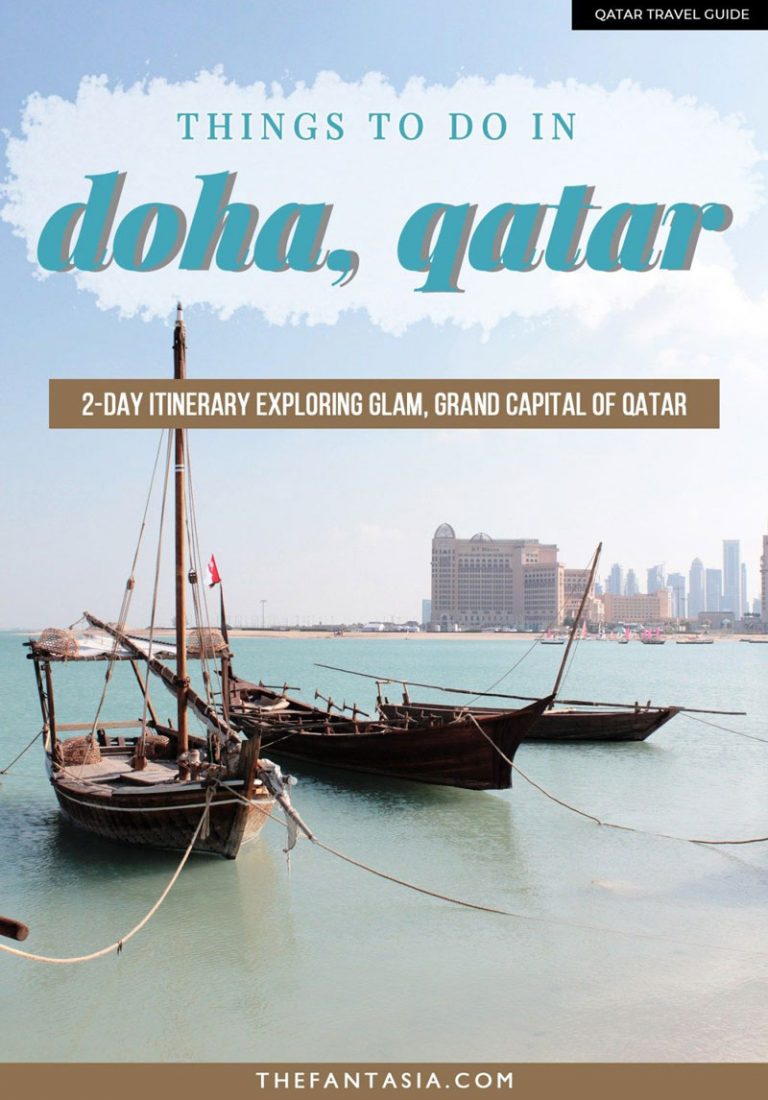 Things to Do in Doha, Qatar
I had a very short free time in Doha as there was a preset schedule for the conference that we had to follow. Fortunately, I was with a group of my friends who shared the same thought, so we used the extra 30-minutes break here and there to see as much as we can. Obviously, that would not do the city any justice but I believe spontaneity made the trip a lot more exciting!
Day 0: Souq Waqif & Doha at Night
After arrival at the Doha International airport, we unexpectedly bumped into a number of famous faces including Juwan Howard, and Mikael Silvestre. Cue the polite (we are Canadians afterall), quick photo-snapping sessions which the athletes graciously agreed to. No pictures here as they were taken on my friend's phone!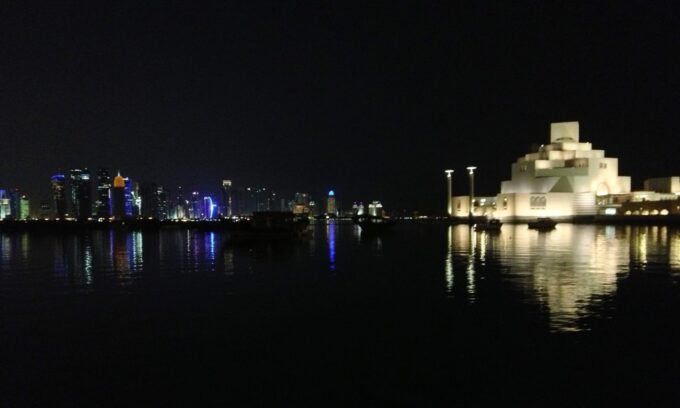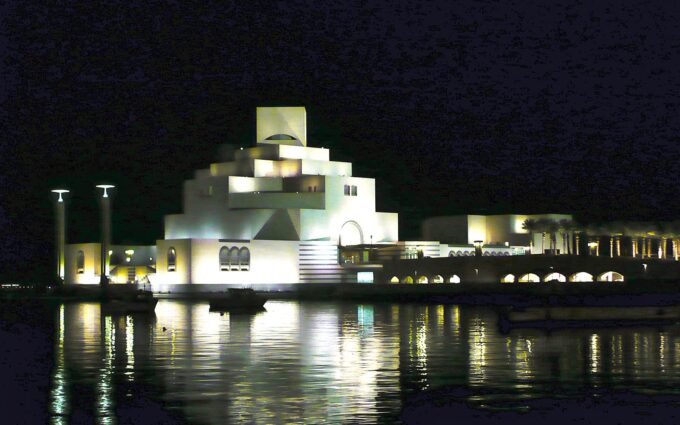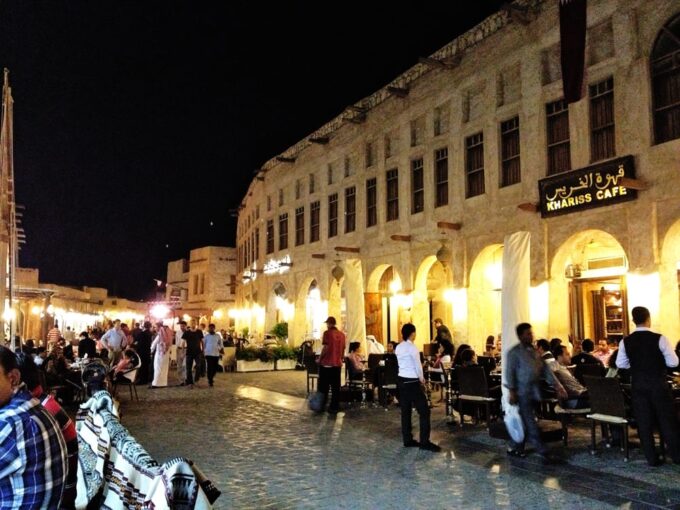 After a quick shower at our hotel followed by a small dinner, we went off to explore the city, mainly Souq Waqif, the closest, walkable destination on the map. Souq Waqif, which literally translates to standing market is a popular shopping and entertainment district for locals and tourists alike. With live music, vendors selling everything from kohl liners, pashminas, spices and everything in between, walking through the market makes you feel as if you've stepped back in time!
Despite being quite busy and crowded, I've always felt safe there, even at night. The alleys are well-lit and there are many vendors and shoppers around that there's always someone in the vicinity. Also, don't miss the falcon/bird market because it is definitely a sight to see. The Souq itself is a good place to have dinner – you'll find yourself having a hard time resisting the aromatic smell from the restaurants and shisha parlours around.
We settled down at the AlKoot Cafe for a shisha session because it looked to be most crowded with foreigners. I opted to get their fruit juice (Mango juice is highly recommended). My mango juice was around 11 Qatari Riyal (QR), which translated to C$3.50-ish. The Qatari riyal is pegged to the US dollar at a fixed exchange rate of $1 USD = 3.64 QR and at the time of my visit in 2012, the CAD/USD exchange rate was almost at par. Not bad, but the similarity to Canadian prices make it seem a bit more expensive than I hoped to get.
It was a much needed break from a long 8-10 hour flight from Toronto to Doha. The weather was great, and we ventured into 2-3 stalls that were open. Met plenty of tourists from all over the world with the global event bringing guests from all corners of the world!
Day 1: Aspire Park, The Torch & Villagio Mall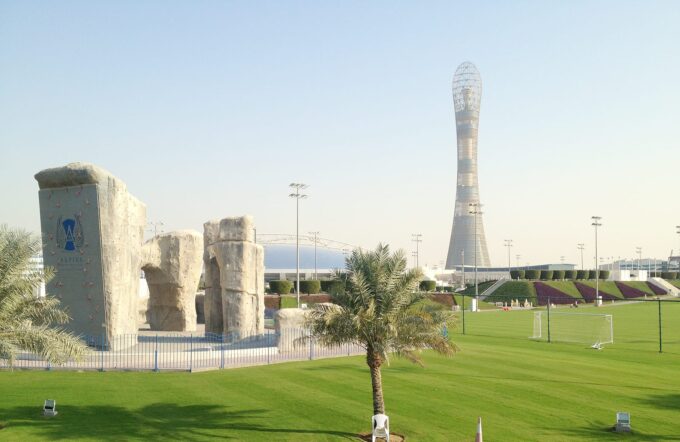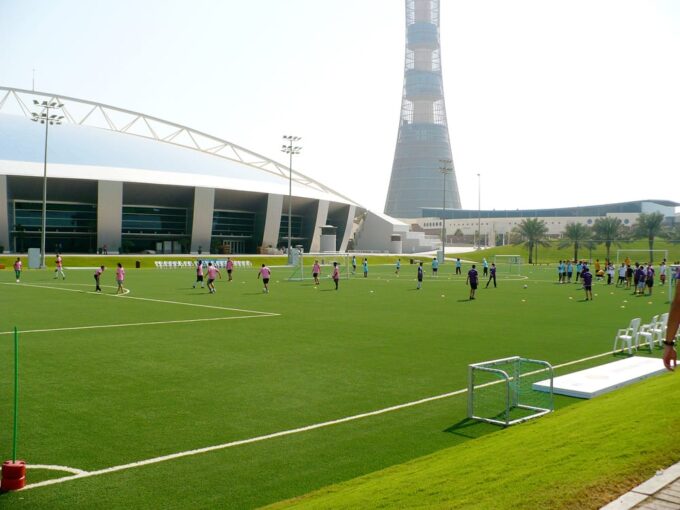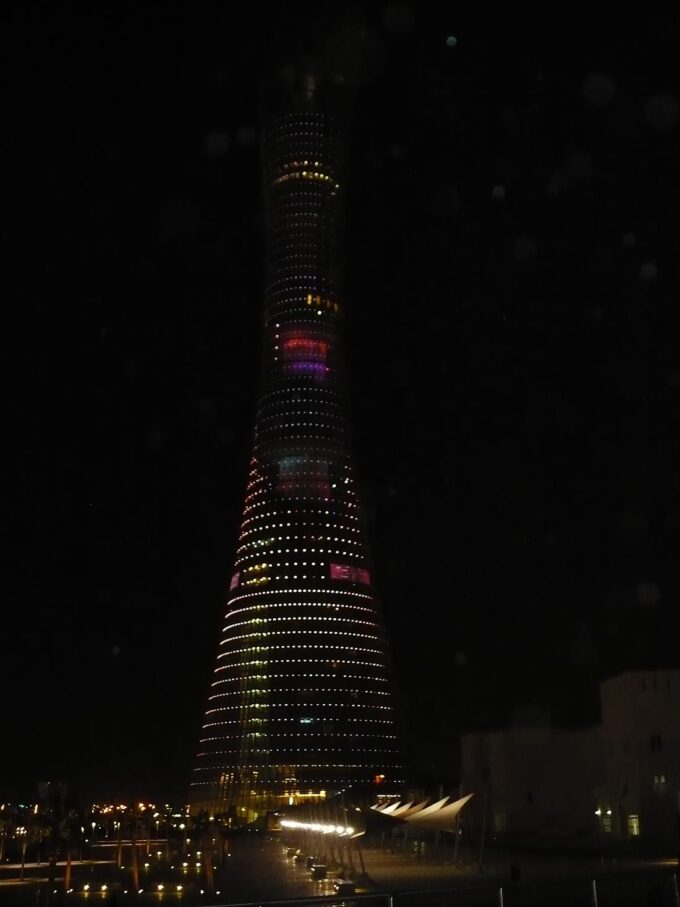 Our program started at Aspire Park, one of the most recognizable sights in Doha. The newly built Aspire Park lucked out with the gorgeous Torch Hotel (a luxurious hotel in the shape of the Olympic torch) in the background. The park is also a walking distance to the Villagio, a shopping mall that houses plenty of international brands, it's one of those things you can truly enjoy in Doha for free.
There's plenty of green space, trees, and a jogger's path should you feel incline to do your bit of exercise. It is also immaculately maintained so it's a very relaxing space and for a stroll and families with young children. The Villagio Mall is also close by, which is an excellent place to pop by to find some relief from the scorching heat. I recalled that there's also wifi connection at some areas, and restroom facilities.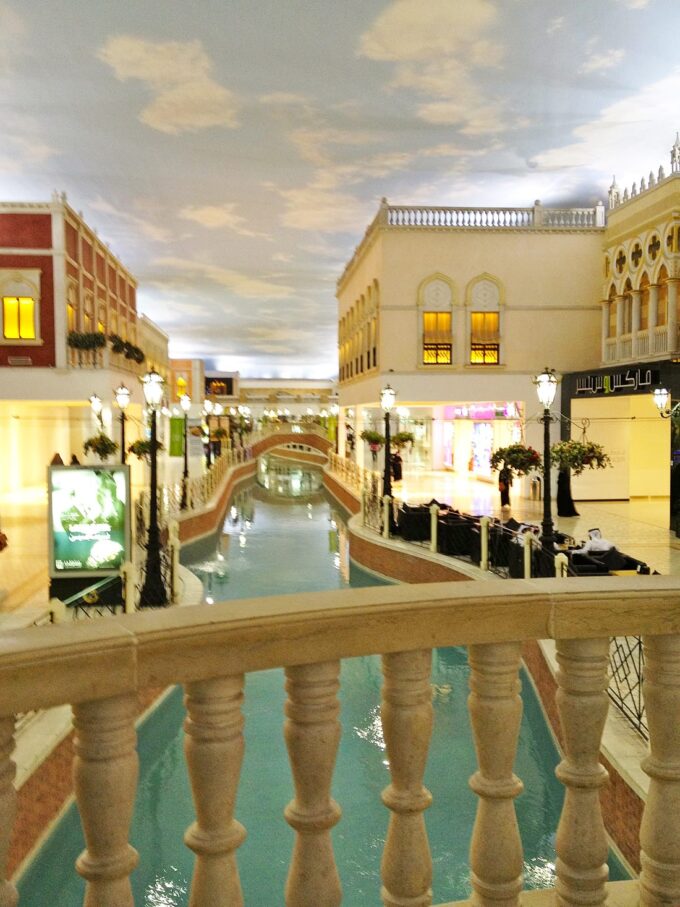 Since the Aspire Dome is located really close to Villaggio Mall, we decided to check out the mall to seek respite from the heat, despite it being December at the time of our visit! Packed with plenty of international high-end brands, and a gondola ride (similar to the one in Las Vegas), this mall makes you feel like you are both outdoors and indoors. The gondola and canals are designed to make you feel like you're outside (with the ceiling over your head designed like clouds) while the music/brand clearly indicate that you are inside. Aside from the shopping for the ladies, there is also an ice rink to enjoy.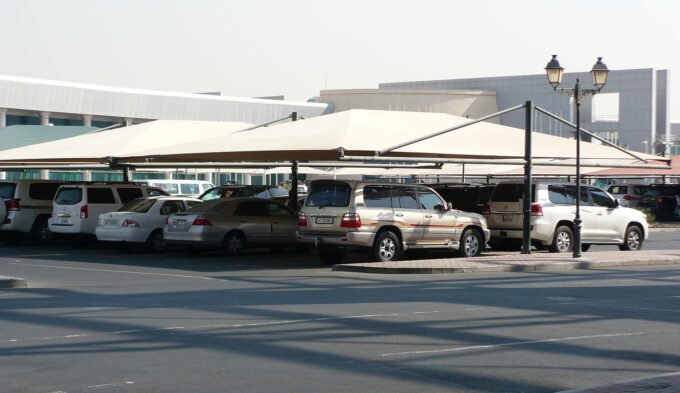 Our visit to the mall was purely out of curiosity and because of the scorching heat outside. The mall reminds me a lot of the high-end malls/shopping areas you might come across in North America, and one that stood out (because of how similar they were) was Las Vegas (the Venetian)
Day 2: DohaGoals Program at Aspire Park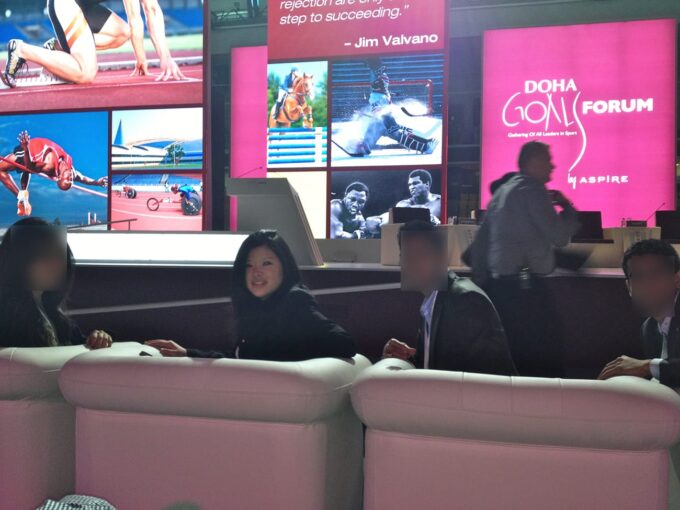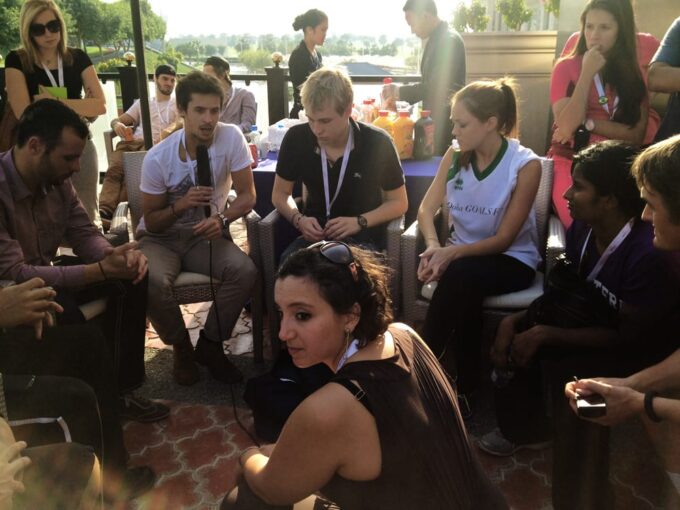 The next day we were back in Aspire Park for our full DohaGoals program. In between programs and presentations, we got to mingle with a few Olympic athletes who were gracious enough to speak with students and aspiring athletes from around the world.
That's it for my first post of my 2012 visit to Doha. I'll be sharing more of my visit to the Museum of Islamic Art and a few other things we did during our short but insightful visit to the country!
What You Need to Know
Flying into Qatar: We flew with KLM with a quick stopover in Amsterdam to Doha, Qatar.
Where we stayed We stayed at the BEST WESTERN PLUS, Doha, Al Safliya St, Doha, Qatar
To know: Souq Waqif is only a 15 minute walk from the hotel
Currency: 1 Qatari Riyal = C$0.34. The currency is also pegged to the US dollars at a rate of $1 USD = 3.64 QR. Currency exchange booths are easily found in Doha and plenty can be found in the malls
Have you been to the Middle East?
Pin for Later!