My makeup menu is the least exciting there is. Aside from longetivity, and quality of pigmentation, I don't normally venture into the territory of colourful, and bold colour makeup, whether it be for the eyes and the lip. I usually stick with the basic neutral eye and lip combo, and I have a thing for the nude lip.
Finding a nude lip can be a little tricky – too pale, and it makes you look sickly and for someone with relatively pigmented natural lip shade, even the beige-y, cream-y shade can come off unnatural. Find just the right shade of nude lip, the one that just pops and brighten your complexion, and we have a winner!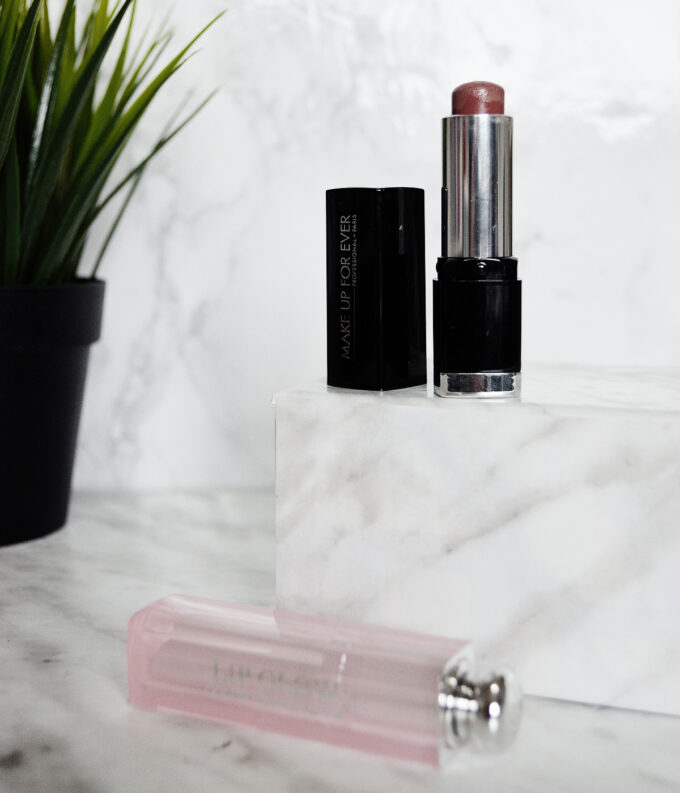 Recently, the Make Up For EverRouge Artist Natural in N4 ($23, available here) and Lab Shine in D14 ($22, available here) have been a combo I've been reaching out for constantly. The creamy formula is very hydrating on the lips. The formula sits comfortably on the lips without feathering, and the matte copper-brown pink shade is very flattering on my NC25 skintone.
The shade is a step up of my natural lip colour though it can come off a little too brown-ish when layered. I usually apply a lip balm underneath so that the colour comes a little more sheer. The lipstick has a natural shiny finish. For a slightly more nude-y with glossy finish, I top it off with the Lab Shine D14. I find that the gloss tones down the "copper-y" shade of the lip colour to a more natural, less copper-brown nude lip shade. I find that using the gloss on top of the lipstick does add that shine, from the fine gold flecks in the lip gloss.
The swatches doesn't do the nude lip combination any justice. I think the best representation of this colour can be seen in the head shot above which is as true as it gets with this lip shade!
The Makeup Menu
» Make Up For Ever HD Foundation #117
» Maybelline Fit Me Concealer
» Lancome Hypnose Drama Mascara // Inglot AMC Eyeliner in #6
» Urban Decay Eyeshadow in Sin
» Inglot HD Powder in #7
» Make Up For Ever Rouge Artist Natural in N4 + Lab Shine in D14
» Make Up For Ever HD Blush #225
Now it's your turn! Have you tried the Rouge Artist Natural lipstick? What's your favourite nude lip combination? As always, I'd love to hear your thoughts! Share with me comment section or through Twitter or Instagram!
---
Disclaimer:
This post features product(s) provided for editorial consideration. All opinions are my own. For more information about my review policy, please
click here
.
---