I was so disciplined in my holiday spending and then, while scrolling Facebook, I came across a very tempting offer from Tarte: a chance to build my very own TarteCustom Beauty Kit for the cool price of USD$63/CAD$84! I was quite skeptical at first, thinking that all I was going to get were a nice makeup bag, a couple of full-sized times and a bunch of minis.
Boy was I wrong.
Sure, I did get the nice makeup bag. In addition to that, I also got to pick up 6 full-sized items to go with it as well.
Still, I wasn't convinced. Maybe included in the selection were only things that the company wants to clear out (i.e. not any of their best selling formulas, colours or range).
I was right and wrong at the same time; the selection was impressive and quite diverse. Perhaps this is coming from someone who rarely buys Tarte products but I was very happy with the selection available. Want to know what options you can pick? Check out the full list over on this website!
After reading previous reviews, it appears this is a value set that Tarte offers twice a year. If you missed out this year, don't worry – it may happen in about 6 months or so (based on previous availabilities!)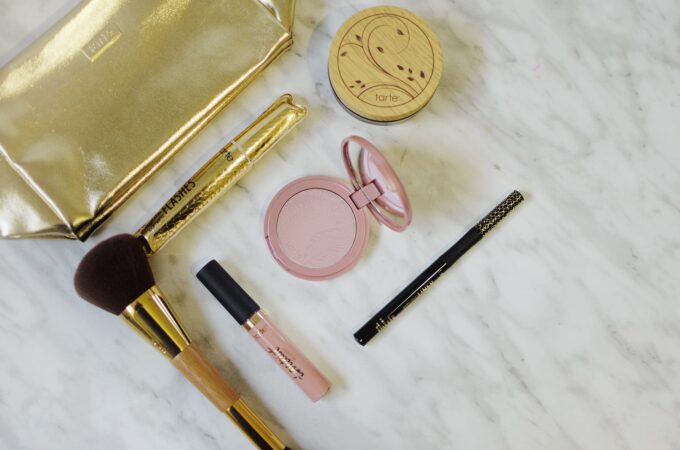 Why the Tarte Custom Beauty Kit is an Incredible Deal
I think buying 6 full-sized products (I'm not counting the bag by the way because I can totally get that at the Dollarstore easily!) so it works out to be around C$14 a piece. That's a great bargain that even Sephora's annual holiday sales can't match. With a very impressive product selection and the fact that everything I wanted was in stock, I went ahead and checked out!
The TarteCustom Beauty Kit would make a wonderful holiday/birthday gift for just about anyone! Know someone with sensitive skin? Tarte's formula is well-known in the industry as some of the best for those with sensitive skin and its tagline is "high-performance naturals" – you absolutely cannot go wrong with that! Know someone who's all about cruelty free makeup? Guess what, Tarte is a cruelty-free AND vegan brand!
With so many awesome, highly rated products included in the set, any new beauty lovers or pro makeup lovers will be thrilled to get an almost personalized goodie bag in the mail!
What I Picked Up
It was so hard to decide on what products I want since is Tarte isn't a brand I purchase often. The blush and lip pain are probably the only things I picked up recently. So I basically consider myself a Tarte newbie and got pretty excited about all the new makeup that I get to play with!
What an incredible deal right!? I thought it was almost too good to be true but my unicorn-wrapped package arrived while I was on vacation which confirmed this deal is totally legit ????
Have you heard about the Tarte Custom Beauty Kit before? Do you think you'll buy it the next time it becomes available?