I love being a woman. This usually means having (long-ish) hair that can be styled in so many different ways. I know sometimes too many options gets really overwhelming but not when it comes to my hair. I love trying out different trends and styles (even if I'm usually very late to join the bandwagon) and I love the fact that I can use my hair as a curtain to hide from people I don't want to talk about #IntrovertProblems (Haha!)
Today I want to share with you what I think is one of the most revolutionary tools that is going to be a game-changer for anyone with thick manes, or hair that takes eons to dry.
From the innovative team at Tangle Teezer who brought us the iconic, fits-into-your-hand hair brush, the new Tangle TeezerBlow Styling Hairbrush ($35, available here) is looking a lot like the next must-have particularly for those with thick hair!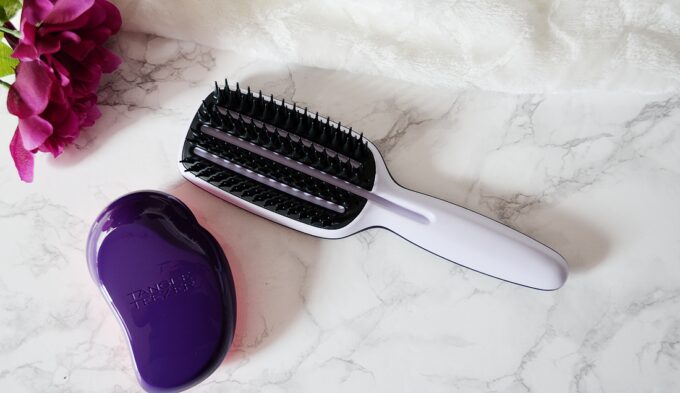 The Tangle TeezerBlow Styling Hairbrush looks like your regular paddle brush for doing blow-outs at home. This brush promises to deliver a fuss-free fast blow-dry at home with no stretch drying and limiting the tension on the hair. Designed with proper maintenance in mind, the brush has cleaning grooves that makes it easy to loosen and remove hair without damaging the teeth of the brush.
The first and most noticeable thing about the brush is the teeth, which are made of plastic and are quite stiff and rigid, unlike the original Tangle Teezer. The teeth are designed to overlap in such a configuration that it removes water from the hair shaft quickly, allowing your blow drying time to be reduced significantly, something that I can personally attest to.
I find that the teeth of this brush to be a little painful if you are used to combing with the regular tangle teezer, only because it's so stiff, and is not malleable so it does feel like you're using some of kind of fork to brush your hair (a la Ariel in the "Little Mermaid"). However I think this shortcoming can be easily forgiven given the fact that the brush actually works and really does cut down the time I blow dry my hair, without changing my usual routine. It's quick big for a paddle brush but there is a half-paddle (smaller) version available if you want to check it out instead.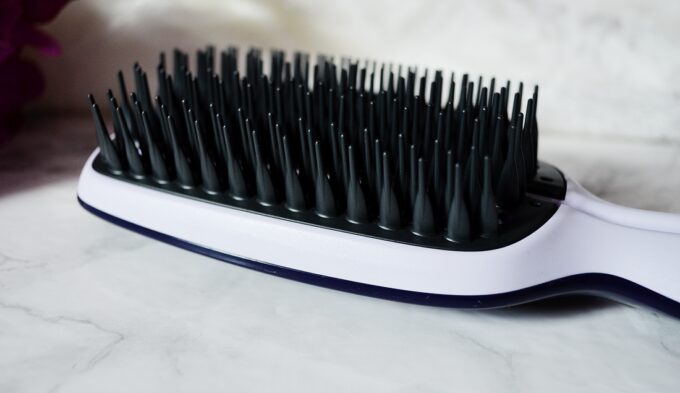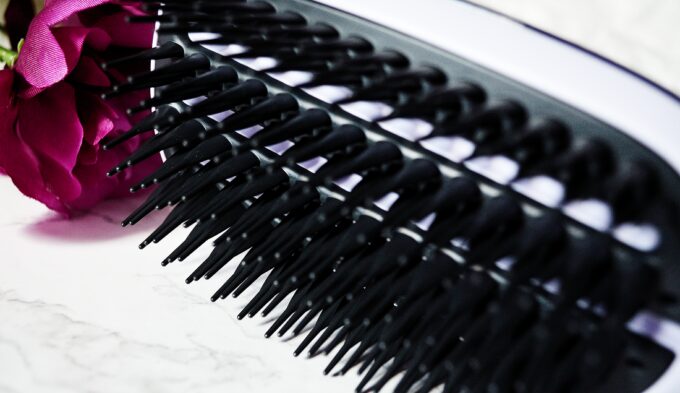 I use the same old RemingtonHair Dryer that I bought from Target for somewhere around $20-30. It does an amazing job at drying my really thick hair quickly (10 minutes is quick for me!) I tested this brush to dry my hair and I am incredibly amazed at how much faster my hair dried! I swear it took me only half of the time which is pretty much unheard of! I don't think it really delivers on that "smooth hair" promise simply because you do still have to add some tension to get the hair to get that blowout effect.
For $35 (this is the US price – I can't find the Canadian information at the time of writing) I think this brush is not necessarily a must have. I don't think splurging on a hair tool that costs more than my hair dryer and flat iron combined is going to suddenly change your world, but it is something worth looking into if you are ever looking for that one tool that's going to make all your existing hair tool investments worthwhile! So don't go buying a new $200 hair dryer just yet – this might be what you need to make magic happen in your hair!
What do you think of the new Tangle Teezer Blow Styling Hairbrush? Do you think it's going to be another Tangle Teezer brush – a must-have in every makeup bag?
---
Disclaimer:
This post features product(s) provided for editorial consideration. All opinions are my own. For more information about my review policy, please
click here
.
---