Having used a second-hand hairdryer that is probably older than me, I was recently in the market for a new hairdryer. I am not too fussy when it comes to blowdrying my hair, preferring the quietness and efficacy of a straightening iron over blowdrying my hair every morning.
I came across the Remington Diamond Shine Damage Protection Hair Dryer.  Not having done any research in advance, I relied on the informational display available on the shelf that explained the differences between the hairdryers they carry (and let's be honest, my knowledge of hair tools is ancient at best).
I am particularly fond of tourmaline in any hair tools. For those of you not familiar with tourmaline, it is a semi-precious mineral that benefits the hair by generating only negative ions, thus creating smoother hair. Hair tools infused with tourmaline has been proven to dry hair more quickly than their non-tourmaline counterpart.
Why I LOVE It!


What immediately jumped out when I first started using this was that it is so lightweight – I was so surprised that it weighed even less than my hair straightener (L'Oreal Steampod). The hairdryer is full-sized too, so the lack of arm workout when I'm so groggy and barely awake is a much-welcomed change.
Like many other hair tools in the market, this Remington dryer features a salon-quality speed of 1875 watts, 3 heat settings, and 2-speed settings. I'm very pleased to share how quickly the heat changes when I adjust the setting.
The only downside with this dryer is that to get the cool shot, you have to hold and press the button which can get a little awkward at times.
Aside from being lightweight, the Remington Diamond Shine Damage Protection Hair Dryer is unbelievably quiet. I can do this in the comfort of my bedroom, right next to my sister's room, while she is sleeping, without waking her up.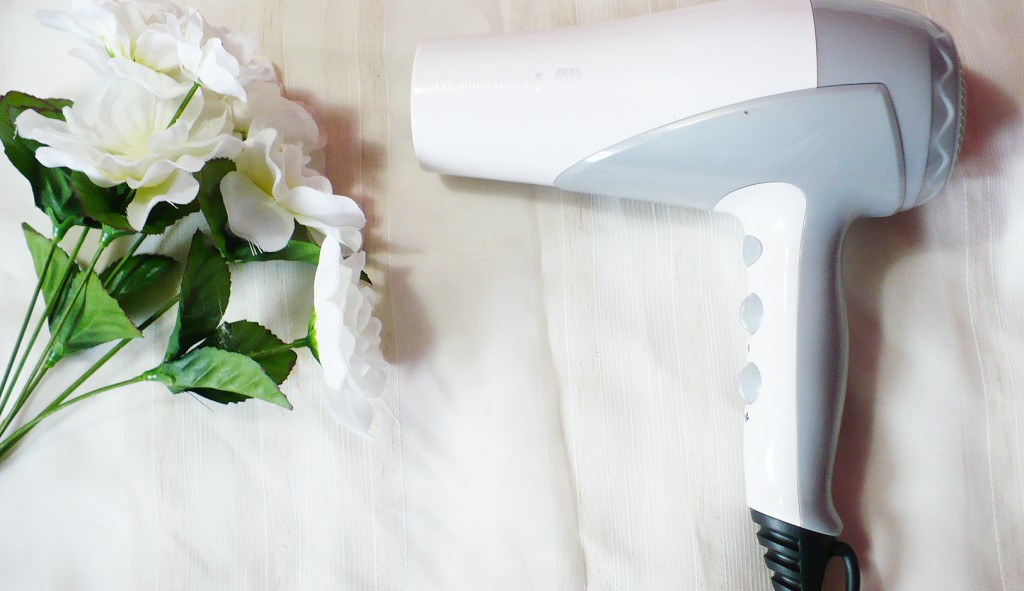 Despite being quiet, it's still powerful – managing to dry my super thick hair (that normally takes anywhere from 10-15 minutes to dry completely), just under the 5 minutes mark (Under 5 minutes? You mean I have time to sleep in?)
The brand wasn't one I would gravitate towards initially, but the powerful performance convinced me from the first blowdry. Furthermore, how sleek does this white and grey mix look?
Have you tried the Remington Diamond Shine Damage Protection Hair Dryer?
Check this also: