If I won the lottery and had $1M to spend, my first answer (aside from paying down my student debt and saving up) is to spend that money to go travelling. If you ask me where, it would only take me – at most – half a second to tell you where I'd like to go: Cape Town, South Africa.
Known as the Mother City, once I got off my flight in Cape Town, I felt right at home. I can't describe it in words, but within a couple of hours, I could envision myself living here, full-time. Did that thought terrify me? Absolutely yes. But among the many cities I've been to, this was the first that made me want to pack up my bags as soon as I return to Canada and hop on a plane back to the Mother City. Maybe it's because it is the Mother City that I felt like I was home.
I had to break out the Cape Town photos over several posts – no pictures can do it any justice! I didn't even realize I had taken over 1,000 pictures in the course of three days, but there you go! That's how scenic and stunning the city is! If my words don't convince you, let the pictures from this post and the posts forthcoming do the job!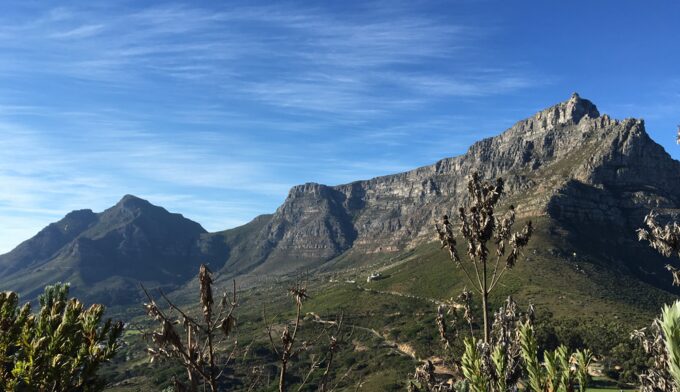 The first day in Cape Town was the most physically demanding day of the entire trip. Arriving in Cape Town at midnight, and having slept for 6 hours, I made my way to the iconic Table Mountain, South Africa's most promiment landmarks and a national icon. I hiked up the mountain (which is also one of the Seven Wonders of the World) and Lion's Head afterwards. Flanked by Devil's Peak and Lion's Head and peppered with an abundance of flora (the fynbos) and dasies, the Table Mountain forms a dramatic backdrop to the city of Cape Town. A hike up 1,085m above ground level is a regular weekend activity (no wonder they were all so FIT!) and the views once you get to the top is stunning! You can see Robben Island, a penitentiary / prison for freedom thinkers including Nelson Mandela, as well as the stunning beaches of Clifton and the affluent Sea Point and Bantry Bay as well as Signal Hill in the background.
The first couple of pictures were taken as I made my way up the mountain. You can see how beautiful the city looks from the side of the mountain. The hike involved quite a bit of scrambling and I highly recommend having a guide to take you so you can make the most of the experience. It's quite the experience to hike up the mountain and learn about the flora and fauna as well as the legends about Cape Town. When I went, I booked my tour with Binny from Ridgway Ramblers, who has stellar reviews on TripAdvisor. I highly recommend her as the tour was far more enjoyable with such a friendly tour guide, and her incredible banana bread.
If you enjoy this post,
click here
for more South Africa posts!
P.S. Don't forget! If you're looking for inexpensive flights, don't forget to use Skyscanner or download the App on your smartphones so you can always find the best deals for your next trips!
Pin this for Later!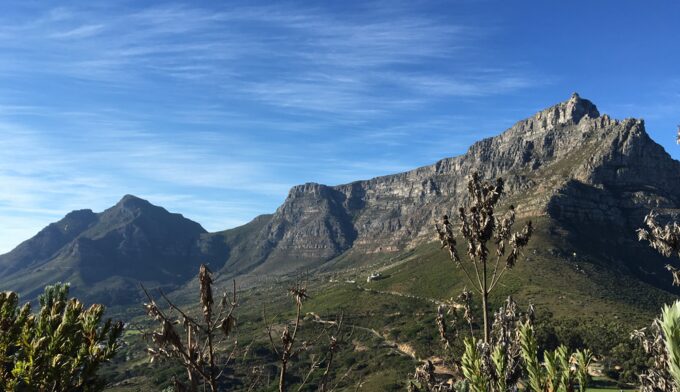 Now it's your turn! Have you been to Cape Town? As always, I'd love to hear your thoughts! Share with me comment section or through Twitter or Instagram!