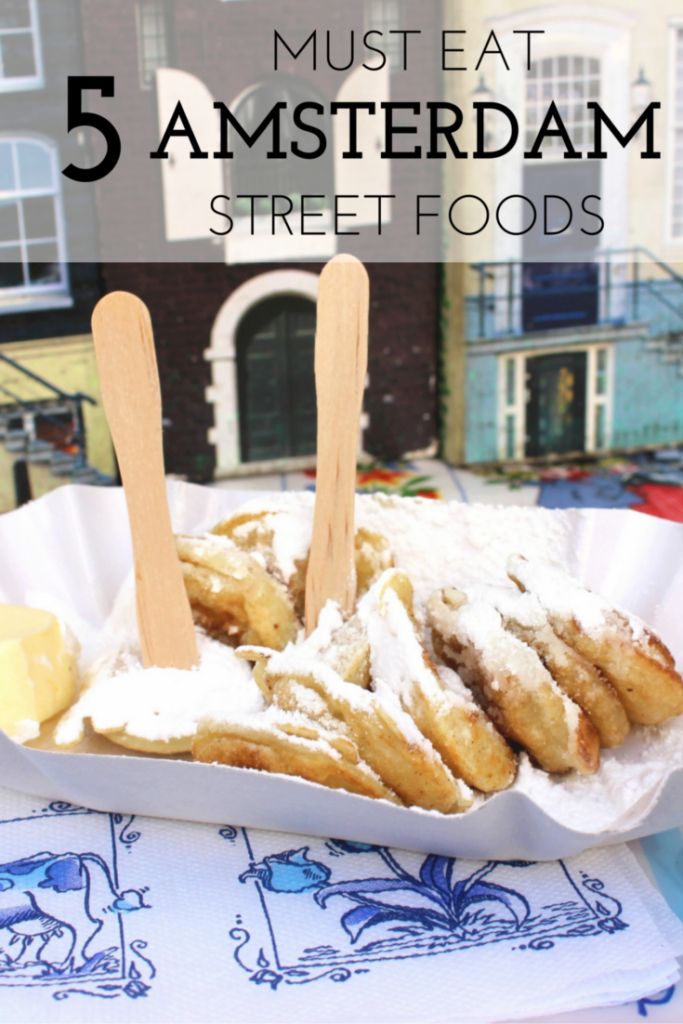 I thought the Netherlands was just the tulips, windmills, canals and museums, but it turns out Netherlands has so much more than that. The food. The snacks. The drinks. Come hungry friends, and come with an open mind because you will be indulged. Here are my top 5 Dutch food you have to try in the Netherlands if you've heading there in the future!
Where to go to Find the best Dutch food/snacks
I like visiting markets when I travel and Amsterdam's Albert Cuyp Market is a place where you can find pretty much everything I've listed below and more for a fairly cheap price. Enjoy snacks of all sizes and flavour profiles!
1. Vlaams Friteshuis Vleminckx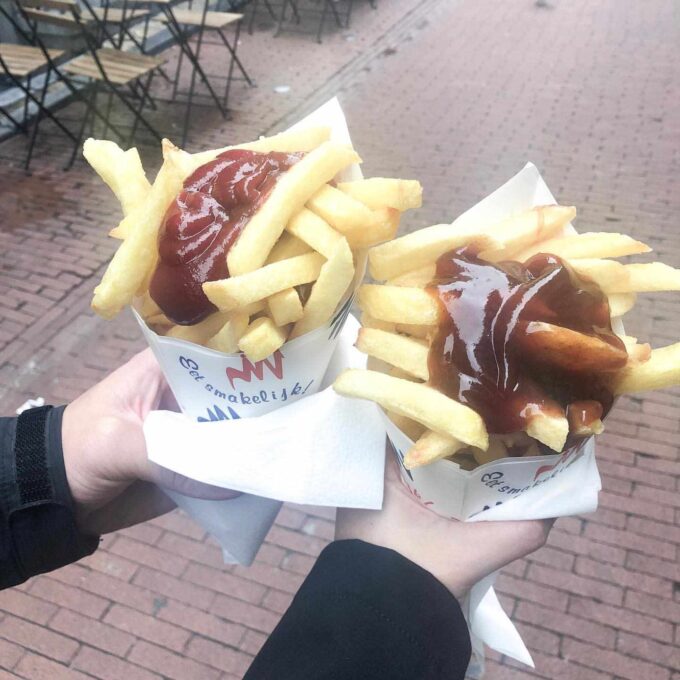 AKA "the place where you can get triple-fried fries with 25 sauces to choose from". Fries is a Belgian and Dutch creation and both countries vie to be known as home of the best fries makers. The mis-named French Fries is actually a Belgian invention and both the Netherlands and Belgium used to be one country, hence the shared love and history for this particular deliciousness!
At the Vlaams Friteshuis Vleminckx, a highly popular, must-try fries institution in Amsterdam, you can enjoy freshly triple-fried fries and 25 sauces to choose from. The fries as you can imagine, are ridiculously crunchy but still soft on the inside. Pick one sauce, or more for €0.50 each, and don't be afraid to experiment. I picked garlic and satay sauce – the combination was like having the best of two worlds – Thai and Italian flavour profiles in one place was out of this world! It might be counter-intuitive to put two very strong flavours with each other but it was well worth trying!
If you aren't feeling particularly adventurous, try the fries with mayo – it's how most Dutch, French and Belgians enjoy their fries. Note that mayo sold on this side of the pond tends to be more tart and less sweet than the North American versions we're used to, so it's not as gross sounding as it seems!
---
Try It: Vlaams Friteshuis Vleminckx // Voetboogstraat 33, 1012 XK Amsterdam, Netherlands // Prices: €2.30 (S), €2.90 (M), €4.50 (L), Sauce €0.70 each
2. Rudi's Original Stroopwafels at Albert Cuyp Market
There are plenty of imitiations, but make an effort to visit the original, still run by a father-son team in the middle of the Albert Cuyp Market. If you see line-ups and a father/son team with a totally unassuming stall, that's your spot. Seriously, don't get distracted by the other stalls which is admittedly easier said than done. You know you're at the right place when you see a trailer-like stall located towards the middle of the road. If you see the ones close to the ends of the street, you're likely in the wrong place.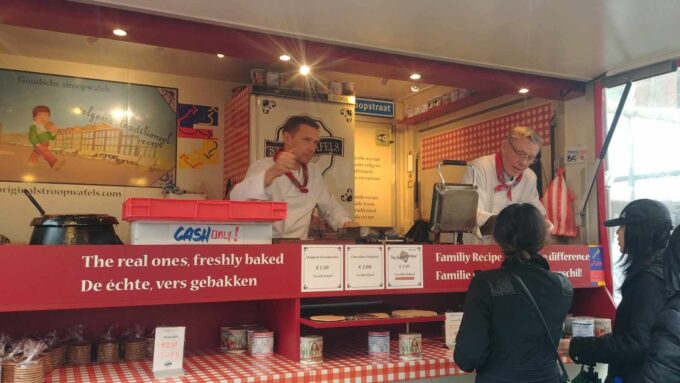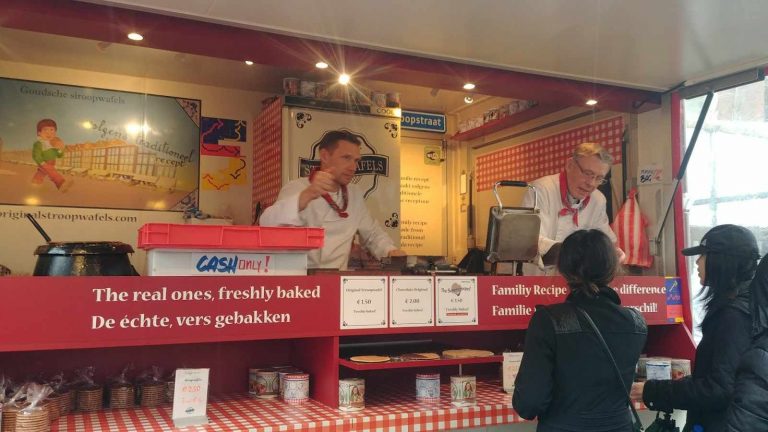 Enjoy these freshly baked waffles with a taste of delicious caramel in the middle. The waffle is so thin, I'm surprised you could actually slice through it. Then a layer of caramel is added. Surprisingly the caramel is not as sweet as the ones you get in North America! It's then coated with a layer of dark chocolate ganache. This treat might sound like sweetness overload but I didn't find it overly sweet at all, and this is coming from someone who always orders her Starbucks at "half sweet"!
Be careful though! Sometimes the ganache or caramel can leak and it is a messy and very hot mess to clean up!
---
Try It: Rudi's Original Stroopwafels // Albert Cuyp Straat t/o 182, Stand 134, 1073 BL Amsterdam, Netherlands // Prices: €1.50-3.50 (freshly made), to-go bags are available for €5-10
3. Pickled Herring
Another popular Dutch delicacy is picked herring topped with onions (don't have your first date here) which you can find at various stalls throughout the city. Try it in a sandwich to get used to the taste if you can't bear the idea of eating a raw fish like that. The Albert Cuyp Market has a few stalls dedicated to it so you can enjoy it and wash it down with something else if you can't bear the lingering taste.
Herring is a popular hangover cure (I can imagine, with that smell and taste!) as what's considered to be a "good" herring is that it has to have >15% fat, and salty. It's usually served with onions and pickles; the fish is meant to be eaten whole but you can always ask the seller to chop it up.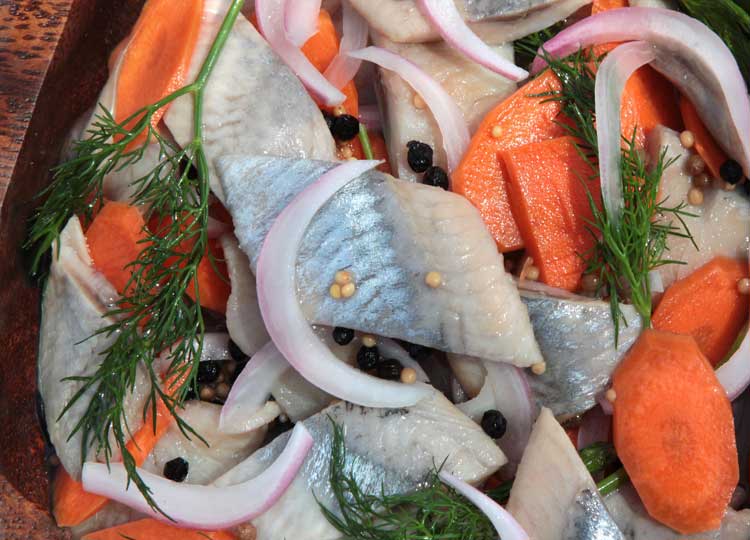 The most popular and easily accessible spot in town is at Stubbe's haring, located near Amsterdam Centraal.
---
Try It: Stubbe's haring // Singel Haarlingersluis, 1013 // Prices: €3.50
4. Poffertjes
The poffertjes are another classic Dutch dessert – small bite-sized, round pancakes served with icing sugar and oodles of Nuttela or enjoyed with just a dusting of icing sugar. Options for toppings can go as far as M&M candies, melted white chocolate, maple syrup and many more sweet, savoury or fruity options to choose from!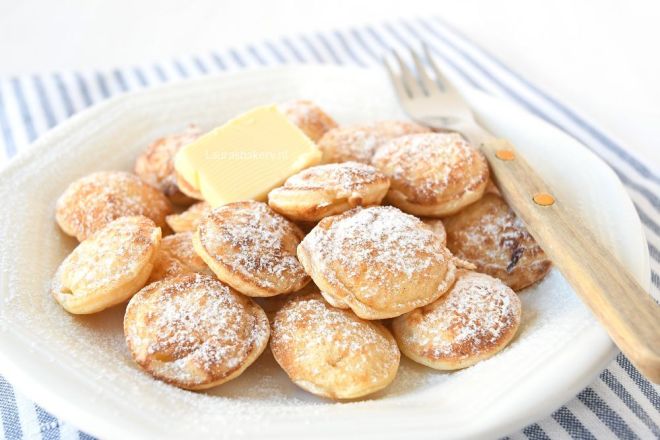 The pancakes are light and fluffy on the inside and since they're so small, they make for the perfect bite-sized snacks as you wander through the streets of Amsterdam! I always find North American pancakes to be a little too sweet and big for my liking so these poffertjes are the perfect alternative. The poffertjes base is not very sweet so having it dressed up with Nutella and other toppings won't be too much to enjoy!
The best ones according to Google and TripAdvisor is the poffertjes at De Vier Pilaren (plates can cost between €11-20) but the one in Albert Cuyp market is a little more accessible and cheaper (each serving costs €5.50)!
---
Try It: De Vier Pilaren // Stadhouderskade 11, 1054 ES Amsterdam, Netherlands // Prices: €11-20
5. Bitterballen
Bitterballen is essentially fried mashed potatoes and traditionally stuffed with meat. It's really the perfect late-night and on-the-go snack for in between meals. The filling is usually beef or veal-based and the dish is traditionally served with beer (what else?!) and a side of spicy mustard to dip these delicious hot treats in.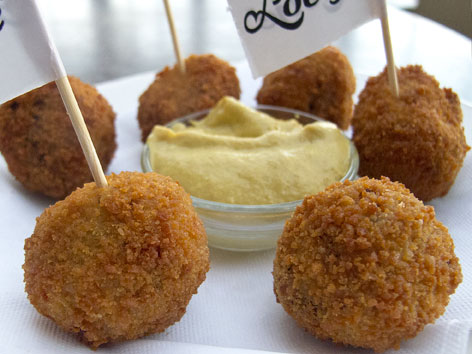 There are tons of places to get your fix of bitterballen but a popular one for this classic is the Café de Tuin in the Jordaan neighbourhood. This particular area is very popular with tourists as it is very picturesque and is considered one of the must-see destination in the Amsterdam so the cafe is a relaxing place to stop at if you're in need of a break.
---
Try It: Café de Tuin // Tweede Tuindwarsstraat 13 // Prices: €10
Now it's over to you! Do you have any favourite Dutch treats to try out the next time we're there?