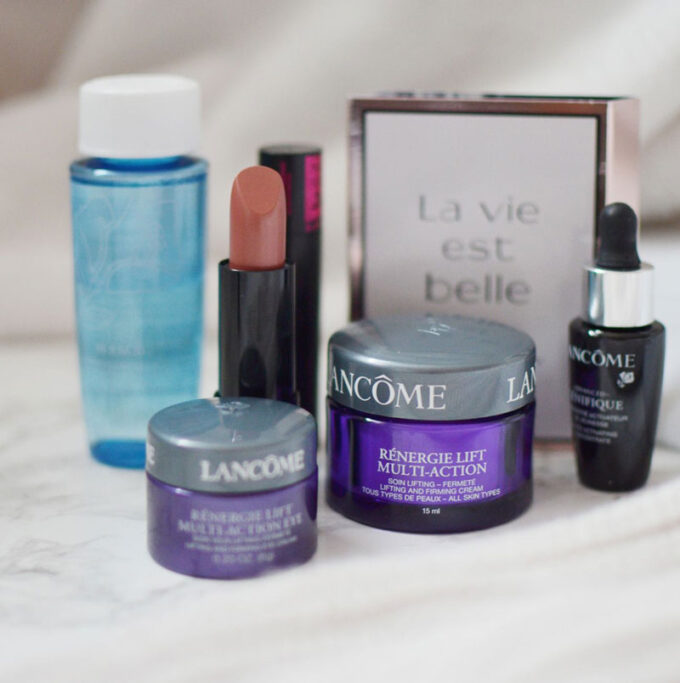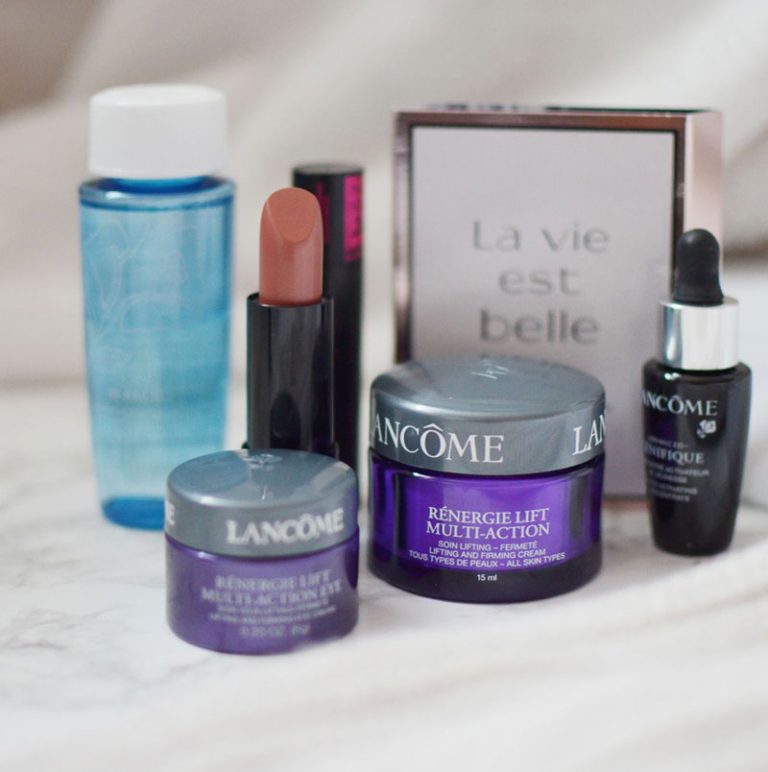 I've rarely bought something for the purpose of getting the gift with purchase but for Spring, Lancome has something pretty exciting up their sleeves with their $192 value Lancome Gift with Purchase and seeing it over and over again on Facebook made me at least go on Sephora to check out any new launches and repurchases I might want to pick up. With a fairly low minimum spend threshold ($39), you should at least check this out if you're planning to do a bit of makeup spending!
I received my Lancome Gift with Purchase as a sample but if I did need a new mascara (The Hypnose Drama has come back to my everyday stash) or a new foundation, then I'd definitely be looking to be adding this to my shopping bag.
As someone who's constantly travelling for personal trips and work travels, I always appreciate having some of my favourite products in a mini format. I also love collecting makeup bags which I am hoping to use later on this year to pack goodies for the Shoebox Project. The makeup bag for this particular gift with purchase was designed specifically for Hudson's Bay (you can see the colour motif on the left skirt) and the floral theme is simply too good to pass up!
If you don't plan on using your makeup bags, they make a great storage for cables, electronics for when you're travelling. Otherwise, consider donating it for charity as well!
Included in the gift set is 7 pieces of beauty goodies, one of which is a full-sized item:
Rénergie Multi-Action Lift, 15ml ($125, available here)
Rénergie Multi-Action Lift Eye, 6ml ($94, available here)
Mr. Big Mascara, 2ml ($31, available here)
Color Design Lipstick Designer Bloom, 4g ($30, available here)
Advanced Génifique, 8ml ($99, available here)
Bifacil Eye Makeup Remover, 50ml ($39, available here)
Printed zip pouch
The gift with purchase is valued up to $192 which I thought is quite generous. Included in the gift set is a full-sized nude lipstick which is fairly universal and can be toned down or played up depending on the kind of look you want to achieve. Going through the included items, I did notice the eye cream mini is actually just around half the size of the one on the shelves! Eye creams are generally quite expensive anyway so you're getting quite a bargain on this set!
I think the low threshold for this gift is particularly tempting – usually, you need to spend $65+ on a bunch of minis which isn't something I'd ever do. If there were a couple of other varieties (i.e. different lipstick colour), I probably would buy something for the sake of picking up another one of these GWP!
All in all, I feel this is one of the more generous GWP I've seen in a while. The low threshold in addition to a really good variety of products included just makes a lot of sense to check out if you're shopping for new makeup!
Do you buy things to get gifts? What do you think of this Lancome gift with purchase set?
---
Disclaimer:
This post features product(s) provided for editorial consideration. All opinions are my own. For more information about my review policy, please
click here
.
---