It's that time of the year again where the annual Sephora VIB/VIB Rouge holiday shopping event takes place! If you are a VIB or VIB Rouge member, you can take advantage of the 20% sale starting on November 6th, 2014 (For Rouge members, the sale starts on November 5th!) For VIB Rouge members, Sephora is hosting a private shopping event – the Sephora VIB Rouge Holiday Soiree Event – much like the one that took place in March (Chic Week).
Holiday shopping tends to be one of the best times of the year to splurge: tons of holiday sets which are perfect for value-conscious shoppers, new products on the shelf, and generally a great time to pamper yourself with some new things!
It's called the Sephora VIB Rouge Holiday Soirée, and VIB Rouge members are invited to shop early in-store, with the 20% off, with a friend! For those of you who can make it to the event, you will also receive a limited-edition tote and Shashi Bracelet which are nice extras for those who collect these items!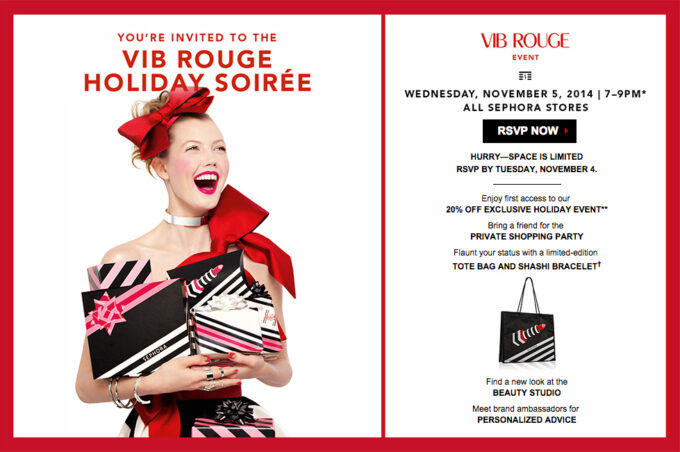 Details of the Sephora VIB Rouge Holiday Soiree Event
Date/Time: November 5th, 2014 (7-9PM)
Location: Most Sephora locations, though you have to RSVP in advance
Details of the Sale
Dates: November 6 – 10, 2014
Codes: GIFTVIB for VIB's and GIFTROUGE for VIB Rouge members
Availability: Can be used online/in-store multiple times
Additional Info:Sephora Forum
My wishlist is quite long. Instead of showing them here, I'll link you up to that post instead! Will you be attending the Sephora VIB Rouge Holiday Soiree Event?
Now it's your turn! Will you be attending the Sephora VIB Rouge event? Have you been to an event like this? As always, I'd love to hear your thoughts! Share with me comment section or through Twitter or Instagram!
---
Disclaimer:
Information provided is intended to be used for research purposes only and is current at the time of writing. For more information about my disclosure policy, please
click here
.
---