Attention, all Sephora VIB Rouge, VIB and Beauty Insiders! Sephora is hosting awesome points event, and a VIB Rouge-exclusive reception event! Pictured is the exclusive invite for VIB Rouge members – Sephora is hosting a closed-door/private shopping event in most US/Canada locations. For VIB and beauty insiders, you get to celebrate with a Sephora VIB Rouge Reception Event on your purchases!
Don't worry if you have not received any email or mailer – I have not received my email/mailer either! I found these links while browsing other blog posts, and the Sephora forum. You can sign up for the event which will be taking place on August 6th from 7-9PM (Canada). Please note the dates/time that the event is taking place differs depending on whether you live in Canada or the US.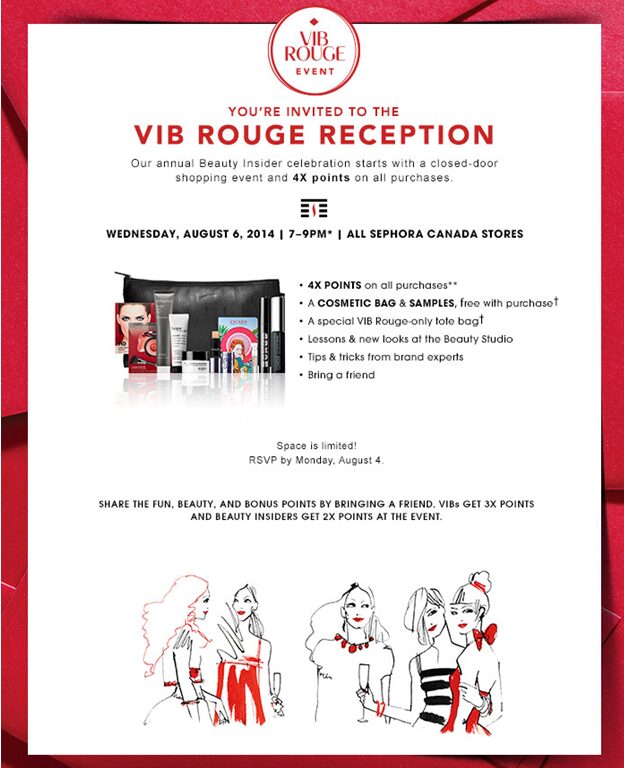 Sephora VIB Rouge Reception Event Details
Time: August 6th from 7-9PM in Canada and Aug 3rd, 9-11AM (US)
Where: Most Sephora locations in Canada/US
RSVP Link: Sephora RSVP Site
Points Perks: 4x (VIB Rouge), 3x (VIB) and 2x (Beauty Insider)
Other Details: Earn multiple points on purchases made between Monday August 4, 2014 thru Sun August 10, 2014 at 11:59pm PDT
At the event, VIB Rouge also get the preview of the new beauty studio, meet brand experts and learn new tips/tricks, and receive a cosmetic bag with sample goodies (Similar to the Chic Week event that took place a couple of months ago!)
Now, it's your turn – will you be shopping the Sephora VIB Rouge/Beauty Insider Event? What's on your wishlist? Share with us in the comment section below!