It is that time of the year again when Sephora is hosting a points events for all tiers of its beauty rewards program. To kick things off, Sephora will be hosting a private shopping event for VIB Rouge members. The event will take place across most Sephora free-standing stores, and as a VIB Rouge member, you are allowed to bring a guest to the event. Each store will have different brand reps /experts who will demonstrate various techniques and beauty tips during this evening an evening of hanging out with beauty addicts too!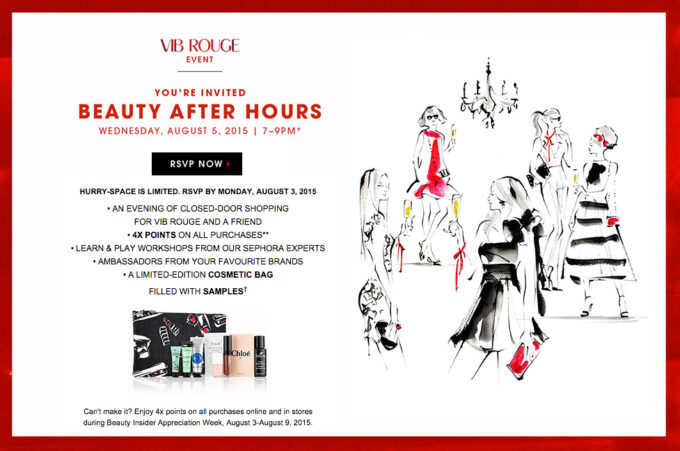 Purchases made between Monday, August 3, 2015 through Sunday, August 9, 2015 at 11:59pm PDT (both in-store and online) will be eligible to earn extra points. Those with Beauty Insiders status will earn 2x the points, VIB members will earn 3x the points, and VIB Rouge members will earn 4x the points. VIB Rouge members and their guest will also receive a gift bag filled with samples during the event.
Canadian Sephora members can RSVP here and US members can RSVP on this site.
Now it's your turn! Will you attending the VIB Rouge event? As always, I'd love to hear your thoughts! Share with me comment section or through Twitter or Instagram!