It is officially the season of gift giving, and one of my favourite holiday traditions, Secret Santa! Who doesn't love getting a little secret something that someone else picked out for you. Plus, they always feel like little treats that I get most giddy about. Fortunately, if you're always in a rush or leave your shopping to the last minute, Sephora has got you covered with the Sephora CollectionBeauty Uncomplicated Holiday Collection available online and in-store!
I've always considered the Sephora Collection brand to be one of the most underrated brands out there – I'm a huge fan of some of their products including: Hair Sleeping Mask, Foot Mask, and Black Magic Makeup Remover Cloths among a whole bunch of other picks I've purchased in the last few years. Not only does Sephora make great dupes, but they are far more affordable, and often at a quality higher than the original.
You might think with a $25 price limit, there are tons of limitation but you couldn't be more wrong! Sephora Collection has tons of fun picks under $25 goodies for every preference, skill level and are generally a good value for what they are. Let's discuss a few under $25 gifts that would make for the perfect Secret Santa gifts or stocking stuffers!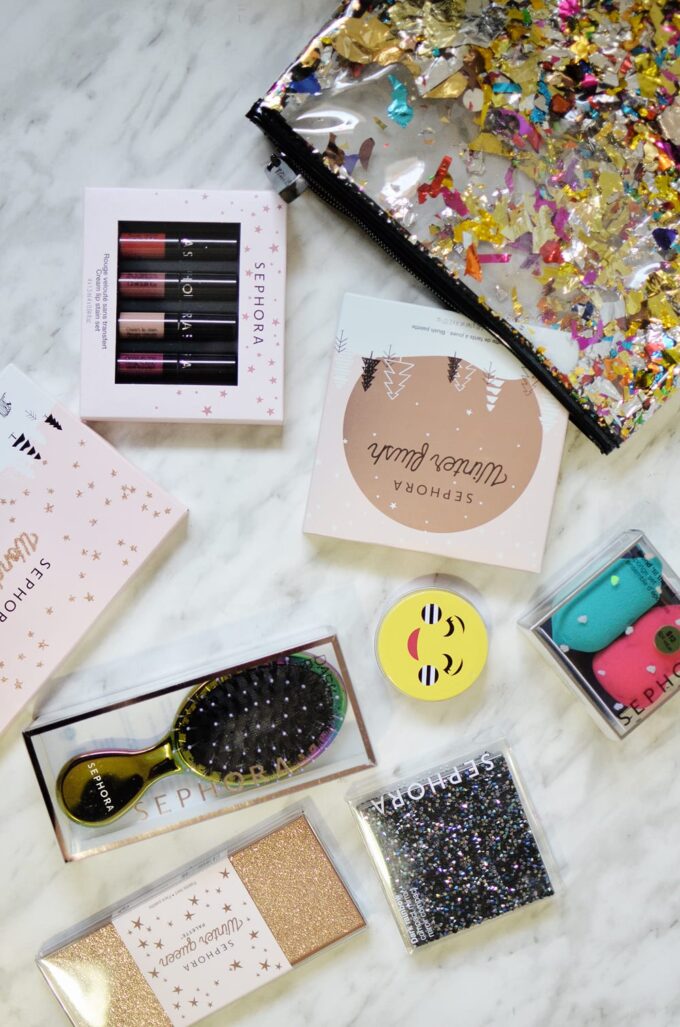 For the Face
The Sephora CollectionWinter Flush Blush Palette ($20, available here) is an impressive 8-colour blush palette that is far more versatile than the price would make you think. The 8 colours are divided into quadrants, and each box feature two colours that are matte on one side and shimmery on the other. You can use the colours individually (and use a smaller brush for the shimmery part as highlighters) or swirled together. A palette like this would be perfect for makeup beginners – you get 4 tones that are usable for a variety of different occasions! This product seems like a great dupe for the Anastasia Beverly HillsBlush Palette ($39, available here) which costs twice as much but have roughly the same volume.
The quality of this blush palette blew me away – I wasn't expecting the kind of pigmentation or how naturally-looking this palette was going to be. I had expected very obvious chunks of glitter but instead we are getting a lovely colour payoff that looks like any expensive palettes. I would say the only downside is the small space between the colours which allows the colours to bleed into each other. Not a major concern though as it can quickly be brushed away.
The Sephora CollectionBlend 'Til The End Sponge Set ($15, available here) is an adorable two-piece makeup sponge set that features a traditional egg-shaped sponge, and a detailer sponge in one compact mini. Not all makeup sponges are made equal so I was very skeptical to try this one out. It's not as soft as my favourite beautyblender but it does the job quite decently. A set like this would be perfect for travelling or someone who's never tried sponge as makeup tool before and want to give it a go before investing in something like a beautyblender!
For the Eyes
I think the eye makeup is where we need to get really excited. Sephora brought out their A-game with this holiday collection and I think you'll find some exciting dupes for very popular and expensive palettes here!
If the Sephora CollectionWonderful Stars Eye and Face Palette ($23, available here) made you do a double-take, that's fine, that was my reaction too. That's because this palette bears some resemblance to the iconic Too FacedNatural Eye Neutral Eyeshadow Palette ($45, available here) which was one of those products I lusted after in my early makeup days. The palette features 9 eyeshadow colours (matte and shimmer), 2 blushes and a highlighter. Theoretically, this palette makes an awesome one-product-does-all gift and it is something I'd be pretty happy to recommend. Unfortunately, the execution falls a little short – the dimension of the palette means the eyeshadow is pressed into a tiny space which makes it hard for a brush to pick up the colour. I think this palette would have made a lot more sense if executed with blushes on one side, and eyeshadows as a separate insert.
One of the best value product in the entire collection is probably the Sephora Collection The Winter Magic Palette ($13, available here), which coming at less than $15 is a total bargain considering it includes 8 neutral colours that you can use to take your makeup from day to night in an instant. Half of the palette are shimmers and the other half are matte which is something I really appreciate since you don't have to switch things out to get ready!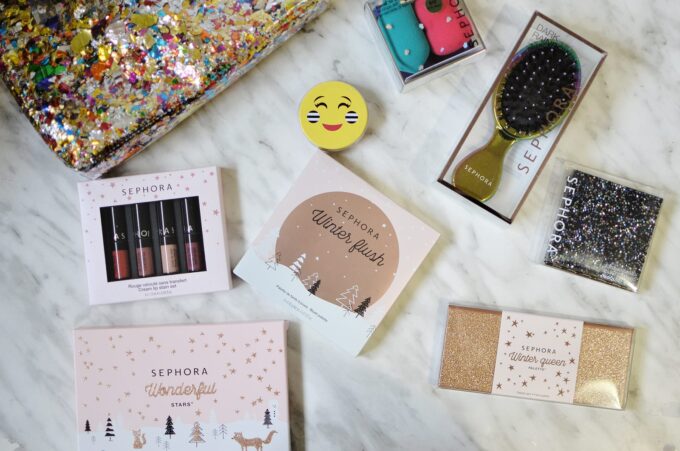 For the Lips
I have heard amazing things about the Sephora CollectionCream Lip Stain ($18, available here) – I follow a lot of British youtubers and they seem to agree that Sephora makes one of the best lip stain products out there! At a mere $16, it is an incredibly affordable piece that will keep you coming back for more. Fortunately if you are someone who cannot finish a makeup item, you can be thrilled to discover that the Mini Cream Lip Stain Set ($15, available here) features four colours for every occasion! The size of the minis make them easy to misplace and lose but they are enough to get a sense/sampling of this light-weight matte formula. I'm personally a huge fan of the "Nude Blush" shade which is the perfect nude colour for all occasion!
If you need to hit a minimum to get your secret santa or just want to gift them something that's cute AND functional, look no further than the Sephora CollectionEmoji Lip Balm ($6, available here). This adorable custom tint lip balm comes in two shades, and features a very hydrating formula that lightly tints the lips.
The Accessories
I think some of the most interesting pieces in this holiday collection is the accessories collection. There are so many interesting pieces and adorable products that according to my last research is starting to show up on the sale section! Lucky you for holding out and getting these on a discount too!
The theme of this holiday collection seems to be confetti and dark rainbows – perfect for those who outgrew their rainbow-unicorn-funfetti days. The Dark Rainbow Dual Boar Brush ($18, available here) and Dark Rainbow Compact Mirror ($15, available here) are perfect additions to any makeup bag, and a new makeup bag or two could be just what they might need so don't forget to check out the Let's Disco Confetti Clutch ($18-25, available here) or the Dark Rainbow The Minimalist makeup bag ($18-25, available here). In case you left your shopping to the last minute, the confetti clutch is already on the sale section!
What do you think of this year's Sephora Collection Beauty Uncomplicated collection? Are you planning to shop for it this year?
---
Disclaimer:
This post features product(s) provided for editorial consideration. All opinions are my own. For more information about my review policy, please
click here
.
---