I've been meaning to pick up a few things from Sephora – just to stock up on some must-haves – and conveniently, Sephora also added a whole bunch of new 100 point perks to make the deal even sweeter! I knew it was not a good idea to open the Sephora website so soon after I came back from my trip… But, it happened so I won't complain about it!
To make myself feel less guilty about the spending, I have been good about not spending too much elsewhere in the last couple of weeks – I was busy with my travels and additional work commitments. So OBVIOUSLY, it was a good time for me to do a quick Sephora haul and now do a show-and-tell on the blog…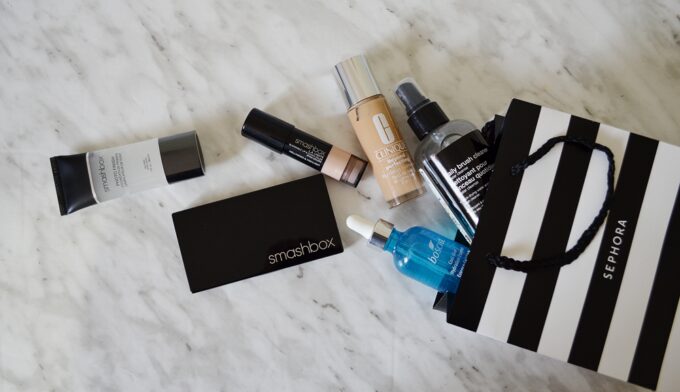 The first thing that caught my eye was the bosciaCool Blue Hydration Essence ($43, sephora.ca) which immediately went into my cart, because girl, I need all that hydration booster I can get! Truth is, I really wanted to get the FreshSeaberry Skin Nutrition Booster ($56, sephora.ca) but it was more expensive and only has 1/3 of the product as this bottle. Plus, I have had nothing but good experiences with boscia, so that's settled! I'm kind of bummed that it sold out quickly because I like this product. A lot. Ah well, it seems the quest for the perfect hydration booster shall continue.
I've been meaning to try more Clinique foundations because I quite like the Even Better Foundation I have been wearing lately. The new CliniqueBeyond Perfecting Foundation and Concealer ($34, available here) seems to fit the bill. Lots of YouTuber's rave about this and I quite love Clinique's foundation range and the availability of yellow-based shades. So in the basket it goes!
A new value set (and you guys know how much I LOVE! value sets) caught my eye and it was the Smashbox Studio Tricks Made Easy ($58, sephora.ca) featuring 3 full-sized products from the brand. Considering the most expensive item in the set is the contour palette ($52), and the value of this set ($130+), I checked out before really considering whether I needed it or not. So far I'm quite liking the contour palette; the face primer has been around for some time
The last item I picked up is a daily brush cleanser from Sephora. It's water and alcohol free which confused the heck out of me as it was a liquid spray bottle. But, I've tested it and it's quite good at picking up the remnants from my brushes but I don't think it is something I would repurchase when I'm out.
Have you picked up any beauty bits recently?