Since the only person to splurge on myself is… me, I thought I would pick up a couple of things with my Sephora Loyalty Reward Card this year. I know, I'm a couple of weeks overdue but the holiday season is the worst time to be posting hauls in between reviews, and new launches that I'm excited about sharing! But I digress!
Barely three days after recovering from that madness of a weekend, Sephora was back with another event worth splurging on, the Loyalty Reward Card event. It's "the" customer event of the year where members of their Beauty Insider loyalty program gets a $15 – $25 one-time use gift card for any purchases over $50.
My sister, a beauty insider, received $15, and graciously gave me hers to use, so I got to splurge twice. As a VIB Rouge, I received $25, and if you are a VIB, you get $20. I think I went a little overboard with the shopping and this haul gets me dangerously close to another year of VIB rouge so it's time to take it easy over the next couple of weeks. This time around, I only stuck largely to repurchasing staples (ohermgee, I feel like I say this every single time I post a haul, but I swear…) and picking up one last thing(s) for myself for the holiday season.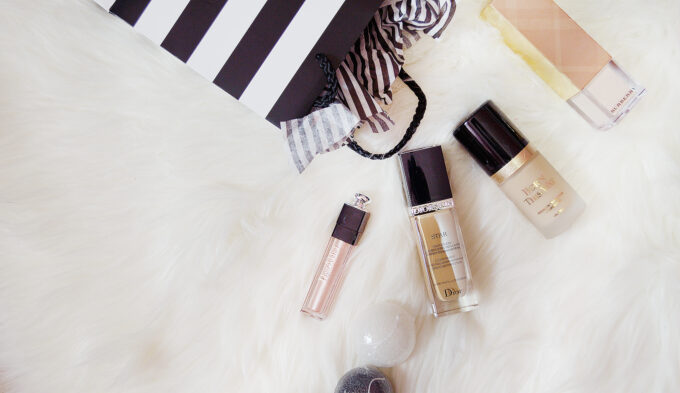 So here's another Sephora haul for you all who love reading and getting inspired for your next shopping trip!
I know this looks like a lot of product and it may seem that I paid a little more than intended, but when in Sephora all reason goes out the window! I picked up mostly complexion products because those are the products that I tend to use up most and gets a lot of use out of.
The first is a new foundation, the Too FacedBorn This Way Foundation ($49, available here) and I bought this primarily because I was looking to try out another full-coverage foundations that is also moisturizing for the winter season. What absolutely grabbed my attention about this foundation is the ingredients list which includes hyaluronic acid and coconut water. The first ingredient, hyaluronic acid, is a common ingredient in high-end skincare and it works to trap moisture on your skin. In skincare, a lot of higher end brands have this as their key moisturizing ingredient and it is one of the best kinds of acid to have on your skin! Plus anything with coconut in it is guaranteed to be extremely hydrating so this was an immediate winner for me.
I had ran out of my favourite everyday foundation, DiorDiorskin Star Foundation ($56, available here) in the middle of the event so it was convenient timing! The DiorDiorskin Star Foundation ($56, available here) is my go-to, and must-have foundation that I wear all year round so I need to have at least 1-2 bottles of backup before the next time I pick it up. This tends to be usually in November, when Sephora hosts their 20% off sale or a loyalty card event like this.
A couple of new additions included the BurberryFresh Glow Luminous Fluid Base ($54, available here) which I wanted to pick up primarily due to its gold, limited edition packaging. When I go through this, it will continue to sit on my vanity rather than being thrown out – that much is guaranteed.
I had to go back and pick up the BosciaKonjac Sponge Mini Trio ($20, available here) because I loved the EcotoolsPure Complexion Sponge which I reviewed months ago! It's a great alternative to exfoliating with a Clarisonic or a scrub. My skin isn't usually too sensitive but the Clarisonic broke me out and any time I use a scrub, I get nasty breakouts that are far worse than indulging in pizza and fries for an entire week. This has been my go-to exfoliating alternative that is still gentle on the skin.
The last item I picked up is a bit of a splurge from Dior. Despite being released months ago, I couldn't get the DiorDior Addict Fluid Shadow ($36, available here) off my mind, even after swatching it in-store and repeatedly telling myself that I didn't need it. The vibrancy and staying power at the back of my hand was so unreal that I finally caved and bought the shade Aurora for everyday wear. I hope this product lives up to its price and doesn't turn out to be a one-hit bust!
What did you buy with your Sephora Loyalty Reward Card?