Well, Toronto, you have got some explaining to do. The mid winter weather that we had up until early February did lull me (and I'm sure everyone else) to a false sense of security and by the time Valentine's Day (or Family Day Weekend rolled around, it was an unbelivably cold -20C that felt closer to -30C due to windchill. Not cool Toronto. Not cool.
When you have a sudden change in temperature, my skin needs demands all the moisture I could possibly lather and apply all over. The eczema on the back of my hand comes back with a vengeance and the skin on my elbows, knees, around the laugh lines on my face starts to act up and get a nasty kind of flake-y. Not the best look to sport any time of the day or year!
To combat this, I've been pulling out all the stops with my skincare, and not just what I lather after I get out of the shower, but while I'm in the shower as well!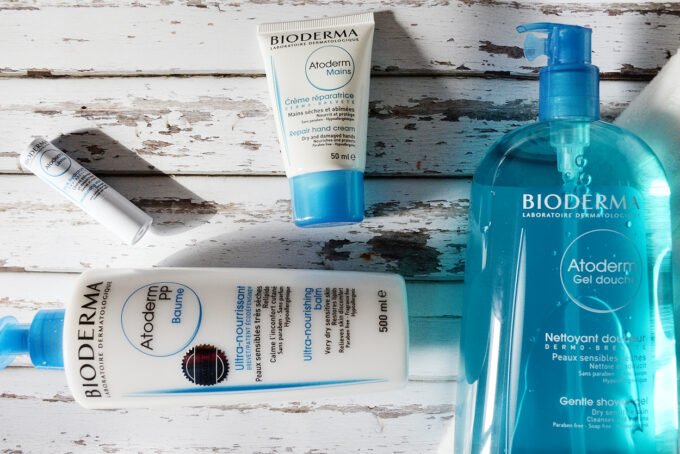 To start out, I have been switching my regular Irish Spring / Dial soap to the much more moisturizing BiodermaAtoderm Gentle Shower Gel ($14.95, available here) which now comes in a convenient 1L pump bottle format for the entire family! The shower gel is a creamy, soap-, allergen-, and paraben-free product which means it is gentle on the winter skin. The formula was developed to be safe enough to use for children and babies – so I am sure this will this be even that much better for adult skin like ours!
One exciting news about this product is the 1L pump bottle which is a new format that's super bathroom-friendly, and if you have children, it is basically children- and spill-proof. The other great benefit of swapping out your regular soap with this is the fact that you can use it for the face and body so you don't have to invest or pack a separate cleanser for the face.
The second product I have been reaching out for is the BiodermaAtoderm Nourishing Perfumed Cream ($28.95, available here) which also comes in a bottle format which makes it convenient to leave in the bathroom. This formula was developed to safe for use for adults, children and babies, and gentle enough to use on the face. The long-lasting moisturizer (they claim up to 24 hours hydration) immediately sinks into the skin and does not feel greasy nor lingering on the skin. For those who are sensitive to perfumes and scent, there is an unscented formula available – however the good news is that both products are paraben-free, hypoallergenic, non-comedogenic.
When my eczema on my hands start acting up again, and I need the extra dose of hydration, I will reach for the BiodermaAtoderm PP Ultra-Nourishing Emollient Balm ($29.95, available here). This is actually something I have on hand all year round just because my skin is very atopic and prone to drying out since I am constantly washing my hands or using hand sanitizer. Oftentimes, it leads to severely cracked skin and on occasion, bleeding! The formula was designed to immediately reduce itching, scales, roughness, sensations of tightness by up to 87% after 1 use, so daily use of this gets rid of my eczema faster than anything I've tried before.
It helps to keep my skin as well-nourished throughout the day as well. I am always constantly washing my hands from touching my keyboard, and phone. Overtimes, it's taken a bit of a toll on me, resulting in chronic cracking skin. I've been loving the Bioderma Atoderm Repair Hand Cream ($6.95) which is a long-lasting, nourishing hand-cream that's easy to pop into my work bag or keep at the side of my bed and at the office. I really like the non-greasy feeling of the cream and the fact that it quickly heals my cracked skin!
Lastly, to moisturize my lips and keep them hydrated all day long, I have been reaching for the Bioderma Atoderm Moisturizing Lip Stick ($6.95, available here) which I am quite obsessed with. The raspberry infused lip balm sinks and immediately moisturizes the lips without any waxy feeling and also suitable for both children and adults! Guaranteed to be a hit, no matter the age!
With all this swings in the thermometer, I really need to protect my skin the best I can! I am loving the variety of options that Bioderma offers, and the paraben-, and allergen-free ingredients ensures that I am putting the safest formula's on my already tired-out skin from this weather!
What do you do to keep your skin hydrated and nourished?
---
Disclaimer:
This post features product(s) provided for editorial consideration. All opinions are my own. For more information about my review policy, please
click here
.
---