Last year, Makeup Geek launched their much hyped about foiled eyeshadows and I have been curious ever since. At Sephora and MAC, you can definitely get your fill of matte, satin, shimmer eyeshadows, so this "new" product from Makeup Geek has been on my wishlist of things to try out. Makeup Geek isn't the first brand to come out or release a "foiled" type of eyeshadow (a cream and powder hybrid with intense pigmentation) – in fact Make Up For Ever'sArtist Shadows (most of them) is the closest thing I can compare this to with its foiled texture with excellent colour payoff and longetivity.
The Makeup GeekFoiled Eyeshadows ($9.99, available here) have a friendly entry-level price point which makes it excellent to dabble in, if you have been wanting to try out Make Up For Ever's artist shadows but might the price point too intimidating.
The eyeshadows have the smoothest textures and makes it super easy to apply with your fingers. As someone who always, always uses a brush to apply any type of products, I actually enjoy using my fingers to apply these foiled eyeshadows. Synthetic brushes also works well when you don't want to be using your fingers to apply the eyeshadows. Something immediately noticeable about these eyeshadows that they are more powdery than creamy so there will be a little bit of fallout, but still staying true to the intensity of the colour payoff from the first swipe.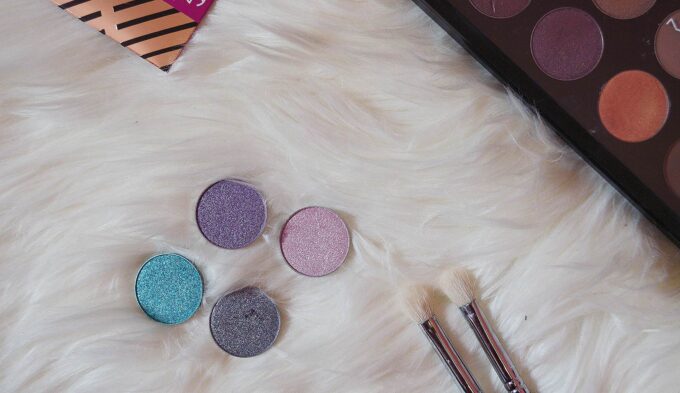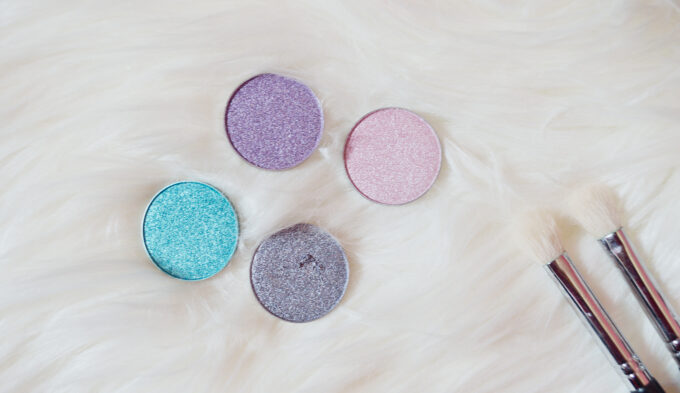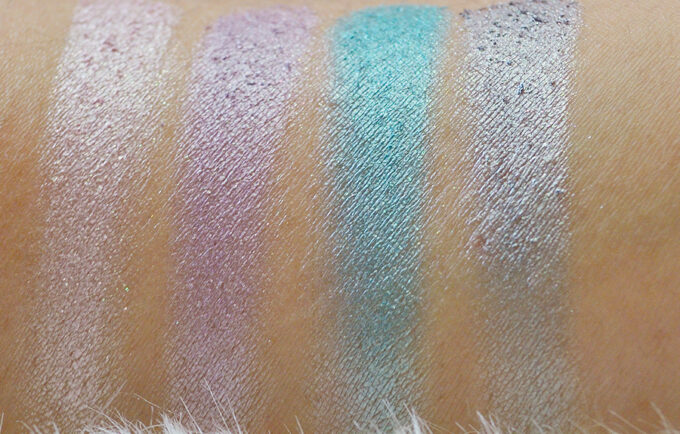 As you can tell, I was immediately drawn by the pastel shades from the collection and I find them to be quite unique to my collection. My favourite of the bunch is High Wire a silver-purple shade that looks so flattering all over the lid, and a great go-to for the inner corner as well. I like to pair this shade with a darker purple shade for a soft, romantic look that looks like I put a lot of effort into. It's a colour that will work well with Pegasus for a themed-party look or a festive makeup look.
The foiled formulation makes these eyeshadows incredibly "metallic" and "shiny" as you can tell from the swatches. I find it a good idea to pair with a matte on the outer crease to prevent the eye makeup looking "too much". From my experience with these four eyeshadows, the lighter shades tend to have medium colour payoff, while the darker, and more jewel-tone kind of colour like High Wire and Pegasus are opaque from the first swipe.
Overall, I think the Makeup Geek foiled eyeshadows are fun additions to your makeup collection that doesn't break the budget. It adds a lovely "oomph" and variety to the regular line up of eyeshadows and can easily be incorporated to your daily routine.
Have you tried the Makeup Geek foiled eyeshadows before?