I was really fortunate to receive the limited edition Make Up For EverSepia Blue Palette ($50) The limited edition palette is only available exclusively at their Boutiques at the Toronto Eaton Centre and Complexe Les Ailes in Montréal location of Sephora, so if you are interested in getting your hands on this palette, you should check out one of the two locations.
Inspired by the 1950s era, the Make Up For EverSepia Blue Palette seeks to recreate the 1950s inspired cat eye look. This is my first time trying out eyeshadows from Make Up For Ever (as I was only familiar with their face product mostly), I did not have much expectations. Housed in a small, sturdy, and thin plastic compact, perfect to travel with and easy to store. Don't let the size of the compact fool you (it definitely did fool me!) because the compact includes a full-sized mirror inside with a mini double-ended shader/precision crease brush, and an angled eyebrow brush. Additionally, each shade contains 1g/0.03oz worth of product (for a total of 8g) compared to the 0.08oz ($24) content of the full-size.
This palette contains seven neutral eyeshadow colors (varied shades of brown) and the exclusive metallic blue shade, "Petrol Blue" which is the highlight and the standout shade of the palette. As much as I love neutral shades, I am loving the varied neutral brown in this palette, which I would normally shy from. Additionally, the eyeshadows are quite versatile – they can be used as brow shades (I use #17 Espresso, and/or #28 Coffee). Even if you are not a fan of the 1950s cat eye look (I know I wasn't really into it), there are so many looks you can recreate with this palette. Make Up For Ever included two step-by-step guides on the back of the box for you to create the signature Sepia Blue look.
I was also very impressed with the overall pigmentation, texture, and intensity of the colors in this palette. All the eyeshadows were swatched 1-2x without a primer or a base. All of the shades swatched nicely, and required only one swipe except for #04 Black (Matte) which took 3-4 swipes to get it to show like the one in the swatch below. All of the other shades have very good pigmentation and great texture that does not crumble easily. My only complaint about this palette is that the shades of brown included here are too cool-toned on my skintone, making it necessary to include warmer shades from other palette in my routine.
I love the glamorous vintage vibe that the Make Up For EverSepia Blue Palette exudes. The metallic blue shade provides a graceful contrast to the shades of brown. I can really appreciate the inspiration behind this palette and I think Make Up For Ever did well translating a very eventful era into a palette. The varied texture and finish of the shades in this palette provide the perfect medium for creating contrasting looks from simple to elegant or extremely artistic.
Shades Included: #128 Copper Fawn (Satiny), #28 Coffee (Matte), #152 Light Pink (Iridescent), #04 Black (Matte), #98 Brown (Matte), #17 Espresso (Matte), #127 Metallic Taupe (Satiny) and Fall 2013 – Petrol Blue (Metallic Iridescent).
I was initially skeptical as to how the colors would come together in this palette, but they really did work. This palette really pulls together that come-hither look but can also function to deliver a very artistic glamorous night out. Will this palette be for everyone? Definitely not; there are less expensive and more varied "neutral" palettes out there, including the LORAC Pro Palette, which has more options in terms of colors. I feel that this is also more of a "collector's item" given the whole inspiration behind it. However, if you're into the 1950s trend, or just love neutrals and versatility, this palette could be for you. From a price perspective, this palette makes me squirm because it ranks up there in the price spectrum (for the value that you are getting). This palette ranks as being a "nice-to-have" and not so much must-have in my book simply because the 1950s trend is too bold for my own preference but definitely will suit those who grew up with the trend or are simply bolder with their makeup. Personally, I'd definitely like to see warmer color options/tones in the palette.
This palette has been a great introduction to Make Up For Ever's eye products and I am curious to see more of it. I am not very adventurous with my makeup, and this palette is not normally something I would reach for. The look I've re-created below is not sometime I would normally wear to run errands in but it was to recreate nonetheless, and I can foresee this being appropriate for a theme party or a night out!
Look of the Day ft. Make Up For Ever Sepia Blue Palette.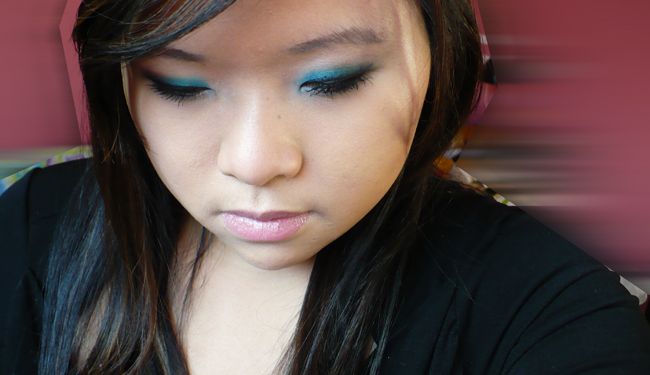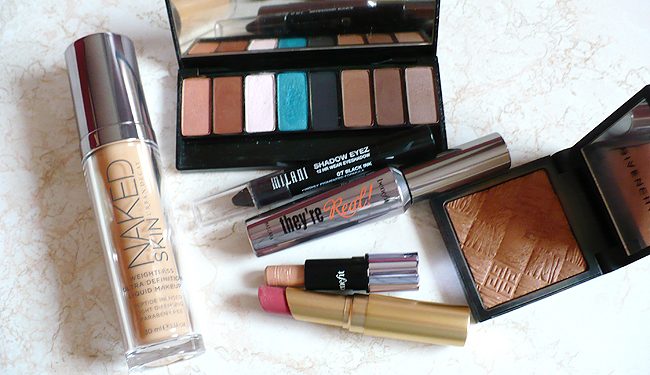 Face: Urban Decay Naked Skin Weightless Ultra Definition Liquid Makeup in #3.0, Givenchy Poudre Bonne Mine Healthy Glow Powder, Benefit Watt's Up
Eyes: Make Up For Ever Sepia Blue Palette (Petrol Blue, #127 Metallic Taupe, #04 Black), Benefit They're Real Mascara, Milani ShadowEyez in Black
Where to buy: Make Up For Ever Boutiques at Sephora ($50)
What about you? Are you interested in recreating the 1950s trend and trying out the Make Up For EverSepia Blue Palette? Would you buy and try it?
---
Disclaimer:
This post features product received for free. All opinions are my own. For more information about my review policy, please
click here
.
---