As promised, I have another review of two new products that Real Techniques came out with for the holiday. Capitalizing on the incredible success of the original Miracle Sponge (the drugstore answer to the original Beauty Blender) Real Techniques has come out with two more "miracle" sponges in response to the expansion of the beauty blender range.
I purchased the Real TechniquesMiracle Mini Eraser Sponge ($9.97, available here) and the Real TechniquesFinish Miracle Sculpting Sponge ($9.97, available here). Both Miracle sponges are available on the Real Techniques website (which now ships to Canada), or the Walmart Canada website.
I have an enormous trust in the Chapman sisters (Pixiwoo) and the Real Techniques brand to give me new products to obsess over. I've long been a fan of their brand, own multiples (more than 20 at last count) of their brushes, some of which are about 6 years old and still going strong. I had high hopes for these new products but unfortunately, I think they fell a little short of my expectations.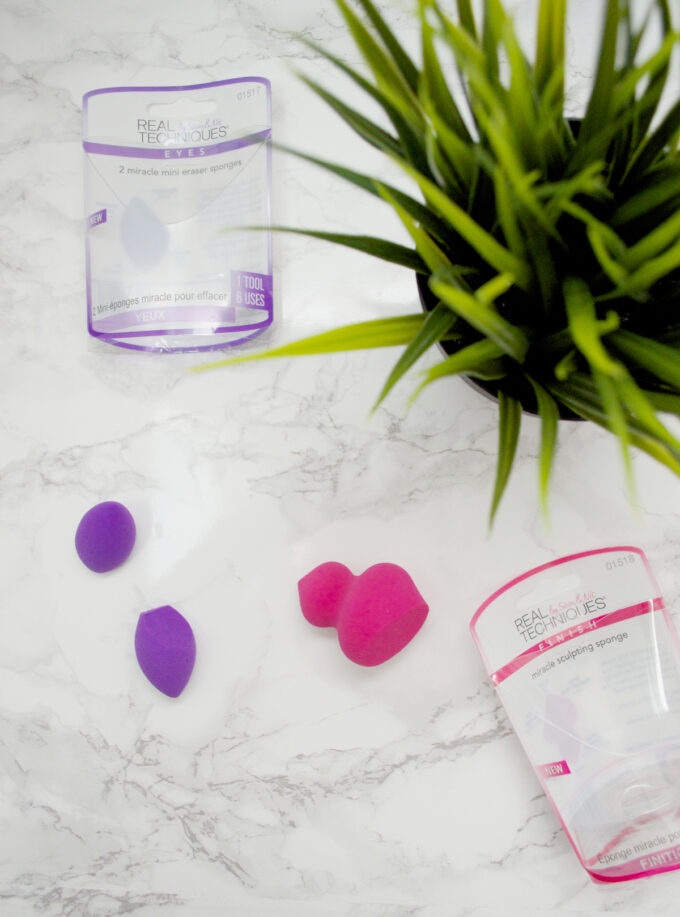 [show_shopthepost_widget id="2109055″]
Let me be upfront – I think the Sam & Nic have done such an incredible job on the original Miracle Complexion sponge (the orange one) that it has rendered these two new miracle sponges as redundant, and obsolete even at launch. The original sponge comes with so many uses and "sides" that it's basically these two new sponges in one. For someone who is quite low maintenance and doesn't spend more than 15 minutes on my makeup on a daily basis, I know I wasn't going to get a good usage out of them.
Before I overload you with my opinion, I will go through the pro / cons of each sponge, and what they do so you can get a feel of what the sponges are like.
Real Techniques Miracle Mini Eraser Sponges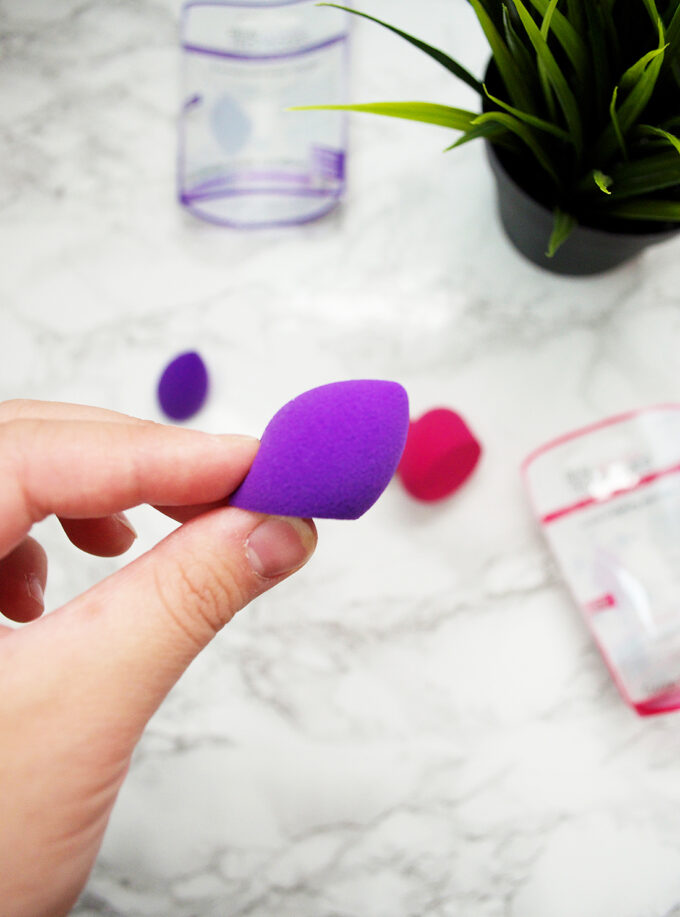 The Real TechniquesMiracle Mini Eraser Sponge is a 4-in-1 sponge that is meant to erase makeup mistakes around the eyes. Think of fixing flaky, smudging mascara, eyeshadow fall outs, and buffing away excess makeup around the eye area. Its shape is very similar to the original Miracle Complexion sponge but its main difference is obviously the size. The smaller size actually makes it really difficult to hold. To get a good grip, I feel like I have to use my fingernails. Considering the foam material of Real Techniques' miracle sponge tends to rip and show wear far quicker, I knew this wasn't going to last too long.
You can use the sponge wet or dry – similar to the beauty blender, the sponge increases in size when dampened. To be fair, I think there is a place to use this product – i.e. if you are a makeup artist and need to deliver picture-perfect makeup look every time. I think sponges like this will make a huge difference.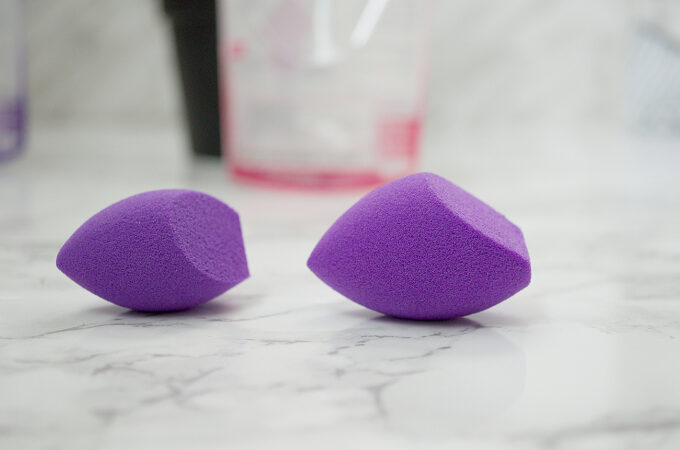 For me, the biggest challenge about this product is the fact that it is already very similar to the original Miracle Complexion sponge, and that I already use the flat / pointed tip sides to address any makeup issue that this sponge is meant to address. I don't have to switch between tools, and for me, that renders the Real Techniques Miracle Mini Eraser sponge fairly useless.
Unfortunately, I am not convinced by this product and I think you're better off purchasing the original Miracle complexion sponge over this to get more usage.
Real Techniques Finish Miracle Sculpting Sponge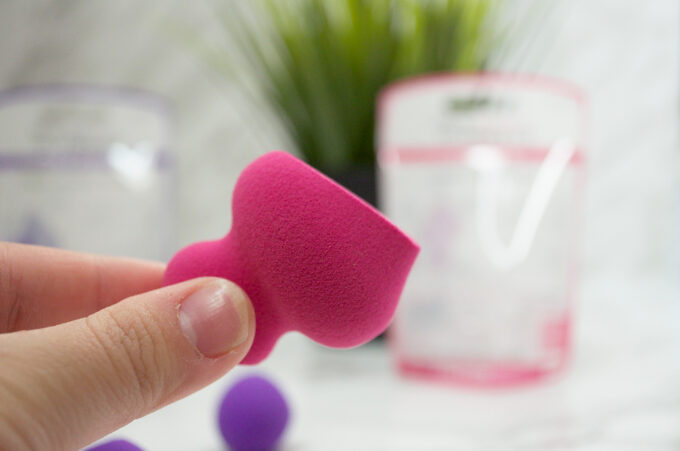 I didn't have a much better luck with the Real TechniquesFinish Miracle Sculpting Sponge either but for a different set of reason compared to the Mini Eraser sponges. Physically, this sponge is very close in size to the Miracle Complexion sponge, and the "bottleneck" area of the sponge makes it easier to grip. That means you're not holding the sponge with your fingernails which obviously will lead to wear and tear far quicker.
The sponge has 6 sides, and is meant to be used with contour, highlighting, and general use products. Like the other sponges, you can use this both wet and dry – wet for a more dewy effect, and dry for a fuller coverage. Real Techniques claim that you can use this sponge with all sorts of format – liquid, cream, and powder – with no issues.
The two ends of the sponge are virtually identical, so 3 sides on each end to use for highlighting, contouring or applying your foundation. The only difference is the size – one end has the facets larger so you can work on more real estate at once. This shows the kind of thought process and consideration that went into the design – kudos to both Sam & Nic for thinking it through.
Unfortunately, this sponge didn't work out for me either as I'm not a fan of using sponges for contouring or highlighting, no matter the format. I found the sponge absorbing most of the products I meant to apply so I was using so much more than I normally would with a brush. Furthermore, even when dampened, I found this sponge to apply products in a streaky and uneven manner which leads me to believe that used dry, it would not render the most flattering effect.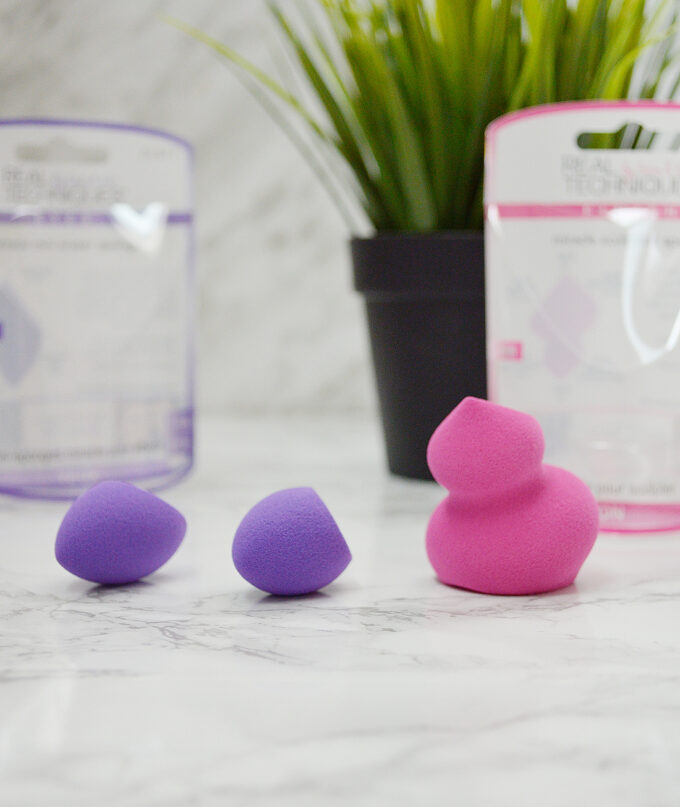 Between the two new sponges, I think you're better off buying the Real TechniquesFinish Miracle Sculpting Sponge if you really wanted to give these a try. It has more uses and does more work for the bucks you're spending.
Over to you – what do you think of the new Real Techniques Miracle Mini Eraser & Sculpting Sponges? Have you tried them?
[show_shopthepost_widget id="2109055″]