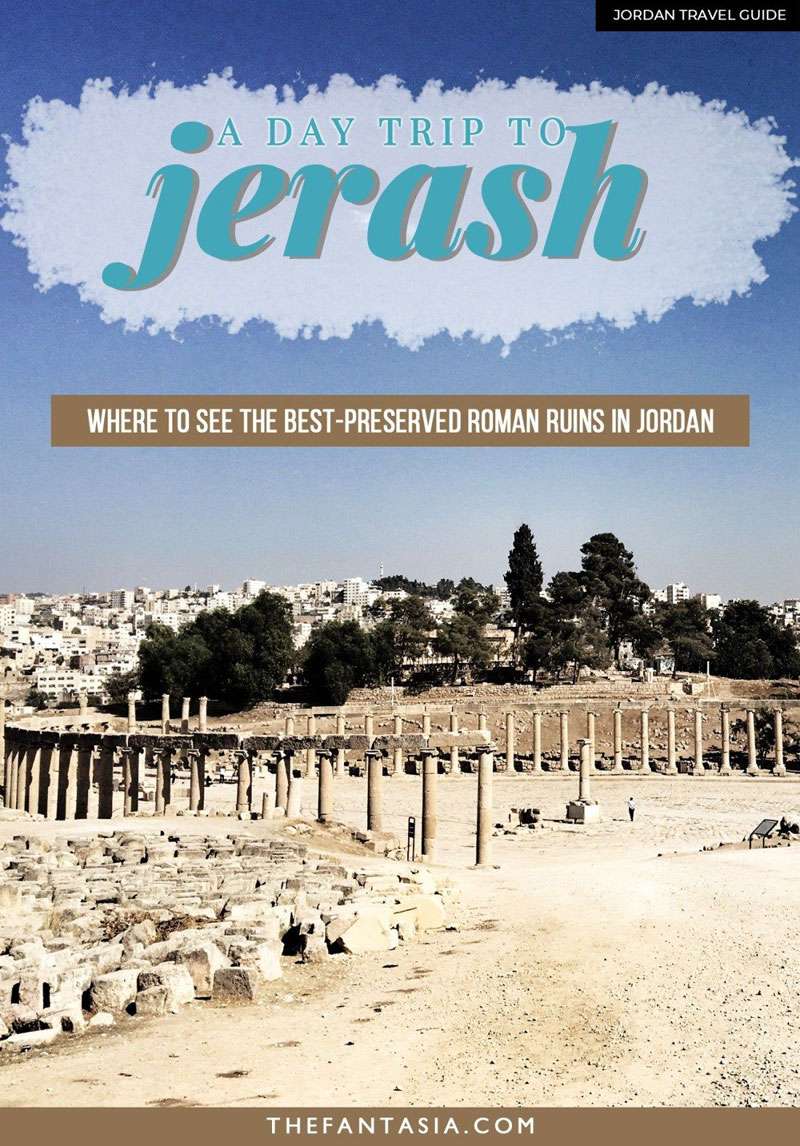 I bet you didn't know that Jerash is home is one of the best-preserved, and easily-accessible Roman ruins in Jordan! This fact really surprised me too because I thought Italy would own that title but here's to learning something new every day!
The influence of the Roman Empire extended far and wide thanks to their military campaigns extending the Roman rule until it covered much of Southern Europe, Western Europe, Middle East East and North Africa. As a result, their influence and ruins can be found all over many countries in the region.
It's pretty easy to assume that the best Roman ruins can be found in and around Rome. While that is true, decades of mass tourism meant that they are constantly being "renovated" to preserve them for future travellers. When I visited Rome back in 2013, I was really disappointed by all the scaffolding and "DO NOT ENTER" signs that limited my exploration. Plus, with all the crowd, the long line-up took up all the fun, and the railing meant you can't really touch or walk on and around those temples, pools, villas, and amphitheatre which are so iconic of the age!
Why Visit Jerash: One of the Best Preserved Roman Ruins in Jordan
Jerash probably isn't the first place to come to mind when you're thinking of Roman ruins, but this city located about an hour north of Amman is a hidden gem that most people skip because they prefer to stay in the South, where they can indulge in exploring Petra and Wadi Rum. Not that I blame them but if you have the time and means to do it, visiting Jerash won't leave you disappointed even if you feel like you've been "templed" or "ruins-ed" out from visiting very similar-looking structures in other cities.
I've attached a map here to show you where Jerash is relative to Amman, which is a common arrival point for most travellers to Jordan.
What's really interesting about the Roman ruins in Jerash is not only how well-preserved they are but also the fact that they've been left as is after the city was abandoned thanks to a series of earthquakes in 749-850 AD and a brief occupation by the Crusaders in the 11-12th century. It remained largely "undiscovered" until the 1800s by Ulrich Jasper Seetzen; excavation work began in 1925 and continues until today. As a result, visiting Jerash feels like a walk through history.
The Roman ruins here are relatively compact and doesn't take too long to cover, so it's really a good site to visit for all ages as there's enough to see and explore for adults or any history buffs, but compact enough that it doesn't require strenuous walking or hiking for children or older adults.
The 3rd century was the golden age of Jerash as it was not only a prosperous Roman colony but was a commercial/trade centre. Jerash is also one of the 10 cities that made up the Decapolis League, a league/organization of 10 Greco-Roman cities, considered to be a commercial centre during the Roman rule. As a centre of trade and commerce, these cities really thrived and even received a measure of political autonomy in the form of being self-governing regions able to mint their own coins and operating fairly autonomously.
Of the 10 or so cities that made up the Decapolis, only 3 survived today: Jerash (Jordan), Damascus (Syria) and Scythopolis/Bet She'an (Israel).
How to Visit to Jerash: Getting There and How Long to Visit
How to Get to Jerash
Visiting Jerash is relatively easy, whether from Amman or Madaba. I spent a day in Amman and opted to make a half-day trip to visit Jerash and the Aljoun Castle which was surprisingly easy to cover within 5 hours. Jerash and AlJoun castle are within a 30 minute drive of each other so most tour guides will lump together. If you can, try to go to Jerash first as it is the more popular site between the two. As mentioned before, Jerash itself isn't very vast so you could spend 2-3 hours here and really enjoy the site.
You can take the public transit from Amman (a shuttle/servees) or hire a private/taxi driver through your hotel. Visiting Jerash as part of a day (or half-day) trip is very common and you might be able to split the cost with other guests and negotiate the fees ahead of time. If you are planning to rent a car, that makes it even easier as there's a ton of parking spots available by the visitor's entrance.
Jerash Entrance Fees & Opening Hours
The entrance fee to visit the ruins is JD10 (Roughly C$20) but it is covered in the Jordan Pass if you elect to get one. You can always hire a tour guide but because the site is so compact and the signs are well-written, I didn't find it necessary!
Since the ruins open at 7AM, it's really worthwhile to get there early! Although I didn't get a chance to see it, between July through October, there is a sound and light shows take place from 8:30-10:30PM.
I highly recommend visiting as early as you can – there is very little shade so it's very easy to get dehydrated and feel overheated. There is a bunch of restaurants, a small "souq" (market) and souvenir shop by the Info Centre where you can purchase water but as always, they're probably quite expensive compared to bringing your own.
What to See and Do When Visiting Jerash
There are a number of very famous and familiar structures to check out throughout Jerash. Here are a selection that I really enjoyed exploring!
1. Forum (Oval Plaza)
The most eye-catching (at least to me) was the Forum (Oval Plaza) that marked the beginning of the Colonnaded Street (Cardo) with its unusually wide, asymmetrical shape – this plaza had 160 ionic columns and I imagine, this must have been the centre of social/political life back in the days. Th structure is quite massive and almost impossible to get into a single shot.
2. Temple of Artemis
The Temple of Artemis was another highlight – not much of left of it today, only the columns. This temple was dedicated to the patron goddess of the city. The acanthus leaves carved onto the pillars are iconic of the Classical Conrinthian design.
3. The Cardo / Colonnaded Street
Spanning approximately 600m, the Cardo / Colonnaded Street was really the lifeblood of the city. This is where vendors would set up shops and major buildings would be found. As you walk along here, you can see the remnants of history like jigsaw puzzle waiting to be pieced back together.
4. Nymphaeum & Temple of Dionuysus
There is a very, very elegant and surprisingly well-preserved Nymphaenium (ornamental fountain) and this set of steps that lead up to Temple of Dionuysus – the god of wine, and celebration. In the 4th century, this was converted into a Byzantine church.
5. Agora / Food Market
It's not clearly seen from this picture but in the background is the remnants of the Agora (food market) in the city. There's a fountain that can barely be seen in this image.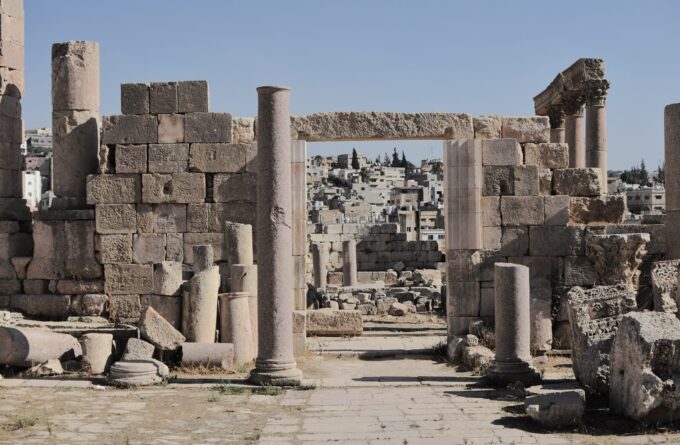 6. The North Gate
The streets throughout the complex is still in its original stones. If you look down, you can see chariot tracks from hundreds of years ago! While the North Gate isn't as iconic as the Southern one (marked by the Hadrian's Arch) the impressive detailing that remains is worthwhile admiring!
I seriously wished I had more time to explore the complex and took more photos as there were far more to write about. In addition to the above, I highly recommend checking out the following locations, which are well-marked in the complex.
South Theater – an iconic, and easily recognizable amphitheatre with daily performance of bagpipers in Jordanian military garb.
Hadrian's Arch – another iconic structure that you might be familiar with – it was built to commemorate the Emperor's visit and is unofficially, the Southern gate of the complex.
Hippodrome – a Roman empire stadium – occasionally, there's a chariot race but the info I've read leading up to my trip have been fairly mixed. No idea if this is still happening or not.
Have you travelled to Jordan before? What do you think of the Roman ruins found here?
Pin for Later