Flying with a discount carriers is not usually my favourite method of transport – from hidden fees, delays, and the plethora of unpleasant reviews from passengers, I typically stay away from them. RyanAir, I'm looking at you! Due to the timing of my safari trip and the need to allow enough time before and after the drop off so I can have sufficient time between and prevent being late, I opted to fly with FlySafair, one of South Africa's newest discount carriers (Other existing ones include Mango and Kulula).
I've flown round-trip with the airline, and my experience has been pretty good. I opted for the standard fare which allowed me to check in one bag instead of paying the premium of checking in on the day of. This is paying a little bit more than the cheapest fare, but it was worthwhile compared to having to pay the standard luggage fee. My fare also allowed me to fly with 1 hand luggage, and a small personal bag (I had a backpack which I thought might be an issue, but was ok). Similar with other airlines, each bag cannot exceed certain dimensions or 7kg in weight.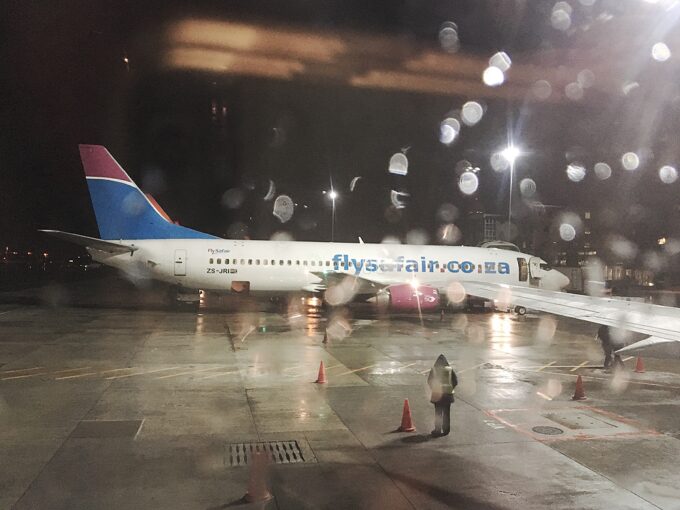 Flysafair | Flight Experience
As expected with a discount airline, the flight experience is very basic and no-frill. You can purchase water, and snacks on board, and advance seat selection costs a bit more. The seats are fairly thin, and bare, similar to what you would find flying with Air Canada Rouge. Despite that, the staff was friendly and there was no delay in getting on and off the aircraft. I had no problem checking in my bag and although you had to pay for the privilege, it's significantly cheaper than doing so in North America or Europe. For context, the cost of checking in a bag is R150, which is $15 each way. I could have easily not paid the checked baggage fee, but I was in South Africa for 2 weeks and it would be pretty tough to survive on a 7kg carry-on.
At both the Johannesburg and Cape Town airports, there is no automated machine to check-in, though I didn't find it to be a problem as I arrived early and found the check-in area staffed by at least two people. After I cleared security, we waited for boarding.
The gates for FlySafair boarding is located in the basement on the Johannesburg airport. When we started boarding, we walked a short distance to where the aircraft was parked, and were directed to board either at the front or back of the place depending on your seat number. In my experience, you usually board through one set of entry-way and that often slows things down as you would usually be stuck waiting for someone in front of you put their things away. Boarding on both ends of the aircraft shorten the boarding time immensely although I can see why this would be a potential security issue at other airports. Overall, the process of getting on and off the aircraft was handled professionally, and I never felt like I was flying a budget airline.
I flew FlySafair on some weird times – I had a 5:45AM departure, and a 10:25pm arrival. There was no delays and I think we even arrived several minutes early.
The airline is still quite new so it is in their interest to keep their customers as happy as possible. I would fly FlySafair again given my past experience, and considering how inexpensive the flights are even after including the cost of checked luggage! I never felt like I was flying a budget airline, and the aircraft (a 737) is a standard short-distance carrier in other parts of the world too!
Are you Planning to Travel to South Africa soon?
Do you fly with a discount airline like FlySafair when you travel?
If you enjoy this post,
click here
for more South Africa posts!