"After women, flowers are the most divine creations," – Christian Dior. Well sir, no truer words were ever spoken! If you haven't been paying attention to Dior's recent launches, now is the time! With the days getting shorter, and darker quicker, Dior is bringing Spring back with the Dior Glowing Gardens collection!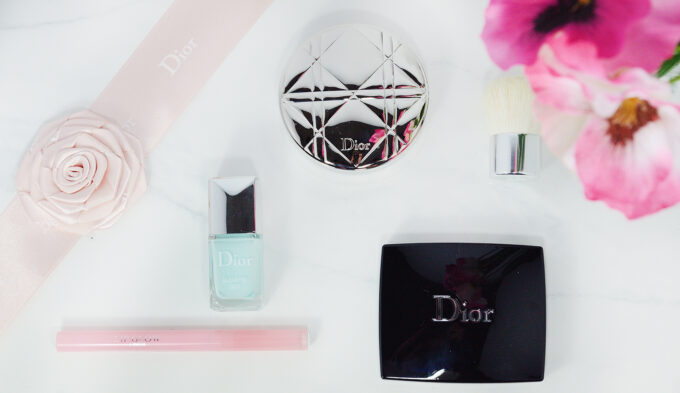 The limited-edition collection was created with a "glow manifesto" in mind, and was inspired by the Granville Garden in Northern France that inspired a lot of the couturier's creations throughout the years. If you are ever in Paris, you can actually visit the Musee Christian Dior and see a lot of the inspirations behind the creations we've loved and adored throughout the years. The overall feel and tone of this entire collection is all about fresh radiance, balanced with deeper hues.
Dior 5-Couleurs Glowing Gardens Eyeshadow Palettes in Rose Garden #451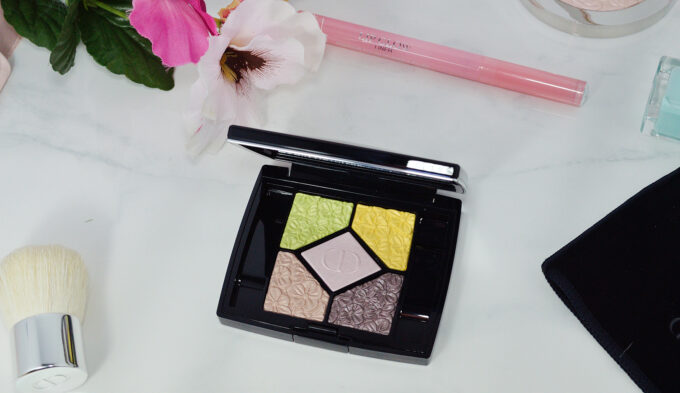 Featuring contrasting shades of a vibrant yellow, a wearable moss green, a creamy beige and tree-bark brown surrounding a soft highlight pink, this quint palette is the definition of Spring in a palette. The Dior5-Couleurs Glowing Gardens Eyeshadow Palettes in Rose Garden #451 ($70, available here) is like a garden couture. With blossom embossing this palette is almost too beautiful to use, with colours that you would not think could work together but really do.
The formula feels quite similar to the quints I featured from the holiday collection. The eyeshadows felt a little stiffer with some fallouts, but that was easily remedied by applying the colours wet. There isn't actually instructions whether to use it wet or dry, but I always take a chance and try it wet before I give it a poor ranking! The colour in this quint is not something I'd reach for everyday but is great to have for that special occasion and really lift your mood!
Dior Nude Air Glowing Gardens Illuminating Powder #001 – Glowing Pink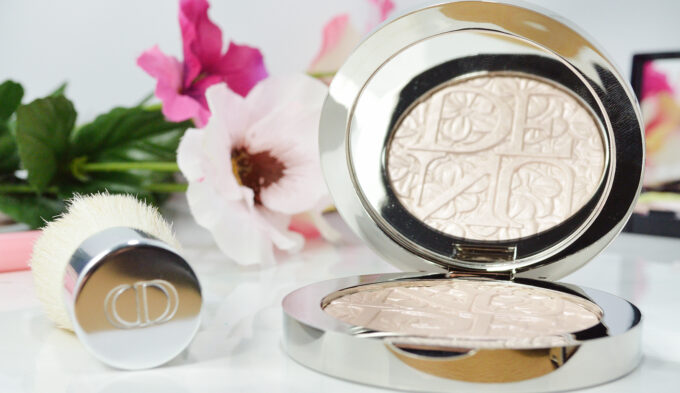 This powder made my heart skip a couple of beats – it is so beautiful with intricate floral embossing overlaid with the word "NUDE". With a golden-skin undertone, I always prefer pink highlighters as they tend to show up better, and naturally on my NC25 skintone. However, most pink highlighters tend to be too "icy" and "frosty" in finish – too stark of a contrast to my skin. The DiorNude Air Glowing Gardens Illuminating Powder in Glowing Pink ($64, available here) is a flattering champagne highlighter with a hint of pink undertone.
The star of the show is the formula – soft powder with no visible powderiness when applied, a problem that is common with most powder highlighters resulting in disco-like finishes. For those who prefer a warmer glow, there's also an option #002 Glowing Nude.
Dior Vernis Glowing Gardens – #301 Bluette

I adore Dior's best-selling gel-based nail polishes, and the DiorVernis Nail Lacquer ($31, available here) in the shade Bluette is just so darn beautiful. A baby blue colour that is sure to be a conversation starter – I've had so many compliments wearing this and after 3 days of wearing the polish (with no top coat, because the formula is just that good!) I'm happy to report no chipping! A baby pink shade called Lilac #491 is also available for those who prefer a different hue.
If I had to pick one (or two)…
With such a stunning range of different products to choose from, it could be really difficult to decide which one to get. I would recommend the Illuminating Powder as it will last you a very, very long time, and I think is the most unique of the entire collection. I would also recommend trying out the Vernis Nail Lacquer as I guarantee you will receive more compliments than you thought was possible with a baby blue or pink nail polish!
The Dior Glowing Gardens Spring 2016 Collection is now available at Dior counters across Canada, The Bay, Sephora, and Holt Renfrew.
Which product are you most interested in trying out? What do you think of this garden-inspired range?
---
Disclaimer:
This post features product(s) provided for editorial consideration. All opinions are my own. For more information about my review policy, please
click here
.
---