The best part about traveling is finding random hidden gems scattered around the places you're visiting. When I went to Prague in 2013, I briefly mentioned the hostel that I was staying at, Czech Inn Prague (See what they did there?) I haven't talked about it enough so I thought I would do a review on the hostel in case you're looking into it or planning a trip to Prague soon.
I always enjoy staying at hostels because it feels like re-living my freshman/frosh year again. You're sharing a space with a bunch of people and for the most part, I've had nothing but really great experiences! It's true that some nights, you get less sleep because someone decides to come home late or turn on all the lights at 3am, but those minor inconveniences are typically offset by the minimal cost.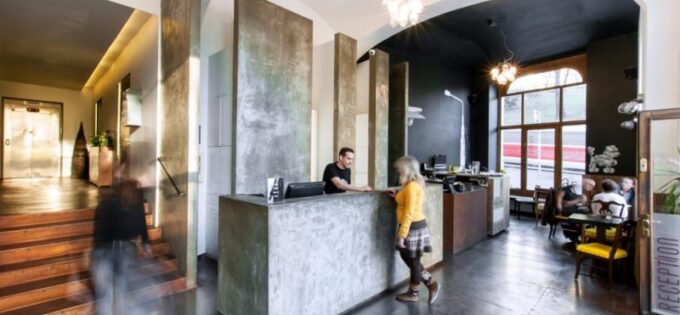 Budget Hostel with Touches of Luxury
For a hostel that bills itself as "an affordable luxury", there's an expectation that comes attached to it. Based on my first stay in 2013, they certainly delivered, so much so that I booked it again for second visit to Prague. I stayed in 2 different rooms because I wanted to compare how I liked the hostel experience. For your reference I stayed in in both a 4-bed dorm as well as a female-only 10-bed dorm.
Each shared dorm has individual lockers (under the lower bunk bed) though you'll need to bring your own locks.
Cost-wise, Czech-Inn is one of the least expensive hostels I stayed in and it helps that there are promos during the off-season which could save you a bit more money. I paid around 210 CZK / €8 per night in an all-female dorm in 2014. As of recently, the hostel has expanded to offer even cheaper (or more premium) options, depending on your preference, with a 36-bed shared dorm (€5/night) to their premium dorms with 3-4 bed (€19/night) – perfect for a girl's/small group trip. For those travelling as a family or want more privacy and don't mind paying extras for it, there is an option to stay in their studio apartment (€39-55) with private bathrooms.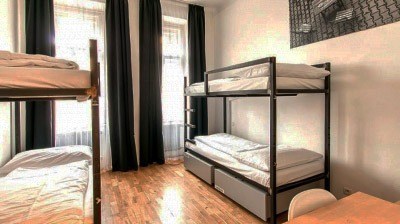 The first thing that immediately attracted me to the hostel is its incredible modern feel. With rainhead showers, open space feel of the shared rooms, you would think that you're staying in a hotel rather than a hostel. Both rooms I stayed in at were spacious, very bright and modern looking. The pictures you see on the website are as true as it gets! For the 10-person dorm room, the room is divided into 2 halves, with 2 sets of bunk beds (4 beds) and the private shower in one and 3 sets of bunk beds (6 beds) on the other. You choose your own bed, and whether you want the top or bottom bunks.
When I first came in 2013, I remembered that the caretakers were changing the bed sheets, so you know you're sleeping on clean, fresh linens! There's also free wifi which was sufficiently fast that I was able to catch up on my YouTube subscription. Czech Inn Prague provides amenities similar to most hostels and I think its most attractive attribute has been, and continues to be, its modern feel, and competitive rates.
Hostel for All Ages
Another reason I wanted to let you know about this hostel is that it attracts not only the young, budget-conscious travellers, but older couples find it comfortable enough to stay at. When I was there, I met two Australian and Canadian couples who were my parents' age, staying at the hostel and loved their experience. Czech Inn Prague also offers private apartments at a reasonable rate so if you are a couple or travelling with a family, this might be an option better suited for you!
For the price that you pay, you are getting more than a great value for your bucks! For a 4-nights stay in December 2014, I paid a total of USD$30 for my entire stay! That's only about $7/night! On top of that, because it was the low season, there were barely any girls staying (I think at most, we had 5 girls in the 10-bed dorms) during my stay!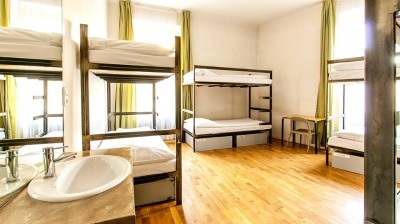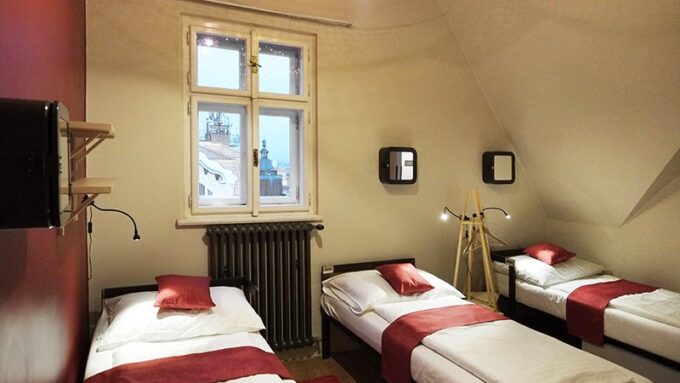 Other Amenities
In addition to the standard travel centre at the check-in desk, you can also request for a shuttle to pick you up from the airport a highly convenient service that not only save time but money as well. It's a little more than what I would spend but when your transportation options are limited, this is worth checking out! A round-trip service costs 550 CZK / 22 EUR.
The central tourist attractions of Prague is easily accessible via public transit. There is a stop right across the street, and Old Town square is only about 20 minutes away by taking the tram.
The front desk also sells tram tickets that makes it highly convenient for travellers to get around on a budget. Similar to other hostels, there are tours organized from the hostel itself, and they can help arrange day trips from the city with ease. Luggage storage and laundry facilities are available. Just 10-steps away from the front entrance is a small convenient store where you can buy a breakfast croissant for $0.17 or other items you might need.
What You Need to Know
Where to Stay:Czech Inn Prague; they also have a number of sister hostels around the city if this location does not work for you.
How to get there: I've only stayed at Czech Inn and arrive there using their private transfer service. The hostel is easily accessible to the Praha hlavni nadrazi (Prague's main train station)
Important to Note: All the touristic destination is highly accessible via tram in Prague. The front desk sells tram tickets as well as day tours
Day Tours: Visit Kutna Hora's Sedlec Ossuary (bone tomb), a highly fascinating albeit macabre look at practices of the old day. It's about 1-hour train ride
Picture Source: Czech Inn Prague