During the height of the BB/CC cream days, I tested out the IT CosmeticsYour Skin But Better CC Cream ($51, available here) – what seemed to be a tried, tested and beauty blogger approved alternative to a foundation. From what I had heard at the time, it seemed to be the product to have and the difficulty in getting it in Canada just made it that much more interesting of a product to try out! IT Cosmetics can be purchased at The Shopping Channel here in Canada, and is available widely in the US!
In writing this review, I am assuming you know the difference between a BB and CC cream; if not, here's an informative Paula's Choice article on the subject.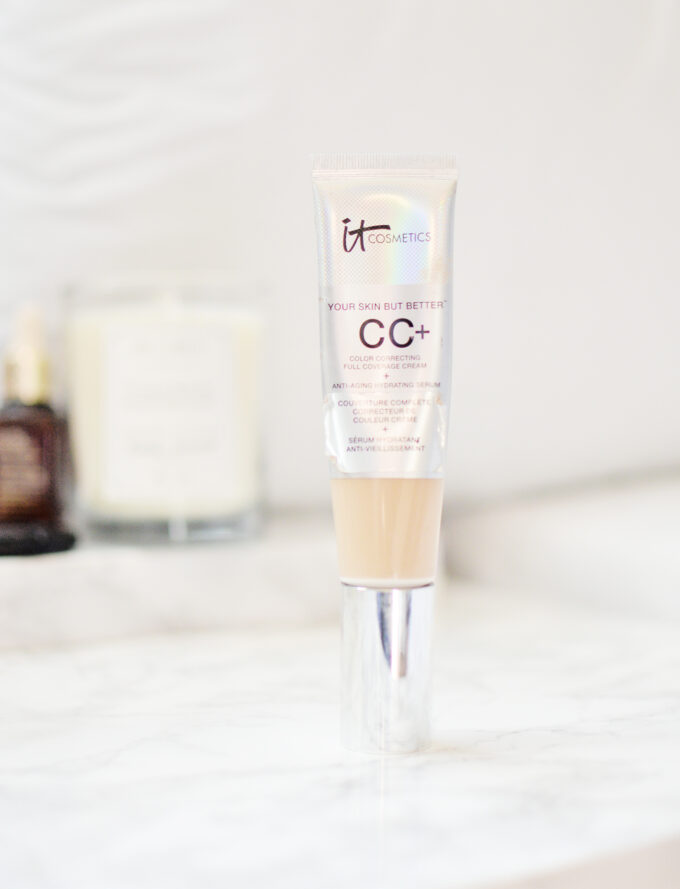 It Cosmetics Your Skin But Better CC Cream
The name Your Skin But Better seemed to promise a lot of things and I was so excited to give this ago when it first came out! So much expectations! So much excitement! I felt like all my perfect skin dreams were going to come true with this gold-dust, unicorn magic-infused formula.
I always have to talk about packaging because there are actually people who spent time deciding how the product should be presented and it's only fair to give them a sentence or two to acknowledge that. I really like the sleek silver tube / pump packaging that the IT CosmeticsYour Skin But Better CC Cream comes in. Makes it easy to travel and store in my makeup bag.
SPF protection is another bonus with this product, and SPF50 too? Well, way to win a girl's heart!
Where it went wrong with the It Cosmetics Your Skin But Better CC Cream
That happened rather quickly, didn't it?
Unlike foundations, a CC cream will have much fewer shade selection, and that applies to this range as well. There are five shades in the range, and the shade "Light" is a good match for my light-medium (NC25) skintone. There is quite a bit of yellow/olive undertone going on in this product so if you're looking to correct some redness, and blotchiness this is something that's going to work well for you. Although the cream starts out fairly olive and suitable for my skintone, I find that it oxidizes after 10 minutes of wear time – you can really tell where the foundation ends, and where the natural colour of my neck starts. I have tried mixing this cream with other foundations but it really hasn't fixed the oxidization issue.
The CC Cream has a creamy thick texture, very similar to the Laura MercierSilk Creme Foundation (old formula) and can be applied with your fingers, brush or a beauty blender. It has a very "wet" formula which essentially makes this CC cream sink into the bristles of your makeup brushes, and beautyblender no matter how little you apply it or even if you apply it directly on the skin. If I was looking to spend money for the sake of wasting money coating my makeup brush with a foundation, this would be it.
I struggle applying this with either a brush or beauty blender as it doesn't seem to want to stay on the skin. The whole process just takes a lot of repetitive effort and work to get right – I start by dabbing the product with a flat-top brush then blend everything in with a beauty blender (because even a flat top brush can't achieve a non-streaky mess). But then, the sponge ended up absorbing most of the product that was on the face so I have to touch up with a brush again.
Side note, the paddle brush that the brand recommends is a disaster when used with this product – the final result is streaky and barely covers anything up. There's just no winning with this formula.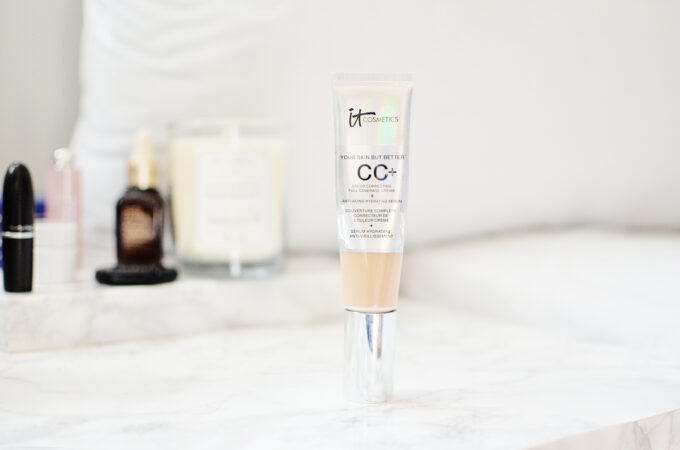 The issues continue…
Once you actually get the product on the skin, it has a medium-coverage that does a decent enough job at covering most redness, pores or imperfections but it won't do much for uneven skin texture – it just seems to highlight any bumps or "valleys" in the skin from scarring. It feels really heavy on the skin – it's something that you will be itching to take off within an hour.
The finish is supposed to be glowy/dewy but it's flat out a greasy, sweat-like mess. Like the kind of greasy that you get when you didn't powder and it's super humid outside. As someone who has normal/dry skin, my face looked as if "I had spent 4 hours at the gym" kind of sweaty. This dewiness (if you can even call it that) is flat out distracting. If you don't set the cream, it will transfer.
Even though I have normal/dry skin, this foundation really disintegrates on my skin within a few hours. Less than that if it's humid or warm outside. You can spot patches of my actual skin peeking through and the build up around the rose.
The Verdict: It Cosmetics Your Skin But Better CC Cream
There is so much potential with the IT CosmeticsYour Skin But Better CC Cream – there must have been two minutes somewhere in the last 2 years that I actually loved this product. I hoped and tried and changed and prayed but there's just no fixing the many issues this formula seems to bring. I'd recommend you buying something else in place of this formula – even the drugstores have better options than this.
But in case you still want to get the IT CosmeticsYour Skin But Better CC Cream, here's where you can buy them.