What if I told you, that just by skipping your daily cup of java for a week, you can splurge on a luxurious facial experience with one of the most recognized names in the industry, Clarins?
Recently, I had the pleasure of visiting the Clarins Open Spa Toronto counter at The Bay on Queen Street where we celebrated the launch of the Clarins Open Spa. Those who find themselves often in this area will know that The Bay had undergone quite the transformation; now the whole cosmetics area / floor is a luxurious sight to behold and experience. I was really thrilled to be in attendance and see the Clarins Open Spa launch which is a unique proposition in itself.
Offering a luxurious facial at a busy beauty counter sounded counter-intuitive, and the price just seemed too good to be true, so in the name of research, I had to check it out myself!
What is the Clarins Open Spa?
Before we dive deeper into the review, I better quickly explain what it is. The Clarins Open Spa is a 30-minute luxury facial treatment that will only cost you $35. With seven (7!) different options to choose from, the Clarins Open Spa experience is one that you will want to treat yourself to, or easily to gift to mom / sister / girlfriend / boyfriend / husband / other special individuals in your life.
$35 can get you a nice dinner, a new lipstick or blush, or a week's worth of your daily caffeine fix. How about a luxurious, and relaxing facial treatment instead? It's probably cheaper than getting a Groupon!
The Clarins Open Spa is only available at two other locations worldwide, and the one on Queen St Toronto is the first one in North America – thank you for the love Clarins!
Who is the Clarins Open Spa for?
Taking up only 30 minutes of your time, this treatment is something you can do during lunch time at work or as you're heading home after work. It seriously is the best any-time-of-the-week kind of treatment!
This service is perfect for anyone 1) who's pressed for time and 2) those who don't regularly splurge on themselves. I personally find going to the spa to be very costly, and often only treat myself once every two years (not a joke!) I have never gotten a facial treatment until this year (Thank you Groupon!) and often resort to scouring the Groupon website for spa deals.
I recently scored the Four Seasons Aromatherapy Massage deal which I will be using early next year. The price of that treatment? $145! That's already the discounted price because the regular price is $225! When you consider the addition of taxes and gratuities, this deal that I got is going to end up at the same retail price! The facial treatment that I got earlier this year (also courtesy of Groupon at Donato Salon) retailed for $55 and that was also the discounted price!
As you can probably see from a few examples above, shopping around a few different places indicate that most facials start at $50, making the Clarins Open Spa offering to be total bargain!
Did you know that…
The Clarins counter at The Bay also offers a full spa experience? There is a spa room, tucked behind the counter that most people don't know about. Don't forget to inquire about the services which range anywhere from $70 – $85 for a 60-minute treatment (body or facials). The spa experience is also available for the gentlemen! Be sure to take a peek at the Clarins treatment menu!
Service Menu & Overview
As mentioned, there are 7 different treatment options to choose from. Here is a quick overview of the spa menu.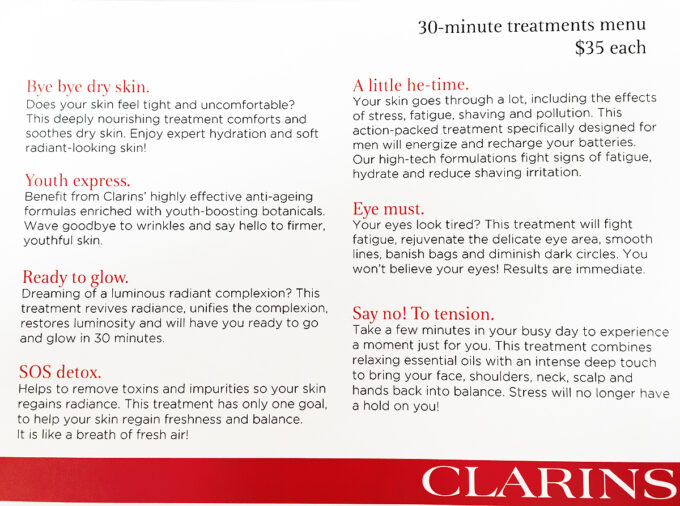 With each service you will receive a skin consultation and analysis with one of the lovely aestheticians. Just like other facial treatments, the aestheticians will remove your makeup, cleanse, exfoliate, apply treatments, give you a hand massage and a quick touch-up should you want it. They are more than happy to provide product recommendation, and samples (They have a lovely sample wall!)
If you can, try to book the treatment ahead of time. There are only two seats and the Clarins Open Spa is bound to be a hit!
My Experience at the Clarins Open Spa
During the launch event, I had the pleasure of trying out one of the treatment myself. It was not planned, but I couldn't resist saying yes when one of the Clarins team members approached me and pulled one of the aestheticians aside to help me get all primped up!
I had a skin consultation earlier (with the lovely Tatiana) so I already knew that my biggest skin concern is lack of hydration. I immediately asked for the "Bye Bye Dry Skin" treatment.
My aesthetician who worked on me was Irene. She started by removing all the makeup I had on, and a shoulder massage. I was initially very concerned about the music from the other counters, people walking by and the buzzing around the other counters taking away from the experience.
Fortunately, within 5 minutes into the treatment, I was able to relax and really focus on the treatment itself rather than the noise.
The aesthetician proceeded to start with a bit of aromatherapy to get me in the zone, exfoliate, and treat my skin with a variety of Clarins skincare concoction.
Applying exfoliators, serums, boosting tonic, and hydrating creams, finishing with a hand-massage to complete the treatment, I was very much in a deep relaxed state, trying desperately to not have to wake up. I had a bit of touch up, mainly foundation, mascara and lip oil to finish the look.
For only $35, imagine getting yourself treated to a this incredibly luxurious, and relaxing experience for the price of one week's worth of caffeine fix! I'm really excited to gift this treatment to my mom and sisters for the holidays! Don't forget to call in advance to ensure they have a spot for you, otherwise, if the counter is empty, walk-ins/drop-ins are ok too!
Have you been to the new Clarins Open Spa location at The Bay?
---
Disclaimer:
I received a Clarins Open Spa treatment during the launch event at Queen St. All opinions are my own. For more information about my review policy, please
click here
.
---