Anti-aging skincare isn't something I'm using quite regularly at this point in my life but I am slowly starting to incorporate a few staples into my arsenal. Skincare is a very personal thing and results can greatly vary between one user to the next, so I've been very selective in the brands and ingredients I choose to put on my face. Clarins is one of those brands that my skin seems to love and soak up. That's why I was pretty darn ecstatic about the relaunch of the iconic ClarinsDouble Serum ($89-120, available here).
If the ClarinsDouble Serum made you look twice, that's because the one I'm talking about is the 8th iteration of the iconic serum. First launched in 1985, this serum is actually older than me! Isn't that crazy?
I'm always wary of brands taking something that works and reinventing it (Why fix a problem that isn't there?) but it seems to be a strategy that works for Clarins since this is now the eighth "update" so I can't wait to see what's in-store.
The 8th generation of the ClarinsDouble Serum features a rockstar of an ingredient (and one that you're seeing everywhere, from smoothies, juices among many others) – tumeric. Let's dive into this product and check out what's new.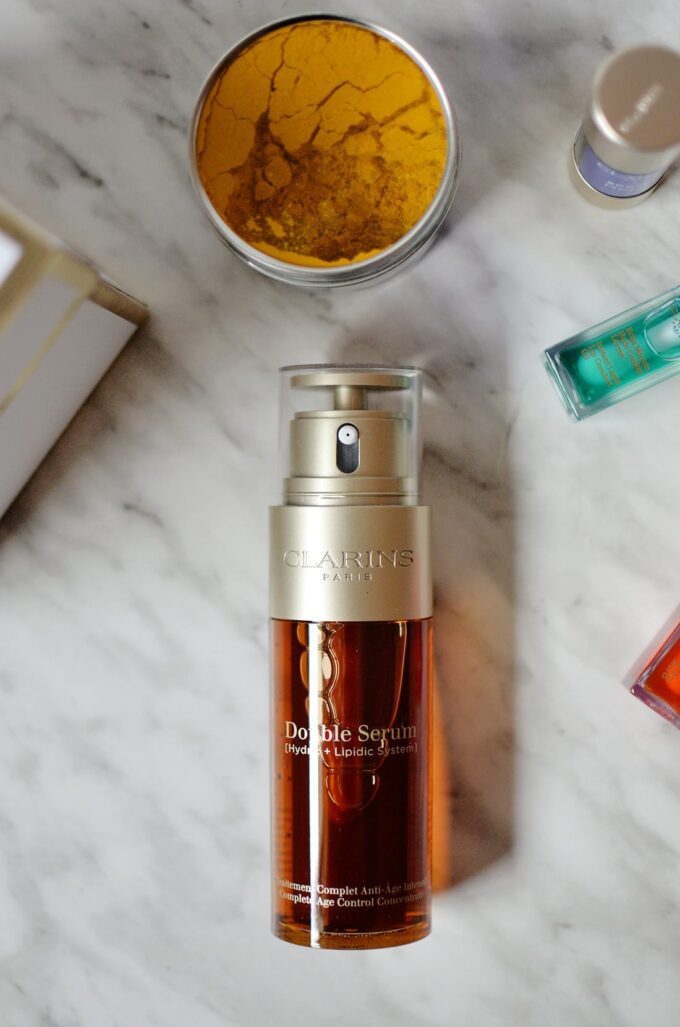 An Innovative Formula and Applicator
The ClarinsDouble Serum comes in two sizes, a 30ml and 50ml bottle. Existing users of the serum might be familiar with the unique pump mechanism which was elaborately designed to extract just the right amount of the product to apply onto your skin. The bottle itself is a double-vial bottle which contains two different types of liquids. The rationale for keeping the two liquids separate is to preserve its integrity – one side is an oil-based liquid and the other is water-based.
The applicator itself was designed to will deliver a preset amount of the serum (that the cool scientists at Clarins' lab deem to be the right amount for the skin): 2/3 of water-based ingredient, and 1/3 of oil-based ingredient. If you're someone with oily skin and are worried about the oil content in here, fear not: the formula was tested with women worldwide representing a variety of age, ethnic groups and different skin types. I find the oil-based ingredient to be quite soothing and helps in reducing the look of lines.
The bottle feels luxurious and the delivery vehicle makes it feel like you have a personalized formula just for your skin!
Clarins Double Serum – Tumeric as a Star Ingredient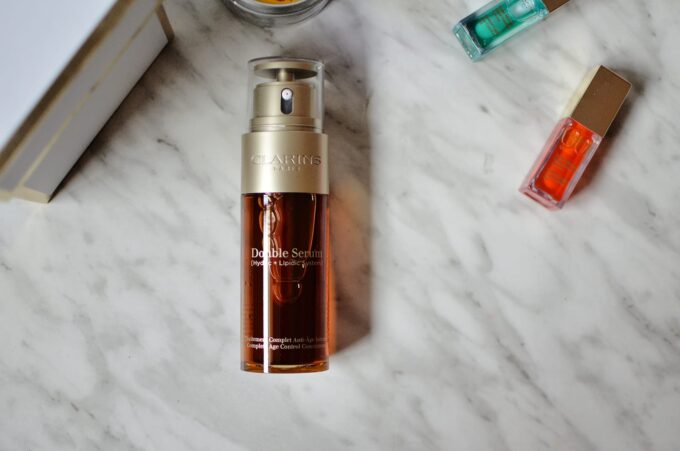 When I think of key ingredients, my mind always wonders to the Food Network show called Chopped. I'm a huge fan of this show and I can easily see tumeric being one of those basket ingredients.
I'm quite familiar with tumeric – it's a spice used often in certain dishes found throughout Asia. I cook with it often (paired with lemongrass, it's one of the best marinade combinations!) It's not a spice I have tons of fond memories of as it stain your fingers, cutting board, and whatever else you're using, yellow-orange in seconds!
The tumeric in the ClarinsDouble Serum formula works with the remaining 20 plant extracts to better "listen" to the skin's needs. Clarins has a way of finding botanical plants with unique properties and use those ingredients to work with the skin cells (these are living organisms afterall) in a variety of ways. The turmerone in the tumeric extract, protects the skin cells' ability to communicate with each other thereby improving the skin's natural ability to regenerate, hydrate, and oxygenate itself. Together, the ingredients work to help the skin to perform at its fullest potential.
The Verdict
I was expecting a pretty heavy, oil-laden serum that might linger on the skin and require more maintenance. Surprisingly, the serum absorbed into the skin in seconds so I can proceed with the rest of my skincare without worrying about any leftover serum on the skin. Skincare is one of those products that need time before you see actual results but in the few weeks that I've been using it, I feel like the "glow" I got immediately disappears after I wash off my face. The serum does help minimize the look of my pores, even out uneven textures/bumps from previous scars, and generally speaking, keeps my skin in tip-top condition as the weather cools.
There is no noticeable scent to it, which is something I will always give a thumbs-up for – serums are meant to go deep into your skin, so I will gladly skip the alcohol/fragrance in it!
The ClarinsDouble Serum is by no means, an inexpensive product. As with anything skincare, results will greatly vary which is why I encourage you to stop by your local Clarins counter and get a sample. Prior to having the full-sized bottle, I had 3-4 of the sample sachets (designed to deliver the same mechanism as the bottle) which lasted me a week, and gave me a good idea on how to use it and how it felt on my skin before committing to the full-size bottle!
If you're already a regular user of this product, be sure to check out the holiday sets! I feel like I've come across a few value sets including this popular serum!
Now it's over to you! Have you used the Clarins Double Serum before? Do you cook with tumeric? Would you give this a try?
---
Disclaimer:
This post features product(s) provided for editorial consideration. All opinions are my own. For more information about my review policy, please
click here
.
---