When it comes to summer fashion, dresses are undoubtedly the best outfit choice. Women love dressing up so much that the dresses & skirts segment in the US is projected to grow by 0.33% resulting in a market volume of US$16.06bn in 2027. With their versatility, comfort, and style, dresses have become a staple in every woman's wardrobe during the warmer months.
One of the key reasons why dresses are the go-to summer outfit is their breathability. They're usually made from lightweight materials like cotton or linen, which means they ensure airflow, keeping you cool and comfortable even on the hottest days.
However, sometimes finding the perfect dress that flatters your body type can often feel like a daunting task. With so many different styles, cuts, and fabrics to choose from, it's easy to get overwhelmed. However, with a little guidance and knowledge of your body type, you can confidently navigate the world of fashion and find a dress that not only fits well but also makes you look and feel amazing.
In this article, we'll explore some helpful tips and tricks for finding the perfect dress for your unique body shape.
1. Apple Body Shape
Apple shapes are characterized by a large midsection. Anything that brings attention to your upper or lower body will be a good look. Dresses with a drop or high waist are great options, as well as swing dresses. Full skirts clinch at your waist and draw the eye to your entire body and highlight your figure.
Apple body types are blessed with great legs, so make sure to show them off. If you have this body type, you can wear shorter dresses and skirts. People with this body shape have plenty of choices, so it's fun to try out different looks each time.
One popular garment that often raises questions is the floral dress. Many women wonder if this type of vibrant print can work well for an apple body shape. Floral dresses can be worn by women of all sizes and body shapes. These dresses have a variety of vibrant colors to celebrate any type of special occasion. However, the most important thing is that you feel comfortable when you go for floral pieces. To find the best fit it's also essential to try before you buy a dress you like and see what looks and feels best on you.
2. The Athletic Body Type
You may think that activewear is the best outfit for your athletic figure, but many dresses will look great on your toned contours. If you have narrow shoulders and hips, by defining your waist you can create a curvier silhouette. To enhance your athletic body, balance your upper and lower halves.
You can aim to create the hourglass effect by choosing dresses with more volume. For instance, frilly fit and flare dresses are good options that can enhance the hips and bust while minimizing the waist. On athletic bodies, one-shoulder dresses can be attractive because they enhance your delicate shoulders. For instance, bodycon dresses draw attention to the upper and lower half of the body, creating balance.
3. Pear-Shaped Bodies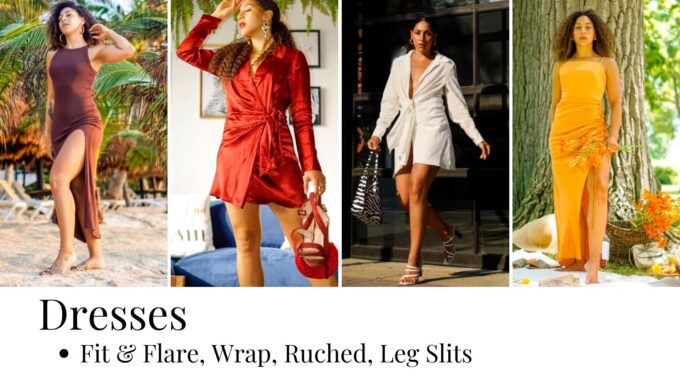 The inverted V-body shape has wider hips, narrower shoulders, and a smaller bust. The top half of this triangle shape needs to be enhanced to minimize the hips and legs. You can add volume to your upper body by wearing a strapless, fitted, open-neck top, V-neckline, or one-strap dress.
T-shirt dresses also flatter this body type, as they drape over hips to create a subtle shape. This body type can benefit from an A-line skirt that smooths out a wider hip area and creates a fun, fluttery look. This creates a slimmer waistline and an overall balanced look.
4. Boyish Frame
Frilly tiers are a great choice for narrow frames. A-line dresses can create the same effect on your boyish figure. If you're looking to add curves at the right spots, chevron stripes and strategically placed ruffles in your chest area are your best choices. If you want to add a bit of glamour and enhance your look, try some jewelry with gemstones.
5. For Broad Shoulders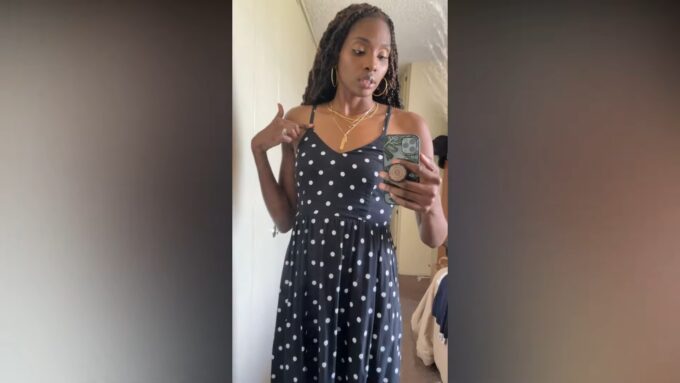 Clothing should be chosen to balance shoulders and lower body if you have a V-shape. Dresses with an A-line add volume to the hips and help to balance your figure. This cut is great for highlighting the natural waistline and adding curves to any body type.
A lot of dresses work well with V-shaped bodies. They look great with strapless, single-strap, or spaghetti-strap dresses. Give your lower half some extra volume and support if possible to achieve the perfect dressy appearance.
Final Thoughts
With dresses, you can create a complete and put-together look without much effort. They come in various lengths, cuts, patterns, and colors to suit every body shape and personal style. By using the tips above, you can choose a dress for your particular body type and enjoy the hot summer days.