After graduating university five years ago, I opted to spend my first post-university summer working in West Africa. Ghana was my home for a few months before I embarked on a European trip to celebrate completing my university journey. Throughout my time in Ghana, I had a weekend here and there to explore the southern parts of the country – here is a recap of my visit to Busua Beach, located about 1 hour away from where I was based, Takoradi.
My time in Ghana gave me a glimpse of exploring a world that I would not have otherwise been able to see or explore or appreciate. Ghana wasn't even a country I would have thought of ever visiting – I didn't even know it was the second largest cocoa producer in the world (I would have ended up there much sooner if I had realized!) Looking back, I really appreciated the experiences I had and learnings I learned and I plan on sharing more of that in the near future! I hope you find it helpful and could use these posts to help you plan your travels or get to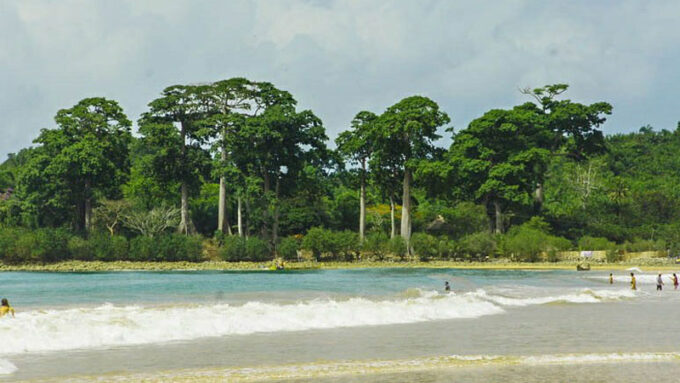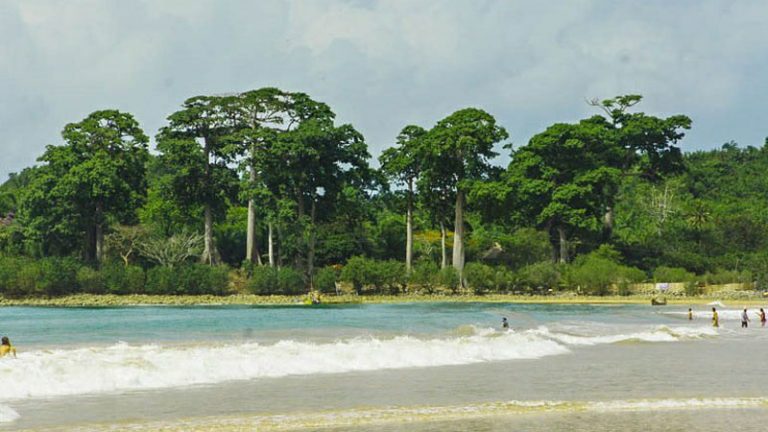 Busua Beach 2.0
Over one weekend, my team and I decided to go to Busua Beach as by the I only had 2 weeks left in Ghana (1.5 weeks in Takoradi!) For this trip, we took the tro-tro (local minibus pictured below) which was very inexpensive although requiring more time and change of transportation.
For some context, CAD$0.30 = GHc 1. From Takoradi, we took a taxi to the Kwame Nkrumah roundabout costing GHc 4. From there we took the tro tro for GHc 1.50/person from the Kwame Nkrumah roundabout to Agona Junction. From the Agona Junction, we took another taxi (because it was raining) to Busua Beach which costed GHc 6.
We could have taken a shared taxi or a tro tro from Agona Junction to Busua for another GHc 1.50/person but didn't due to the rain. Overall, the trip costed GHc 15 each way for 3 people; this works out to be approximately (depending whether one takes the tro tro or shared taxi, or as we did, chartering a taxi) GHc 5/person each way!
If you're ever taking the tro-tro (or local minibus similar to this throughout the world), note that the buses don't have a set schedule and only leave when it's full. Usually, there isn't a designated stop so be sure to ask and double-check with the drive to ensure you're on the right bus; always make sure he's aware of where you plan on getting off as well.
It was pouring on our way to the beach and we truly hoped the rain would let up. We stayed at Dadson Lodge which was recommended as it was inexpensive, and was the perfect location very close to the beach. As there were the three of us, we booked a large room with 4 beds, and costed GHc 60 for the night (split three ways, it worked out to be $6/person). Dadson Lodge is definitely one of the most well-known and inexpensive accomodations around Busua – there were a lot of Obruni (foreigners, this is not an insult term by the way) staying at the hostel that we met.
The accommodation, though basic, came with a fridge and a TV. The power was out at the time we arrived, and was out until around dinner time. The power went out again the next day, around noon. The room was relatively clean, and the bathroom was also surprisingly clean, came with a bar of soap for shower and a roll of toilet paper (luxury by my backpacking standard). Dadson Lodge is hard to miss as it is painted bright pink, and located on the left side of the main road.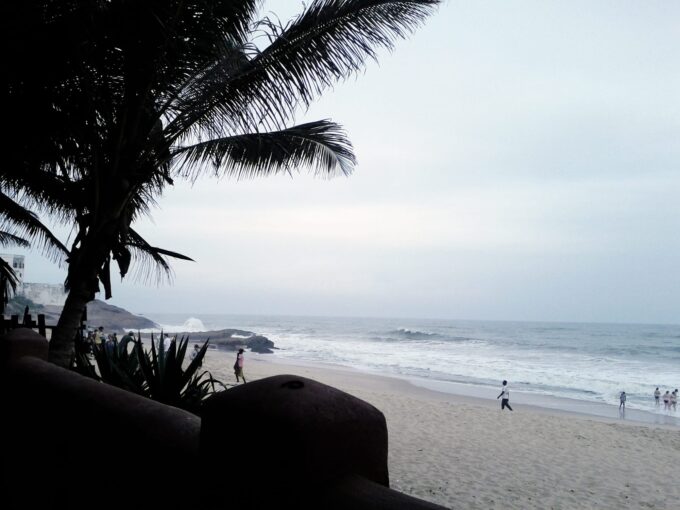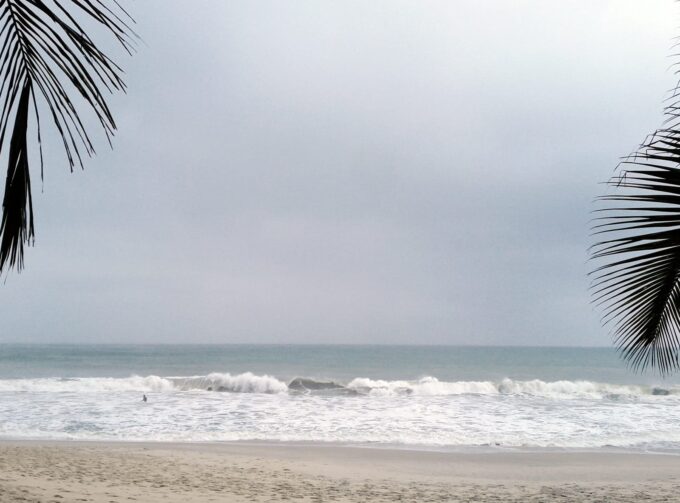 Fortunately, the rain did let up. Since we skipped lunch in Takoradi, the first thing we did was to find lunch. I really had to have fresh lobster and was recommended to have lunch at Florence's. Her restaurant is located almost directly across from the Dadson Lodge, near the corner of the main street (which shouldn't be hard to find as there is only one). Food in Busua is so inexpensive compared to Takoradi – I had the lobster with fried rice (served with stew) for only GHc 10 ($3!) The same amount of cedis do not go very far in Takoradi though.
Decided to do something a little crazy and try something new for once. I wanted to go surfing and found Black Star Surf which offered a 1 hour lesson for GHc40. After convincing my teammates (both had reservations about the price), we agreed to do the lesson and bargained with the instructor to get more time for the price. It was a fantastic experience and I loved every minute of it. After that we had lunch at Okarye Tree Restaurant which had inexpensive good food (the chips were to die for, though it was mostly oil, grease and salt) and chilled with people we met at the beach over some bottles of Club. We met other Canadians, New Yorkers, Brits, and 2 Italians.
Woke up bright and early for breakfast which was complimentary. Menu was limited; you can get either chocolate pancake, banana pancake or omelette served with white bread. Combinations or substitutions are not allowed, and you take it as it is. The pancakes are more like crepes than actual American pancakes but you know – can't complain that breakfast was included in a $6/night stay!
To be honest, these were the best cedis spent in Ghana because where in Canada can one really surf for such an inexpensive price? The lesson was longer and more thorough as it covered the topic of rip tides and how to get out of them (which I had zero idea to begin with). Although Busua Beach isn't a place you'd stay for long periods of time, it was a welcome weekend break!
What You Need to Know
Getting In: I spent almost two months working in Ghana with 2 female colleagues. The country is considered one of the safer countries in Africa, and is fondly known as the Gateway to Africa. Still check your country's official travel advisory site for up to date information
Currency: Ghana's currency is the Ghanaian cedi (GHc) which equates to GHc3.5 = CAD$1. There are a number of bank branches in the major cities (Barclays and Lloyds, which are popular UK banks) but be sure to bring cash as much as you can. Most vendors value cash over cards for obvious reasons.
Getting Around: Taxis are the most common mode of transportation. It's cheap too. Make sure to bargain your fare before getting in as there is no meter. For day trips, tro-tro (local minibuses) are also a good (and very cheap) option.
Local Lager: Try the local lager, "Star" where you can. Very inexpensive so you can drink to your heart's content
Food: Local food is very much carb-heavy featuring rice, yams, potatoes and cassava made into local delicacies. Try Jollof rice (I like to describe it as a variation of fried rice), and if you're brave, banku or fufu (which comes with a side of paste of cassava and corn that is incredibly filling – my two friends and I attempted to finish 1 dish, shared between us three, and could not even conquer half). My favourite dish is waakye which comes with a side of shiito that makes everything taste so much better!
Where to Go: Accra is the capital city, very much a place to check out. Cape Coast has a lot of history while Takoradi is a developing city that's seeing more and more expats
Important to know: Entry to Ghana requires proof of yellow fever vaccination. You will be denied entry if you don't have proof
Staying Connected: Vodafone is a local carrier in the region; it's very cheap, quick and easy to get set up with a SIM card and a pay-as-you-go plan