You know I love adventures. You know I'd like to Indiana Jones or Lara Croft my way through ancient tombs, temples, monasteries around the world as evidenced by my travels. So upon seeing the new Aura Mugler ($85-150, available here), you can imagine my excitement. This gem-inspired release from Mugler is everything I've imagined a hidden, long-lost gem with magical powers might look like. Add the emerald green colour, and you can tell my imagination is going all over the place trying to pretend that I'm holding some mysterious enchanted talisman.
Aura Mugler ($85-150, available here) is the brand's latest feminine fragrance. Following the success of Angel, Alien and Womanity, the brand is pushing boundaries with Aura. Mugler's fragrance is something of a hit or miss for me. The brand is known for its forceful and striking combination of notes that leaves a lasting impression on its wearer. That said, the fragrance can come off slightly too strong for daily wear. What I do appreciate a lot about Mugler's fragrances is the tendency to include smoky woody elements which is something I'm quite partial towards.
Aura Mugler is available at: Sephora • The Bay • Harrods • Saks Fifth Avenue as of January 18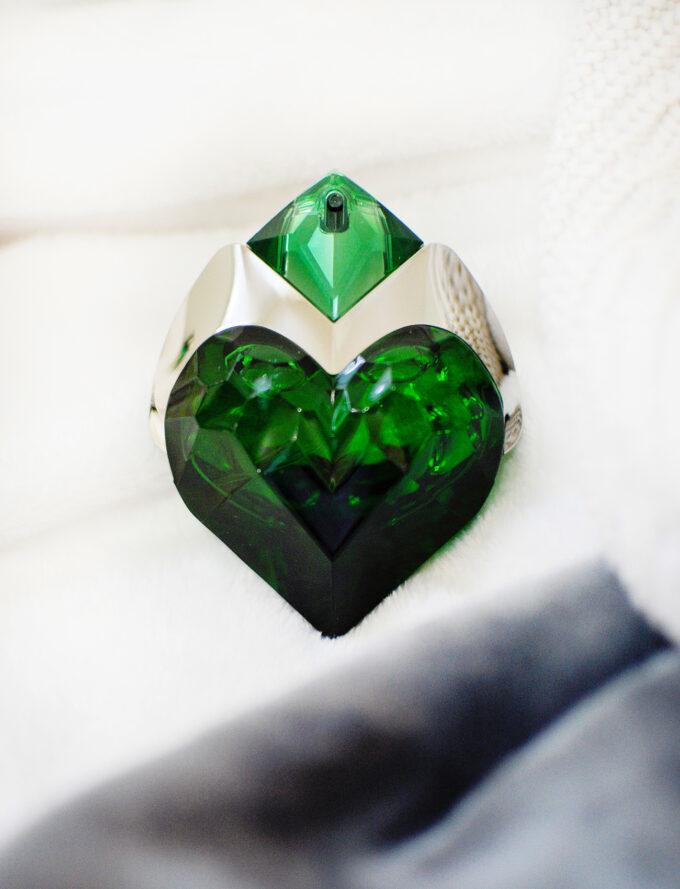 Aura Mugler | Listen to Your Instinct
Mugler's fragrances, all the way from Angel to Womanity and now Aura, has always been about defining your own "woman" and fiercely showcasing what that means to the world. Aura is shaped like a heart essentially depicting a woman's instinct and life "energy". The silver M that encases the heart is a tribute to the Mugler brand and also because M sounds like the French word "aime" – a tribute to the "shape" of love.
I don't know about you, something about this emerald green bottle is just so striking. It stops you as you're walking, and in a wall with dusty rose, peachy, or champagne-coloured bottles of fragrances, this forceful emerald stands out like no other. Add the unique heart shape to it and I think we've got a showstopper. Like its famous sister Angel's star-shaped bottle, this fragrance does not stand up on its own – it really needs to lie on its side which is sadly a nuisance for me personally as I would prefer having my fragrance standing upright.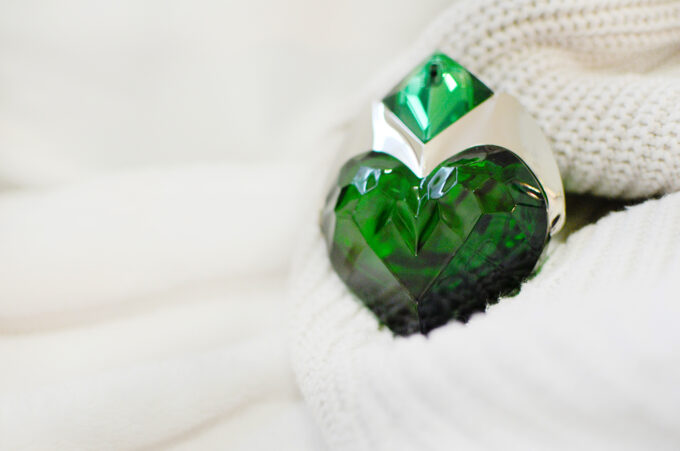 Aura Mugler | The Fragrance
To create Aura, the team in charge of creating this masterpiece worked with a fragrance house Firmenich, allowing access to a recently-discovered element: the Tiger Liana. This particular note is the backbone behind the fragrance: it is a Chinese medicinal plant that heals heart disease and contributes to balance the body. In addition to the Tiger Liana, rhubarb leaf adds a bit of crispness while orange blossom freshens up the scent – the combination of the two creating a "botanical freshness" that's equally intense and vibrant. Additional notes include the black flower pod of bourbon vanilla for that woody spicy note (all Mugler fragrances feature some sort of woody scent as noted above). The last note that we should talk about is Wolfwood, also coming from the same firm that provided the Tiger Liana, adds another smokey, oriental layer.
If the emerald green bottle makes you think of the forest and the intensity of the jungle, then you'll be pleased to know that the fragrance itself has that vegetal freshness smell to it. It smells like being in the middle of the rainforest (think of your camping days – sappy leaves and rain water) with a bit of sweetness from the orange blossom and bourbon vanilla.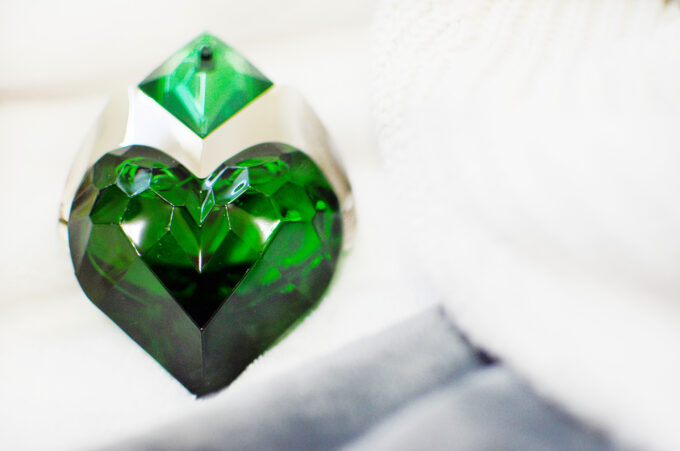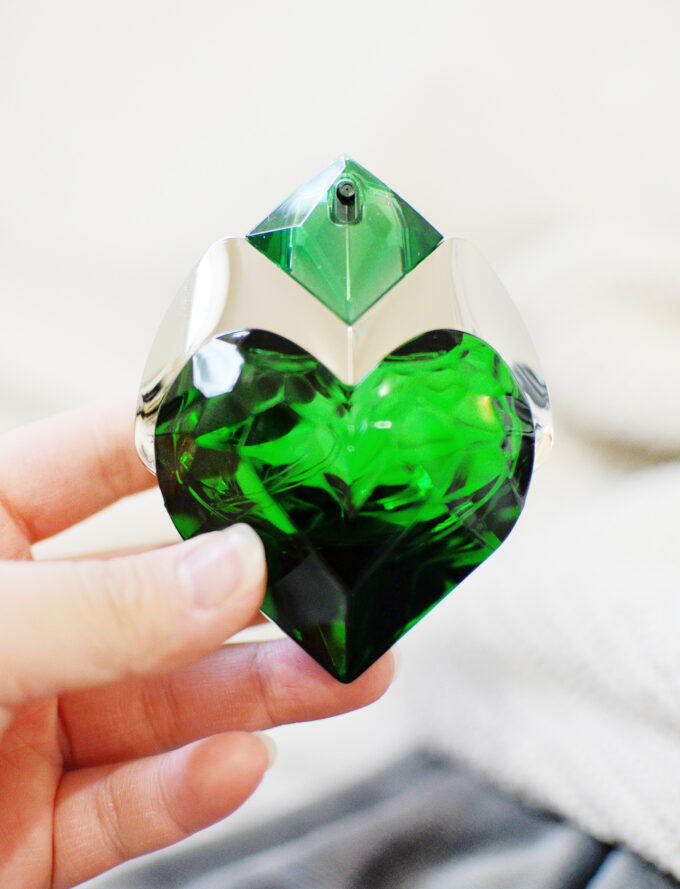 Why You Should Check Out Aura Mugler
If the heart-shaped emerald flacon doesn't stop you on your tracks and make you want to come home with it, then we need to chat. For me, this sculpted heart flacon goes beyond being looking really pretty – the way the facets are shaped around the entire bottle makes this a riveting one to look at. I particularly like the way lights bounce and reflect off of it. There's something just so enchanting and beguiling about this particular design.
If that doesn't make you want to go out there and at least give it a sniff, maybe this fact might encourage you. Of all the fragrance brands out there, Mugler is the only one (as far as I know) that sells refills – creating a sustainable beauty range that you don't feel guilty about repurchasing. Similar to Alien, Angel and Womanity before it, Aura is available a refillable 30, 50, and 90ml bottles. There's a 100ml eco-refill EdP coming out shortly as well. If you're interested in more, there's a a 200ml Body Lotion ($65, available here) and 200ml Shower Milk ($55, available here).
Personally, I found Angel and Alien to be a little too much for me. Aura is a more down-to-earth that still packs a punch and notes of a Mugler fragrance. Aura is easier on the nose and can be more comfortably worn on a daily basis. It's safe, more subtle and feels a little more experimental considering this is the first time I've come across ingredients like tiger liana.
---
Disclaimer:
This post features product(s) provided for editorial consideration. All opinions are my own. For more information about my review policy, please
click here
.
---