Apparently fragrance-inspired hair mists are now a thing and I can't decide if this is a company's attempt to upsell you or a true genius of a product that I'll be obsessing over in a few month's time. I had seen some variations of fragrance-inspired hair mists in the past and always dismissed it as being quite silly. If I wanted to add some eau de parfum to my hair, I'd just spritz my brush with some and brush it through. No need to take chances on my close-to-combustion-hair thanks to the myriad of hair products already in it with even more alcohol from the fragrance. Am I right?
So anyways, I received the MuglerAngel Hair Mist ($50, available here) around Christmas and immediately felt so extra as one would when the alternative would be the smell of freshly-shampooed or slightly-styled hair (Which aren't the worst things in the world). I was nevertheless quite excited – I haven't been the biggest fan of the Mugler Angel Eau de Parfum ($133, available here) as it smells too strong for me and I thought I might "fake it till I make it" with the hair mist version.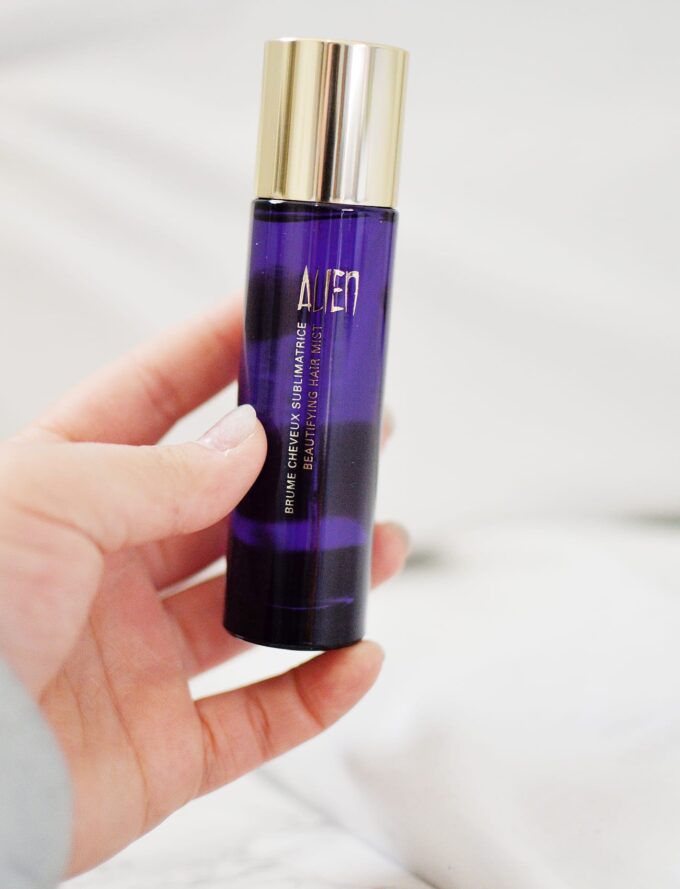 What's the Mugler Angel Hair Mist like?
Considering it has the adjective "beautifying", obviously the first thing I look at with the MuglerAngel Hair Mist was an ingredients list (or something like it). Wouldn't it be cool to have a fragrance-inspired hair mist that actually protects the hair? Or style it? Alas, the only descriptor found for this product appears identical to what you would find to describe the EdP so there's no hair protecting benefit to be extolled about this product.
The MuglerAngel Hair Mist mimics the rest of the Angel range with its amethyst bottle but much simpler design than the fragrance counterparts. I also found it interesting that there's only 30ml / 1fl oz of product in here as I tend to be quite generous with my hair products. I suppose because the scent is going to be fairly strong, they'll assume you'll control yourself when applying the mist.
Personally, I find the smell to be a bit more mellow than the body version (which I assume is because it doesn't have to react with the skin chemistry) so it smells a lot less like the perfume but has a kick of freshness… as if they did this with the formula: original eau de parfum + some diluting agent + a bit of powdery liquid to give it a "fresh" pop feeling on the hair.
What does Mugler Angel Hair Mist Smell Like?
Your friendly femme fatale next door (Angelina Jolie-esque in Mr. and Mrs. Smith). But honestly, for those who haven't had a chance to sniff the original eau de parfum, Angel smells smoky and woody; formally described as having these notes (thanks to Sephora) Jasmine Sambac, Cashmeran Wood, Amber Gris. It's not an everyday scent – more like a date night (you know when you want your date to lean in at the end of the date kind of way…) or girl's night out (because you're cool as hell) kind of scent – whatever you prefer.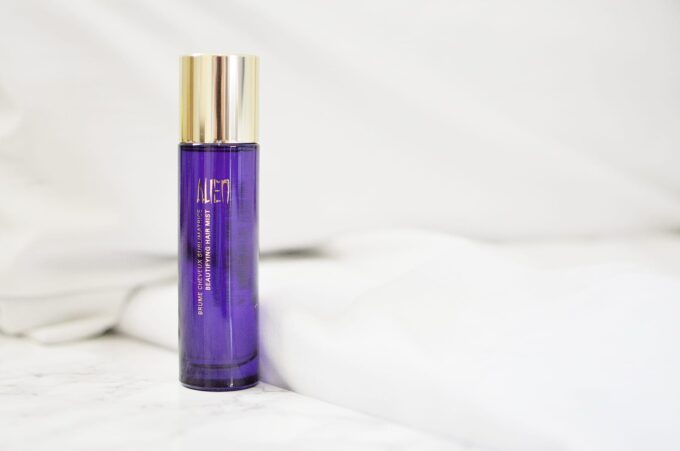 So what is the verdict on the MuglerAngel Hair Mist? It's an interesting, and different way of wearing fragrance that's for sure – it lasts a few hours on the hair without lingering. I suppose it's another way of selling a bottle of fragrance, but just for a different body part. You know what I mean? They've exhausted every other body part you could possibly want to smear Mugler's Angel on, why not pop it in the hair? I swear to you this feels like a repackaged version of the Eau de Parfum…
So, do you need it?
Well I think this is a good way of wearing the eau de parfum if you find that version to be too strong like I did. To shell out $50 for a bottle does seem like a frivolous thing (but hey, you do you, sister!) when you could achieve a very similar effect by spraying a bit of this on your brush, comb it through your hair and get on with life.
Alright, now it's over to you! Have you heard of fragrance-inspired hair mists like the Mugler Angel Hair Mist? Would you try it? What do you think of the idea?
---
Disclaimer:
This post features product(s) provided for editorial consideration. All opinions are my own. For more information about my review policy, please
click here
.
---