Today is a bit of a chatty one. Sorry! As a beauty blogger, there are some days when I've felt like I'm a little overwhelmed by the amount of makeup I have, and totally underwhelmed by what new releases are coming out. Some months it feels a lot like it's the same releases over and over again or the most exciting thing of the moment is a colour extension. On those days I've been trying to avoid Sephora, The Bay, or MAC Cosmetics online stores or spending too much on beauty that month.
I've found a bit of a routine that's worked for me on those days. When I feel like clicking the Checkout button, and am halfway through filling out my payment details. Here are 3 of my tips and let me know yours in the comment section below!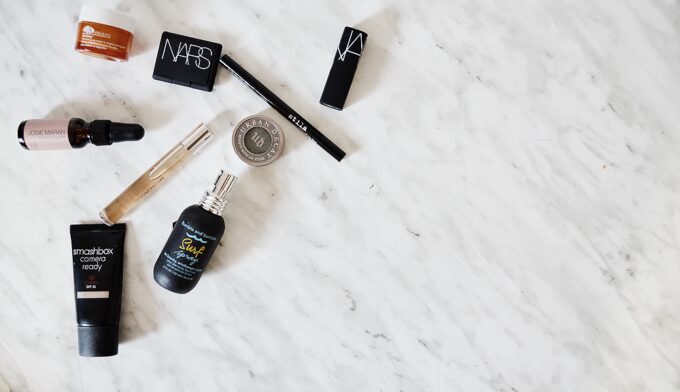 Shop Old Favourites with Points
This sounds a little counterintuitive when you think about feeling too makeup-ed out and drowning in too much beauty products. At some point, you're going to need to purchase a backup of your old favourite or so why not use this opportunity rather than shopping mindlessly? I try to save my point as often as I can for 2 reasons: 1) in case of a really good promotion, and 2) on days where I need to repurchase a backup but don't want to spend the money. This works out well when you can redeem your points for actual products or as a credit to your purchase, like at Shoppers Drug Mart (or Beauty Boutique).
Splurge on Minis
I'm not the biggest fan of mini/deluxe sized products as I find them to be expensive compared to buying the products outright. And I get it, that is the whole point of the pricing structure – prevent the consumers from buying the smaller format so they are spending more at each visit. Mini's / smaller size products have a niche and on days I'm feeling like I have too much makeup, I like to splurge on them. I am forever stalking Nouveau Cheap and the Sephora Beauty Talk forum for any good promo codes to use with my online orders, and swing by stores in smaller malls since they tend to have better selection of 100, 250 or 500 point perks left. I also like stocking up on mini's for travel purposes!
Finish those empties
I've discovered, that over time, my biggest source of overwhelming makeup is the amount of mini's and samples sachets I have lying around. I've started re-allocating them, and putting the travel-friendly ones aside, but for those one-off sachets or new products I haven't tried before, finishing the sample stash is a good way to feel good about reducing that bulk of your makeup.
Now it's your turn! What's your favourite way of dealing with the strange makeup-ed out feeling?