New York City takes its food seriously. Just google "What to Eat in New York City" and you'll get over 112,000,000 results. The abundance of Michelin star restaurants, iconic foods and cafe, as well as Instagram shots of perfectly laid out brunch makes me realize that I've been missing out on a big chunk of the New York experience for some time. Despite having been to New York five times in the last year alone, I gladly signed up for a weekend getaway since my sister has not been to the Big Apple and we had the Civic Holiday long weekend which was perfect timing!
I'm so very lucky to have company this time around and we made it our mission to discover all that gastronomy goodness that New York has to offer. A quick google search on "New York's must-eat food" gave me an overwhelming 72M hits! I managed to hit only a measly 6 places so I thought I would share a list of what to eat in New York!
Read more about all my travels in
New York
!
What to Eat in New York City.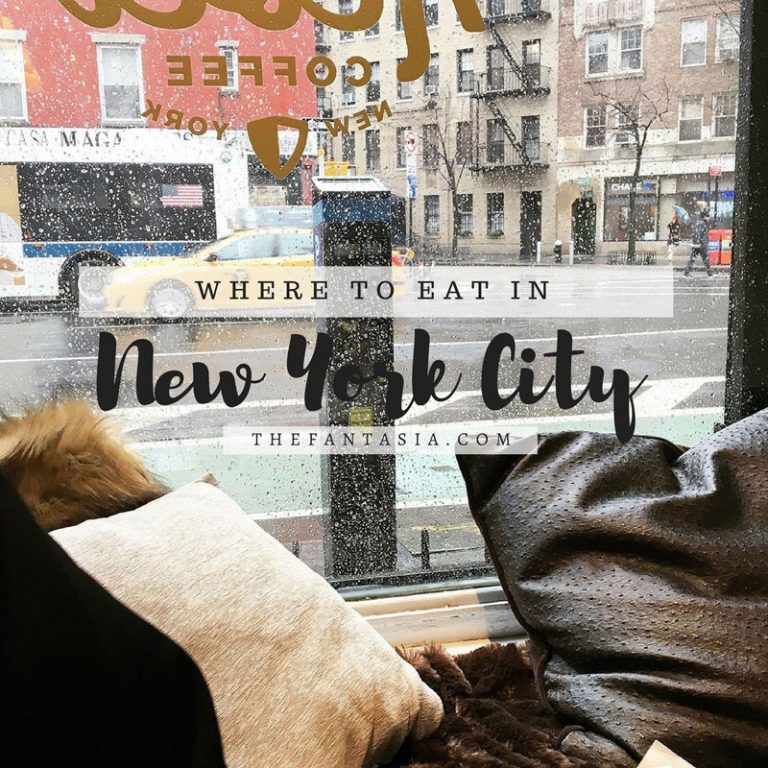 Bluestone Lane Collective Cafe
This little café tucked at the corner of Perry St and Greenwich Ave, brings a little taste of Australia to New York City. With Instagram-worthy patio and brunch options, this place was one I couldn't skip especially after hearing about its legendary "Brekkie Board" featuring their tasty "Avocado Smash" and greek yogurt granola.
I admit that I got a little bit intimidated when I looked up this place on Instagram and saw how many incredibly Instagram-worthy shots of breakfast and lattés! However, just like how it good it appears in the pictures, the food was equally amazing tasting!
Read more about all my travels in
New York
!
If you're looking for a healthy, hearty brunch with some of friendliest Australians I've ever had the pleasure of meeting in West Village, as well as trying out one of those authentic "flat white" (not the Starbucks offering), this is the place to be!
Find it at 55 Greenwich Ave, New York, NY, United States
Russ & Daughters

The top of every "What to Eat in New York City." list includes Russ & Daughters, an establishment that has become quite as iconic as the city itself!
I've heard of this legendary café since the first time I came to New York, but never had the time to fit it in due to its location in East Village, a little far away from where I normally stay (Midtown). However, since my sister was keen to try one of those famed New York bagels, and I could never turn down a breakfast that offers both Eggs Benny and lox, we ended up there on the last day in New York.
I've heard of the wait times (up to an hour), so we made it a mission to go in as soon as it opens at 8am and it was already quite crowded. The actual café is located on 127 Orchard St, not where the big sign on Houston St is. The bagel and cream cheese were unlike any of those processed, store-bought version. For someone who is not a huge fan of bagels, I can tell that these were becoming fast favourites – airy and fluffy! My sister even told me that was her favourite meal throughout the entire weekend!
I was literally scraping the hollandaise sauce off my plate, and for someone who dislikes carbs and breads in general, the challah bread was definitely more delicious that I could've imagined!
Find it at 127 Orchard St, New York, NY, United States
Big Gay Ice Cream Shop

When I came here mid-day on Saturday, there was already a long line up, both inside and outside. Summed up, this place is basically where soft-serve gets its fanciest treatment and the creation will please kids and adults alike. I went for the American Glob which features pretzels, sea salt covered in chocolate dip. I'll be honest, I was dying to come back the next day but could not due to the wait times and other places we wanted to check out. As you can see from the line in the picture above, I wasn't the only one who craved this delicious dessert!
Find it at 61 Grove St, New York, NY 10014, United States
Shake Shack
Slowly becoming a really popular US export, this "fast-food" burger joint is an iconic fixture in New York! Many argue that this establishment doesn't really deserve a spot on any "What to Eat in New York City." because it's a fast food joint.
Despite that however, every time I've gone, whether in Brooklyn or in Manhattan, there are always crazy line ups! However, the burger itself was incredibly juicy and tasteful, and going with both the ShakeStack as well as the SmokeShack, I am convinced that these burgers have very little competition. The joint is available at many locations but the classic remains to be its stand in the middle of Madison Square Park.
Find it at Madison Square Park Madison Ave & E.23rd St, New York, NY 10010
Grom

When I was in Rome at the beginning of the year, I found one of the best places to get "Bacio" gelato and hot chocolate. Imagine my surprise when I saw when I saw Grom on my map right on Bleecker St! I decided to make a stop to get a quick refresh of the tasty straciatella and Bacio gelato and even my sister couldn't resist.
Find it at 233 Bleecker St New York, NY 10014
Eileen's Special Cheesecake

My sister and I had the same state of mind that we had to try out New York's #1 Cheesecake, a coveted title held by Eileen's Special Cheesecake shop. A little hole-in-the-wall corner shop, tucked away that it's almost easy to miss, is where you'll find it. There were plenty of options from refreshing fruits, and savoury combinations of chocolates, and pecans. The cheesecakes were light and airy, but not too sweet, decadent or rich. We went for both Marble and Caramel Pecan but couldn't resist purchasing more for dessert that evening.
Find it at 17 Cleveland Pl, New York, NY 10012, United States
What to Eat in New York City | More Destinations
Due to the lack of time, we couldn't hit all the cafés and food places in New York as we would have liked to. If you are heading there soon and may be making your way there, here are some carefully curated suggestions!
Dominic Ansel Bakery – Where you'll find the Cronut
Dough – Supposedly the best doughnut in all of New York
Doughnut Plant – similar to #2, but less popular?
Magnolia Bakery – tasty baked goods often frequented by locals and tourists alike
Molly's Cupcake – supposedly it is better than Magnolia and more local than the former as well
Murray's – Where you'll find some of New York's best bagels
Prosperity Dumplings – 4/$1 dumplings in China Town which has attracted plenty of tourists seeking delicious fare for as little as possible.
Now it's your turn! What are your favourite spots in New York? As always, I'd love to hear your thoughts! Share with me comment section or through Twitter or Instagram!