In early June, I had the opportunity to travel to Calgary for work. Since we were being asked to "work" on Saturday for a conference that we were attending, we decided to fly in one day early to set up and ensure that all the conference materials are complete, and ready to go! We wrapped up Saturday afternoon and planned on flying out on Sunday afternoon.
When we realized that we had a full day before having to leave on Sunday, we decided on a last-minute road trip to Banff. Missing the great Canadian national park is a sin when we've made it all the way to Calgary! Today I thought I would share a few details about our trip, particularly our last-minute road trip to Banff.
I didn't know what to expect from Calgary but I liked how quiet the downtown life is compared to Toronto. Maybe it was because I visited in June and most people are on vacation, but despite the quieter scene, there's still plenty of restaurants, and delicious coffees to be enjoyed!
Once you make your way to Calgary, set aside some time to visit Banff National Park. It's absolutely worthwhile especially since it's only a 1.5-2 hour drive from the city. It's not too expensive to rent a car and drive from the city either! Unfortunately, I only spent half a day in Banff, but I thought I would still share a few things I learned in preparing for my trip!
But first, why visit Banff National Park?
Banff National Park is Canada's oldest, and one of the finest natural destinations you'll find all over North America. Nestled close to the border of British Columbia and Alberta, the park attracts over 3M visitors annually. Here, you can expect to see wildlife like the wolverine, coyote, timber wolf among the 56 recorded mammal species in the land. Aside from wildlife, there are many winter and summer adventures to be had if you enjoy the outdoors. Rain or shine, Banff National Park won't disappoint!
Plus, if you're lucky, you might get a squirrel photobombing your picture!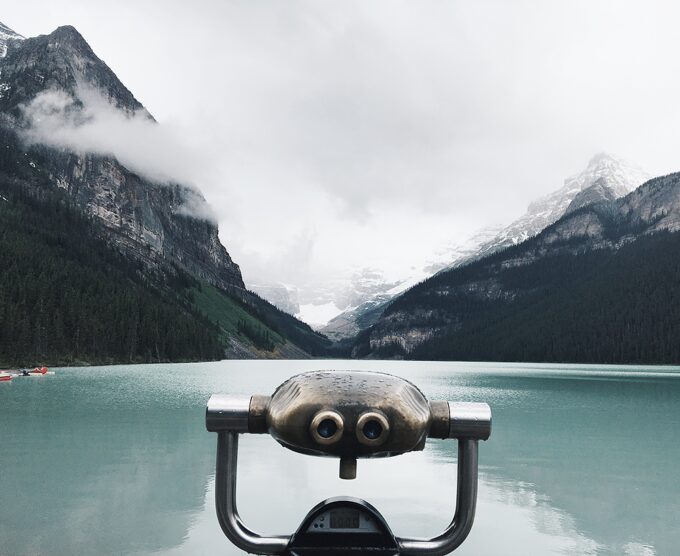 How did you get there?
We flew on WestJet – it was about a 4 hour flight (Right now flights to Calgary are going for $200-300!)
Where did you stay in Calgary?
Marriott Calgary Downtown Hotel (Downtown Calgary of course!)
Recommended Eating?
Native Tongues Taqueria for tacos, The Ship and Anchor for burgers, and Catch & the Oyster Bar for some delicious seafood (i.e. a bucketful of mussels!)
How did you get to the Banff National Park?
Amazing story – we went there without a GPS! I drove, and we screenshot-ed (?) the direction in case we lost signal along the route from Google Maps. I remembered that it was a very straight-forward route – you drove along Trans-Canada Highway 1 (Alberta Provincial Highway No. 1) and it's very scenic, so be sure to have someone take pictures for you.
It's the same route back to downtown Calgary and you just follow the signs to get to the airport. It was a very easy drive back to the airport as well!
We rented a car, I believe it was Avis, and it costed around $125 which included the cost of a 24 hour rental, the "under 25 years old" fee (I know!), and a $15 fee for returning the car at the airport instead of the original location. We opted to not rent the GPS which was another $30 or so since we had our phones. We also had to fill up the tank before returning to the airport which was $40.
Are there other options?
In doing our research at the time, I know there are shuttles (Banff Airporter, Brewster Banff) that take you from the airport to Banff. They have a good schedule and go out pretty often. For us, this was not an option as we needed to leave at 6am to make the 2 hour drive there and back, and still have enough time to hike, have a quick lunch and head back to the airport.
How long did you stay?
We only had about 2 hours once we got to Banff to walk around. It wasn't long so we decided on visiting just one of the many scenic lakes and areas. We went to Lake Louise and did a short hike up Plain of Six Glaciers.
Any Tips?
Arrive early – you won't regret it! This means fewer people, tourists, and photographers. Banff National Park, particularly the lakes, are some of the most photographed and scenic places in all of Canada so there's plenty of people here at all times! Aside from the fewer people, you'll also be able to park right outside of the lake. This is the most coveted parking spot in the area as it is a 2 minute walk from the Lake and as close as you can get to park near the lake without paying Fairmont Chateau! It's not a big parking lot and people will fight over it! I recall it fitting maybe 30 cars at most? Buses park there too!
Have you been to Banff before?