There's something magical about that combination of contouring and higlighting that can change up your look without the commitment, and especially since the process is so budget-friendly. While I have my staple contour products, here are my favourite brighteners/highlighters for a variety of different budget and format to suit your needs.
Highlighting is a popular runway/backstage trick to accentuate parts of the face that you want to "bring forward" or pop. Done right, it can subtly re-shape your face without going under the knife and committing to something you might regret later on.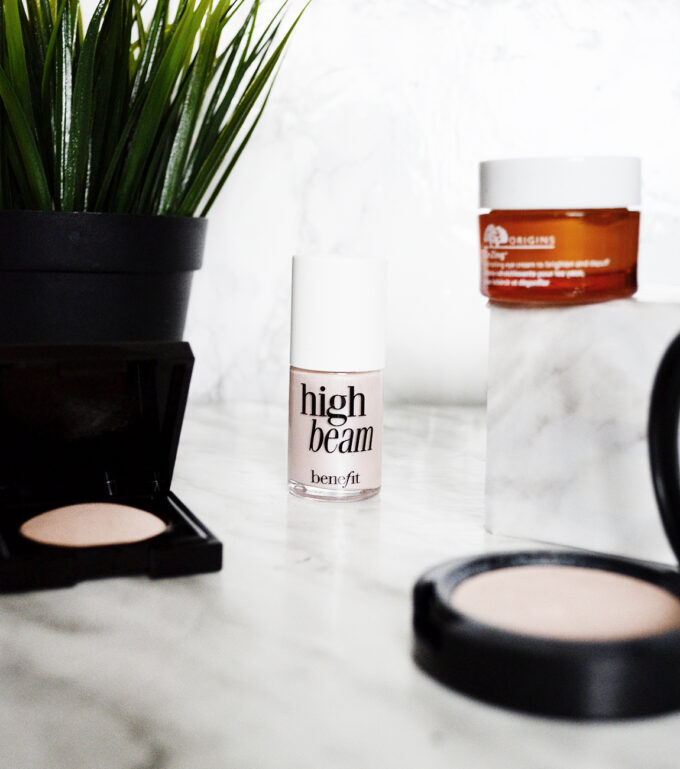 1. MAC Accentuate Sculpting Cream ($22, available here)
A very emolient, matte, cream-to-powder formula that helps you achieve that Kim Kardashian-esque sculpted look. Accentuate is described by MAC as a "peachy beige" shade, definitely not something every skin tone can pull off. Paler ladies may find this shade blend too much into their skintone, but on my NC25 skintone, the colour is just right. The formula is a winner here as the cream-to-powder formulation lends itself to a matte, no-crease finish.
2. Laura Mercier Deluxe Matte Radiance Baked Bronze in Highlight ($42, available here)
The Laura MercierMatte Radiance Baked Powder was a pleasant surprise right from the first sweep. A light sweep of this product appeared to simply disappear on my NC25 skintone which was disappointing given the quality that Laura Mercier product supposedly have. However, tilting my head slightly informed me that the highlighted hadn't disappeared, but blended so naturally that the effect was almost impossible to distinguish from my natural glow. When I do want a little more contrast between the contour and the highlight, I pack a little more of this to "pop" the upper cheekbone area, making the hollows of the cheek more prominent.
3. Origins GinZing Refreshing Eye Cream ($37.50, available here)
The pink-based cream has some shimmers in it that appears on the skin like an iridescent highlighter. The area under my eyes immediately looks brighter, taking away the attention from the dark circles. The eye cream dries quickly, and you can easily layer on makeup over top of this. The texture is light, sits nicely on the skin, and very hydrating.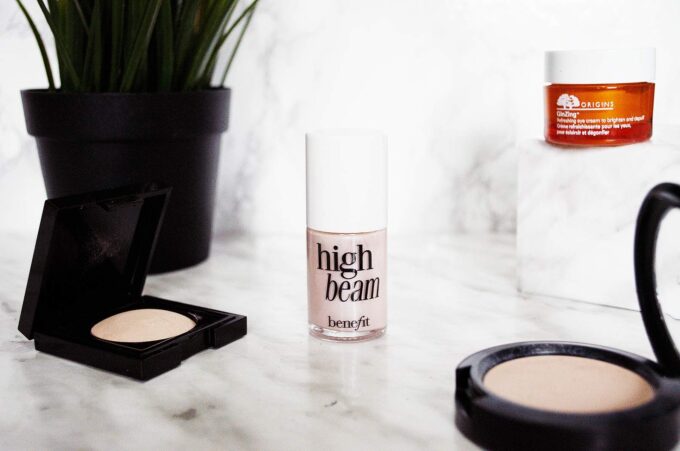 4. Tarte Fantasy Cheek Stain ($36, available here)
I'm a huge fan of stick-based highlighters, so when I saw this item offered up in a set with another Tarte blush, I was kind of all over it. I love how functional, and fuss-free the application is. "Fantasy" is a bit more yellow-toned that I am used to and almost looks a little too much on my golden/yellow-toned skin. Applying a bit of another pink-based highlighter does help. When I don't feel like going through all the fuss, I like to use this to add a bit of oomph over my blushes.
5. Benefit Watt's Up ($36, available here)
I admit, when this first came out, I was torn between getting this product or repurchasing my old fave, which was the Benefit High Beam. Getting to try it through the Sephora Beauty Insider gifts was the perfect opportunity to try it without the price commitment. Let's just say, though it hasn't taken off High Beam as my all-time favourite highlighter, it's come to a close second. The only thing I dislike about it is that it breaks off easily from the tube, which was what happened to one of the mini's in my stash.
6. Benefit High Beam ($32, available here)
Ever since I got to try Benefit's High Beam, it's taken the top stop as my all-time favourite highlighter. A little bottle does go a long way, and you cannot go wrong with it. The application may take a while to get used to, but after you're used to the application process, it's so easy, quick, and effortless to get that lovely glow! There's no over-application with High Beam, and even a beginner can get it right from the first go!
If you were to ask me which of the above I would recommend, I'd say go for the Benefit High Beam! I've been using it for years, and every time I run out, and am tempted to try something else, I always go back to this. It's not the cheapest option, but I think it's a great option for those who wants to put in minimal effort, and get a superb result that's never going to look over-done at the end of the day.
Now it's your turn! Have you tried any of the above highlighters before? As always, I'd love to hear your thoughts! Share with me comment section or through Twitter or Instagram!