If you're trying to switch up your hairstyle without committing to a drastic cut or color change, a T part wig might just be the solution you've been searching for. This versatile hairpiece is designed to mimic the appearance of a natural part, with a T-shaped lace section that can be positioned in a number of ways to create different looks. In this article, we'll explore everything you need to know about T part wigs, from their construction and styling options to the benefits they offer over other types of wigs.
First things first: what exactly is a T part wig? At its simplest, it's a type of lace front wig in which the lace is shaped like a T, allowing for a more natural-looking part and hairline. The top section of the wig is usually made with a skin-like material that mimics the scalp, while the rest of the wig is constructed from high-quality synthetic or human hair. Thanks to this construction, the wig can be styled in a variety of ways, whether you're going for a sleek and straight look or something more voluminous and curly.
One of the advantages of a T part wig is that it can be worn in a variety of different styles, depending on your mood and preference. For example, you might position the T part off-center for a more whimsical look, or opt for a more dramatic part that aligns with your natural hairline. Because the wig is constructed with a flexible lace front, you can also experiment with different hairlines and partings to find the look that flatters your face shape best.
In addition to their versatility, T part wigs offer a number of other benefits over traditional wigs. For one thing, because they mimic a natural part and hairline, they tend to look more realistic and natural, even up close. They also tend to be more comfortable to wear, as the lace front allows for breathability and ventilation, reducing the risk of scalp irritation or itchiness.
When it comes to styling your T part wig, there are countless options to choose from. You might opt for a sleek and polished look with a flat iron or hair straightener, or use a curling iron or wand to create loose waves or bouncy curls. Depending on the quality of the hair and the wig's construction, you might even be able to experiment with coloring or highlights to create a truly one-of-a-kind look.
Of course, wearing a T part wig does require a bit of maintenance and care to ensure that it looks its best for as long as possible. You'll want to store it carefully when not in use, ideally on a mannequin head or wig stand to maintain its shape. You'll also need to wash and condition it regularly, using gentle products and following the manufacturer's directions carefully to avoid damaging the hair or wig construction.
All in all, a T part wig can be an excellent choice for anyone looking to switch up their hairstyle without committing to a permanent change. Whether you're looking for a more natural-looking wig or simply want to experiment with different styles and looks, a T part wig can provide the versatility, comfort, and versatility you need to achieve your desired look.
Advantages of T Part Wigs
Natural Looking Hairstyle: T part wigs are popular among people because they provide a natural-looking hairstyle that blends seamlessly with your natural hair. The T parting gives the impression that the hair is growing from your scalp, making it difficult for people to identify that you are wearing a wig.
Easy to Style: T part wigs are easy to style as you can part the hair as you desire, and the hair will stay in place, giving you a versatile hairstyle. You can try different styles, including braids, buns, and ponytails without worrying about the wig's visibility.
Comfortable to Wear: T part wigs are designed to fit comfortably on your head, providing a secure fit that does not slip off easily. The cap has adjustable straps that allow you to customize the fit according to your head size, ensuring that you get a comfortable and snug fit.
Affordable: T part wigs are more affordable than other types of hair extensions, making them an excellent option for people who are on a budget. They cost less than human hair wigs and can last for a long time with proper care and maintenance.
T-Part Wig Styles
T-part wigs come in different styles to suit different preferences. Some popular styles include straight, wavy, and curly. You can choose the length of the wig as per your requirement, and even go for one with bangs.
How to Wear a T-Part Wig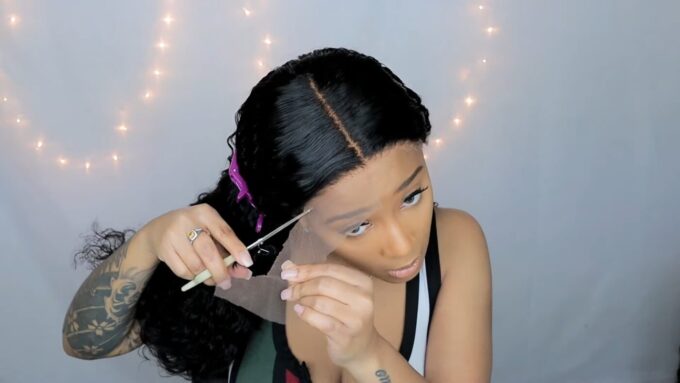 Wearing a T-part wig is easy!
First, you need to choose the right wig cap size. This step is crucial as a properly fitted wig will make the wig look more natural and comfortable to wear.
Next, you need to prepare your hair by braiding it in cornrows or a bun. This step ensures that the wig lays flat against your head and is secure.
Put on the wig cap, making sure to cover all of your hair.
Place the T-part wig on your head and adjust it until it fits comfortably.
Finally, use the combs and adjustable straps that come with the wig to secure it in place.
T-Part Wig Care
Caring for a T-part wig is essential to maintain its quality and lifespan. Here are some tips:
Always brush the wig gently with a wig brush or comb before and after wearing it.
Store the wig on a wig stand to prevent it from tangling or getting damaged.
Wash the wig every three to four weeks using a wig shampoo and conditioner.
Avoid exposing the wig to high heat or direct sunlight.
In conclusion
A T-part wig is a great option for those looking for a versatile and realistic-looking wig. Follow our tips to wear and maintain your T-part wig, and you will be sure to enjoy it for years to come!