The Real TechniquesDuo Fibre Collection ($19.99, available here) is a limited edition brush set released in 2013 featuring three white-handled, brand new, limited edition brushes available exclusively in this set. As a big, big fan of the budget-friendly Real Techniques brush collections, I was really excited to see the release of these new brushes as I wanted to grow my brush collection with high quality tools of the trade. I own several other brush sets from Real Techniques, including the Core Collection, the Starter Set, and the Travel Essentials set, all of which I have reviewed before.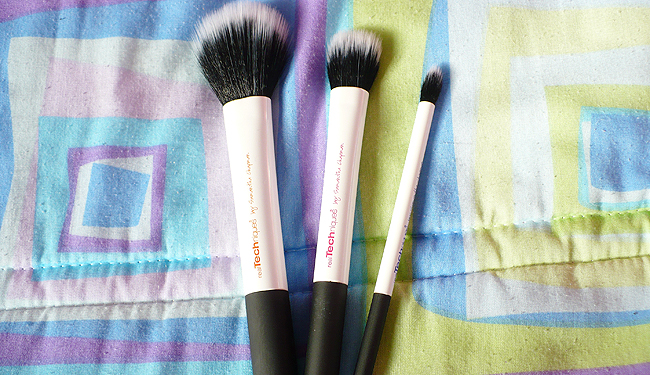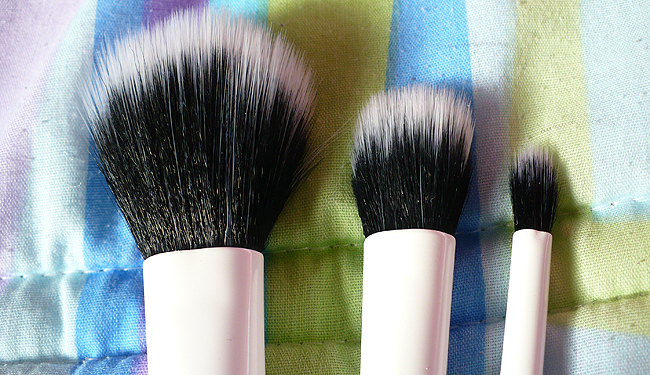 [show_shopthepost_widget id="2346743″]
Featuring three cruelty-free, duo-fibre, limited edition brushes for the face, and eyes, the Real TechniquesDuo Fibre Collection will complement any brush collection. The set includes the face brush, contour brush, and eye brush. Unlike the other collections, the handles of these brushes are white with the rubberized black ends. Despite that, they have kept the color coordination theme going with the text. When it comes to duo-fibre brushes, I find that two words really describe any product application using these products: 1) sheer coverage, and 2) precision.
The Real Techniques Duo Fibre Collection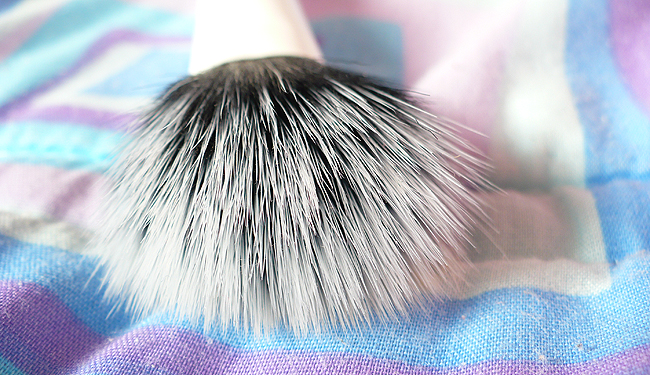 The face brush is great to apply face products sheerly over the skin. Due to its rounded bristle head shape, and the slight tapering of the brush head, it makes for a great application of highly pigmented cream or powder blushes, patting face powders or highlighters precisely and lightly. This is an excellent brush to use when it comes to those difficult-to-work-with (too pigmented / shimmery / mask-like powder) face products.
The contour brush looks like the baby version of the face brush and it is different than the contour brush that comes in the Core Collection. When I purchased this set, I thought this brush would be my least favourite because it didn't seen dense enough to pick up the products. However, I have been very surprised by how much I've been reaching out for it; the flatter head, and rounded bristles make it better at contouring very precisely. I like to use the brush horizontally when applying out the bronzer (concentrating the color application directly under my cheekbones) and blending out the product by holding and moving the brush vertically.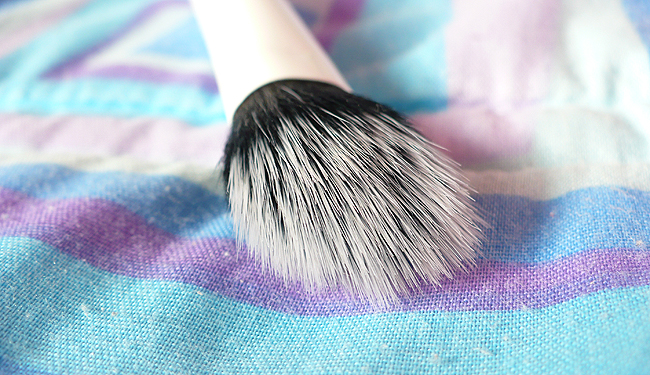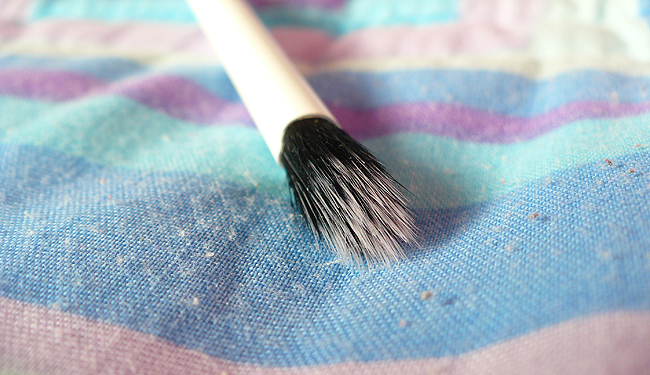 The eye brush feels and looks a lot like a crease brush than a brush I would apply eye color with. I like the size of the brush as it fits my eyelids a lot easier. However, the rounded bristles make it difficult to pat the colors down evenly on the eyelid. I've been alternating between using this as an eye-brush or a spot-concealer brush until I find a better way of using the brush.
Real Techniques Duo Fibre Collection | Quality, Application and Value
The brushes washed well, and despite the duo fibre bristles, I experienced no shedding and bleeding. Due to the rounded shape of the bristles, these brushes can feel and be a bit scratchier than other brushes, which is my only complaint about this set. I think for $19.99, the brushes work out to be slightly more expensive than the other collections (Travel Essentials set, Core Collection or Starter Set), but still a wallet-friendly buy to complement your brush collection.
For my Canadian or international friends who may not find Real Techniques to be readily available in their country, a great place to check out is iHerb, which is where I purchased this brush set from from. I bought my brush set during Black Friday and they had 20% off the Real Techniques brushes. If you are a first-time customer, you can save $5 off $30 or $10 off $40 order with this code (which I used for my purchase so I can vouch for its validity): BLC424 so you can save even more with your purchase! Stacking the 20% off and the first time coupon code ($10 off) reduced the price I paid quite a bit. Shipping to Canada was about $4 (Global Priority with DHL) for 3-4 sets of brushes and took around 3 weeks.
This brush set is limited edition, so if it interests you, you might want to pick it up before it's gone!
This brush set is perfect if you are looking for brushes that will help apply those difficult-to-work-with products lightly/sheerly and precisely. The shape/dimensions of the brushes are different than most brushes, but still easy to work with for beginners. It is a great brush set to add to your collection without being redundant. The price point, functionality, and versatility make this brush collection a winner in my book and a great addition for anyone looking for budget-friendly brushes that deliver!
What do you think of this take on the Real TechniquesDuo Fibre Collection brushes? Have you tried them – if so, what do you think? Would you pick up this set?
[show_shopthepost_widget id="2346743″]