New York has always topped everyone's list of places to go/visit! Like most, the thought of visiting New York sets my heart racing, but it can also be a daunting task to narrow down the best bits to visit during your stay so here are my suggestion of things to do in New York, anytime of the year!
Certain times of the year can be the best time to visit New York: the first time I went was closer to Christmas, where the lighting of the tree at the Rockafeller Centre was one of the many festive events to look forward to. The second time around was in February, when it was much quieter and despite the cold weather, the crowds stay just as big!
No matter what time of the year it is, New York will always offer things to do. Here is a list of suggested activities that can be done any time of the year in New York City!
Is this list not enough? Here are 20 MORE unique things to do in New York!
Read more about all my travels in
New York
!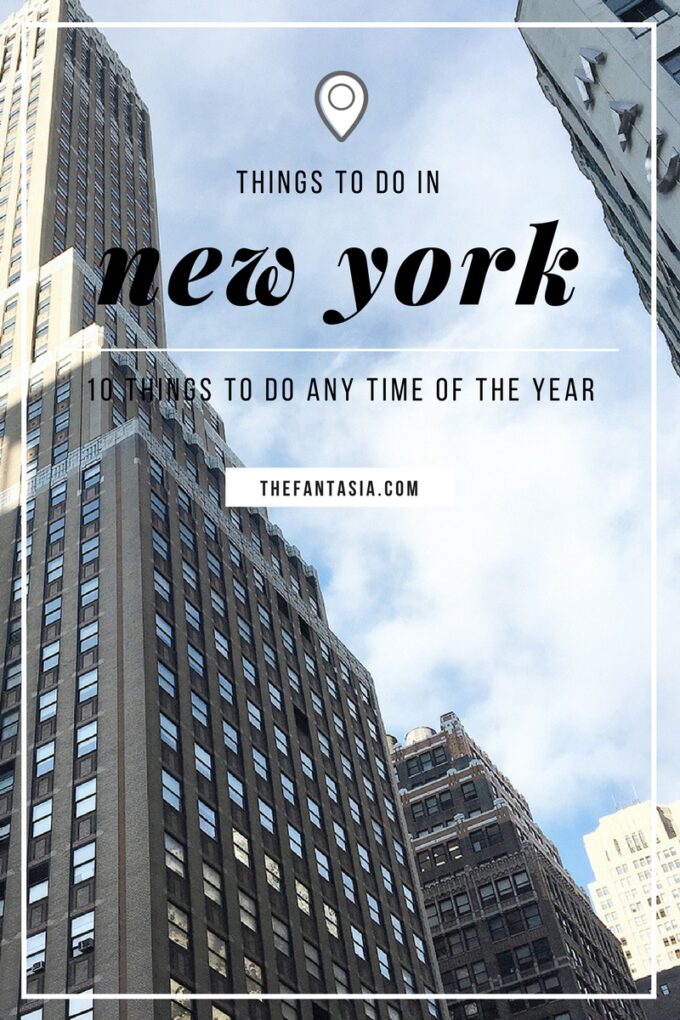 1. Top of the Rock
Set aside 1-2 hours of your visit to take the elevator ride to the "Top of the Rock" to get a stunning, unobstructed view of the city of New York, including the Empire State Building. Tickets are $29 each and it's worthwhile going in early morning when there isn't a huge crowd to get in your way of picture-taking. There are three levels starting from floor 67 and it's worth spending time at each level although the top level will offer the best views for picture taking!
» Location: 30 Rockefeller Plaza, New York, NY 10112
2. Staten Island Ferry
This was a tip from my AirBnb host a while ago – instead of paying the money to go on the ride to Liberty Island to see the "Statue of Liberty" from the base of the statue, take the FREE Staten Island Ferry instead. You get a panoranic view of the lower Manhattan skyline as well as all the pictures you could possibly want of the Statue of Liberty at no cost!
» Location: 4 South Street, New York City, NY 10004
3. World Trade Memorial
A marvellous tribute/memorial to the victims of 9/11 is well-worth a visit. You can walk around the two squares which features continuous cascading waterfall with names of the victims engraved on it. A moving and respectful tribute, and can only be fully understood when by being there. The flowers on the names signify what would have been the individual's birthday.
» Location: 180 Greenwich St, New York City, NY 10007
4. Walk along (or shop) on Fifth Avenue
Known as one of the most expensive streets in the world, the Fifth Avenue has been immortalized in movies such as Breakfast at Tiffany's, and Gossip Girl. Just like Champs-Elysees in Paris and Orchard Street in Singapore, this street is lined with designer shops, some that may be beyond your price range, and others, a little more affordable. Stay between 49th-60th Street to get the most of your shopping trip.
» Location: Fifth Avenue
5. Brooklyn Bridge
One of the free things you can truly enjoy doing in New York City. My tip is to start your trip from the Brooklyn side (Get off at High St station) so that as you walk, all the picturesque views of Manhattan are ahead of you including the Empire State Building and Manhattan Bridge to your right. If you start on the Manhattan side, there's not much to see so you'll keep turning around which would not be a fun way to enjoy an otherwise delightful stroll.
» Location: Brooklyn Bridge, New York, NY
6. Museum of Modern Arts
Home to some of the world's finest arts, the Museum of Modern Arts is a gem not to be missed when you are in New York. For art-history enthusiasts, a visit to this marvellous institution will leave you in awe. Even if you are not into the Arts, a visit to the museum will keep you entertained for hours. Plenty of exhibitions throughout the year to experience as well!
» Location: 11 West 53rd Street, New York City, NY 10019
7. Central Park
Whenever I am in New York, I always make a point to visit Central Park. It is an iconic location that has been immortalized in so many movies, but my favourite thing about it is that you can always find something unexpected during each visit! I always make a point to walk around different parts of the park to clear my head and get my bit of exercise. Grab a coffee and walk around this marvellous park during your stay!
8. Highline Park
Whoever thought that taking an old, abandoned railway track and turning it into an elevated park could be such a great idea? This stretch of elevated park gives some of the best views of the city and provides a peaceful, serene space surrounded by plenty of greenery and plenty of benches for breaks.
9. Catch a Musical
Visiting New York is almost synonymous with catching a musical. Whether it be Wicked, or the Lion King, a New York musical experience is unlike others! Be sure to book and purchase your ticket far in advance to secure the best seats in the theatre!
10. Chelsea Market
The Chelsea Market is an enclosed food court/Farmer's market with an eclectic vibe and be sure to come with an empty stomach as food is the main attraction! Take your time exploring the food options as there is something for everyone. Don't forget to pop by the Fat Witch Brownie for one of the tastiest brownies I've ever had. You've been warned though, you might come back for more!
» Location: 75 9th Ave, New York, NY 10011, United States
Bonus: 11. Times Square
And of course, the world-famous Times Square, where the annual new year celebration takes place and also one of the most popular tourist destinations is not to be missed!
Pin this for Later!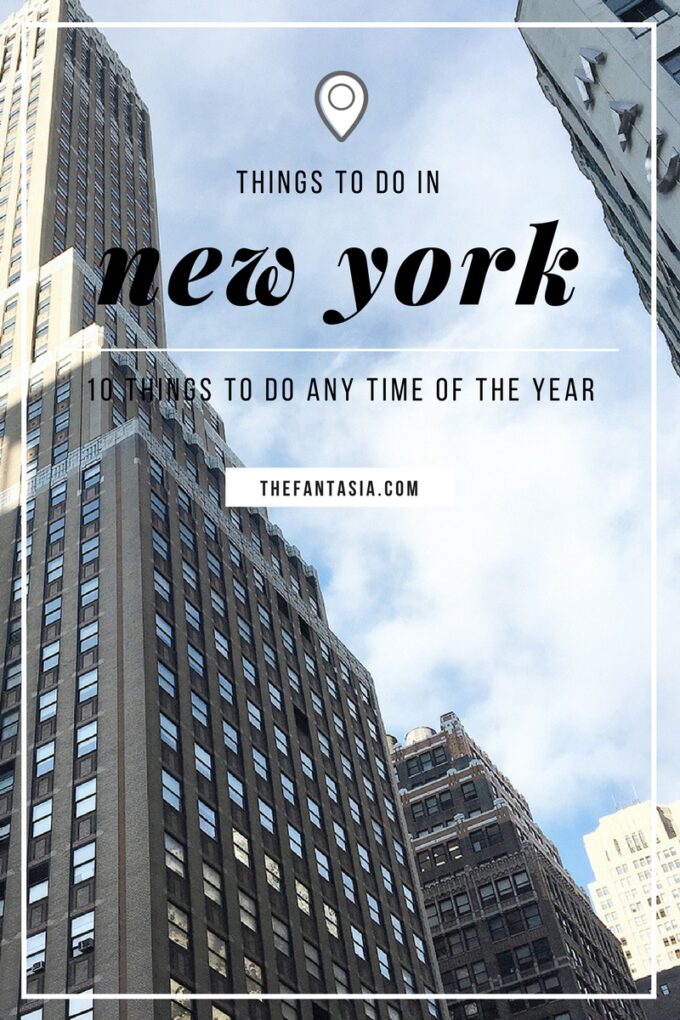 What are some of your favourite things to din New York?