Surfing is a religion here in South Africa. Blessed with a scenic coastline, bays, and inlets with wide-ranging types of waves (gentle to the monstrous 6'2 peaks), South Africa is a surfer's paradise. Many international competition takes place here (despite the threats of sharks), and surfing is something everyone should try (if possible) when visiting South Africa, especially in Muizenberg.
Surfing is not just a religion here in South Africa – it's a part of the lifestyle. At the beach, you will see surfers of all shapes, forms, and ages. And because surfing is essentially a way of living, and for anyone who's experienced the excitement (or "stoke") of catching waves, you'll know that it's fairly addictive. The good news is that there's no snobbery – the locals are more than keen to spread the joys of surfing by teaching or giving words of encouragement!
If you enjoy this post,
click here
for more South Africa posts!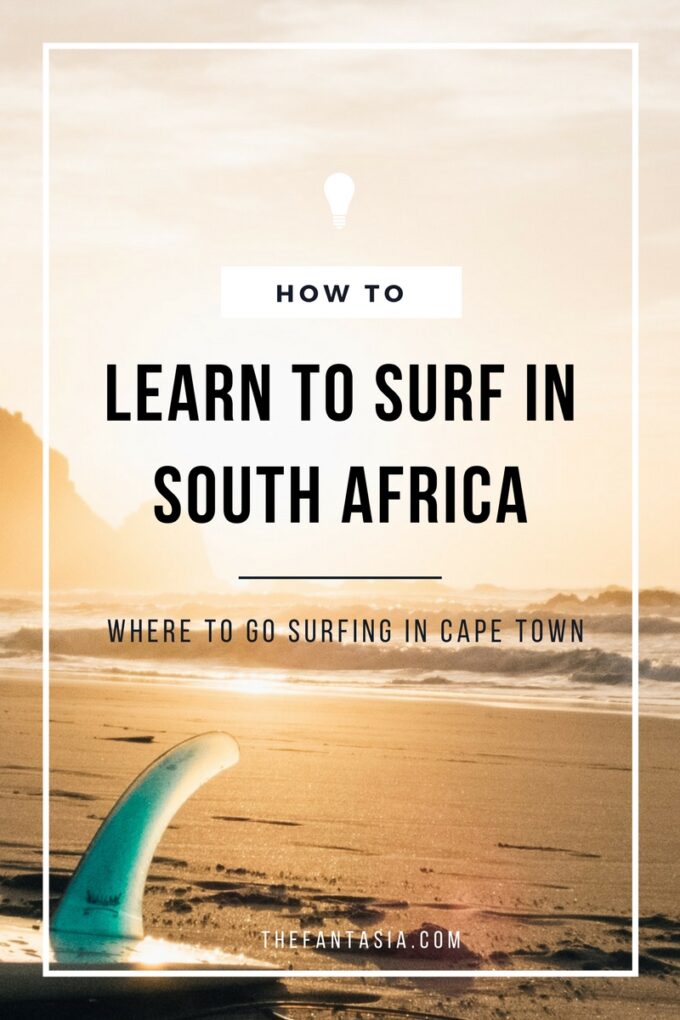 For beginners, make your way to Muizenberg, the coastal city that hugs False Bay and is well-known for being "the" spot for new learners. I decided to base myself out of Muizenberg because of 2 reasons: 1) I was hooked after catching my first wave in Ghana (I semi-stood up for a split second, but still, it was exhilarating) and 2) I wanted to wake up to the beach every day if possible (without paying exorbitant sums like you would in Cape Town. Muizenberg seemed like a very down-to-earth, calming, and relaxed place, and many locals I've met wandered why I didn't end my trip here instead of starting it here (See reason #1)
As you advance, there are other spots to surf (including the famous Jeffries Bay), and plenty of tour companies in Cape Town can organize "surf tours" which will take you to various surfing spots around South Africa.
Muizenberg is a quiet town, about 20-30 minutes drive from the city centre/Cape Town. It's not too hard to get down here as there are trains (Although some discourage taking public transportations due to safety reasons), and Uber to take you down here if you are based in the city. It's about ~R190-225 using Uber or ~R300 (fixed fare) with a taxi.
What to Do in Muizenberg
The good news is that being based out of Muizenberg means you are incredibly close to a number of local attractions including Simon's Town (where the SA Navy and Boulders Beach with the jackass penguins SA Is known for), Kalk Bay, and Cape of Good Hope. This means what would normally be a full-day trip from Cape Town, can be shortened (depending on your destination) to a half-day.
Within the city itself, I don't know if there's much to do aside from learning how to surf, and the new "it" sport, Stand Up Paddleboarding (SUP) which although looks similar to what I've done before in Toronto, is so much more interesting and complex when done on waves. There are a few good restaurants here, but if you're looking for city nightlife, and other entertainment options, you will find that Muizenberg is slightly limited in that.
There are a few hostels in the area that can arrange tours for you. To give you a few ideas, there are the Cape Peninsula Tour, Cape Agulhas Tour (where the Indian and Atlantic Ocean meet), swimming or snorkelling with seals, and Great White Shark tour. All within reason to what you would find in Cape Town.
Where to Stay
If you do decide to base yourself in Muizenberg, there are a number of hostels around the beach which offers incredible beach views and accommodation at incredibly competitive rates. I have stayed in a 5-bed shared dorm room for R190/night ($19/night) with an en-suite bathroom at the Stoked Backpackers Hostel. Private room don't cost too much either, ranging from R450-R500 ($45-50/night) with guaranteed sea-views and if you're lucky or willing to pay $10 more, your own private balcony. Keep in mind these are winter rates, meaning the months between May – September. Rates will vary during the SA summer season, which is also the peak tourist season.
Stoked Backpackers Hostel is one of the best value hostels I've stayed at (CAD$19/night!) They make the best breakfast (delicious flat white, home-made cookies the size of your palm, and all sorts of breakfast bowls!) for a reasonable price ($2-5). They can also arrange a wide variety of tours from the hostel or the city! Anything from shark cage diving to Cape Peninsula day tours, and the front-desk lady (Winnie, ask for her, she's the best!) is so helpful at pointing you at the right direction!
Furthermore, I love the room layout – the shared dorm was incredibly roomy with plenty of space and privacy should you want it! I stayed at the mezzanine-level bed in the 5-room Shared Dorm felt like I had my own bedroom! Plus the wifi is very strong throughout the hostel! As a solo female traveller, Stoked Backpackers Hostel was one of the safest, and most convenient hostel I ever stayed at. This was one of those moments where I'm glad I didn't end up booking an Airbnb!
Useful Links & Information
Where to stay:Stoked Backpackers Hostel
(Dorms start at R200 or C$19/night)
Remember: Although Muizenberg is mostly a 30 minute stop during most tours, you cannot miss the surfing here! It's fantastic for beginners!
Learn more about Muizenberg:Muizenberg Tourism Office
Looking for some water adventures? I love my experience learning to surf with the Surf Emporium Surf and Stand Up Paddle Board Shop and School
What it's like to surf in Muizenberg? Here are my experience on it: Learning to Surf in Cape Town, South Africa and Learning to Surf in Cape Town, South Africa Part 2
Pin for later!