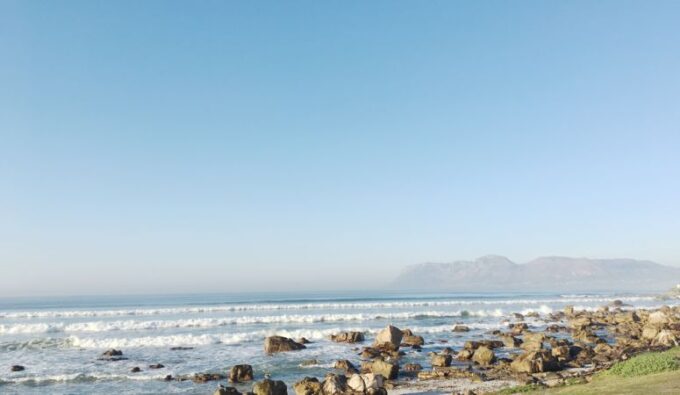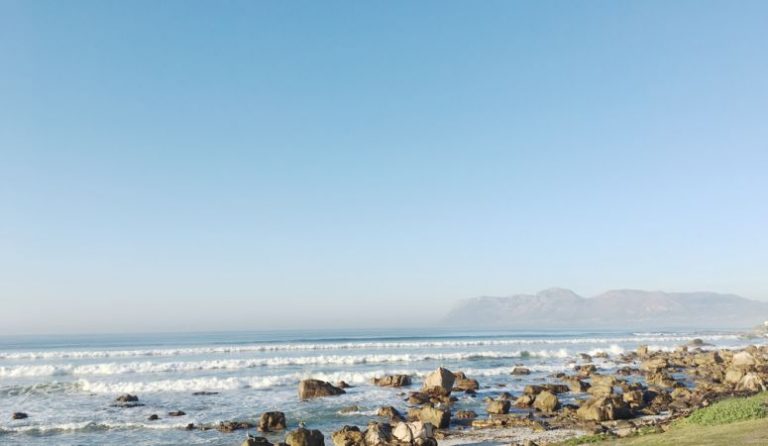 If you haven't already done so, make sure you start with the first part of this article, Learning to Surf in Cape Town, South Africa so you have some context about what is being discussed in the articles below! Even though this was my first time surfing in Cape Town, after the first week, I felt quite comfortable surfing on my own. A combination of picking the right school and instructor as well as the grit to keep on going definitely helped!
So, if you have been thinking that surfing is for people who know exactly what they're doing, or if you've been counting yourself out before even trying it, Cape Town will change your mind! Head over to Muizenberg and get ready to "get stoked!"
PICK A SURFING CLASS/SCHOOL/INSTRUCTOR
Surfing is not a sport that is to master when you've grown up in a city that's far away from the water as you can possibly imagine. It's a good idea to look into getting lessons so you can be confident and make the most of your trip. There are also a few schools around the beach, all offer very competitive rates, and having tried 2 of them, I can say that there's no single bad school you should avoid.
I've found that since South Africans are generally really passionate about surfing, the quality of their teaching reflects that. With a laid back vibe, an informative private lesson, and very encouraging instructors and locals, it's guaranteed that you will catch at least 1 wave while you're here.
SO HOW DO YOU NARROW IT DOWN IF THEY'RE ALL GOOD?
For me it came to pricing. I knew that I wanted to spend as much time surfing, so I booked a 4-lesson package for R990 with Surf Emporium. Many other schools also offer a 4-for-3 deal, where you book 4 lessons, but pay for 3. Pricing depends on the schools so check them out in advance. Here are a few that I saw during my stay and found through my research.
Many accommodations also offer surf packages/bundles where they offer a combined rate for both accommodation and cost of lessons. A great way to save if you're looking to get bookings done in one go.
Note that South African waters are cold – pretty much to the point of freezing, in the winter. You wil need to have a wet suit on because even with a wet suit, I couldn't last beyond 6 hours before my toes and hands start to feel numb. Typically, the cost of rental (board and wetsuit) and 90 minute lesson are included in the price which ranges from R280 – 350.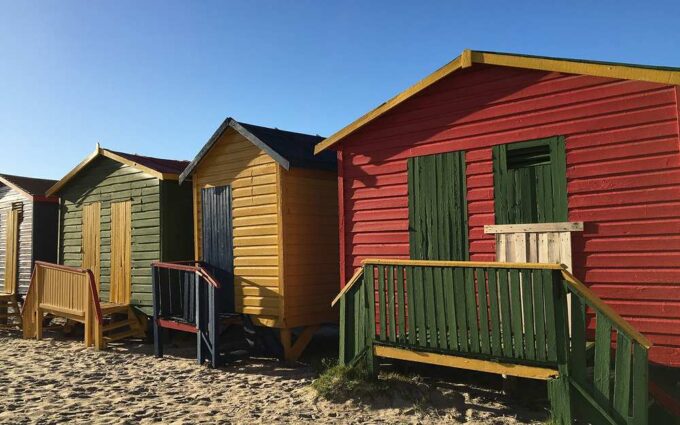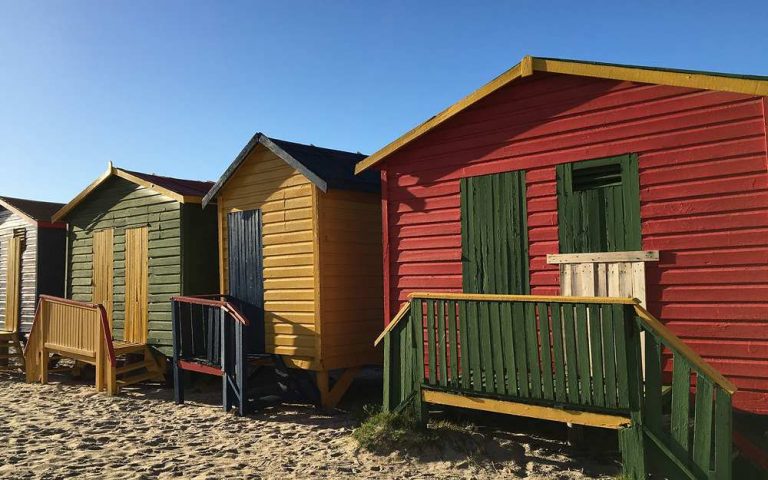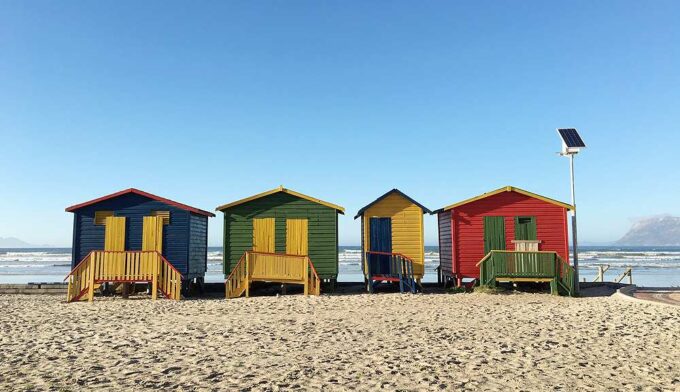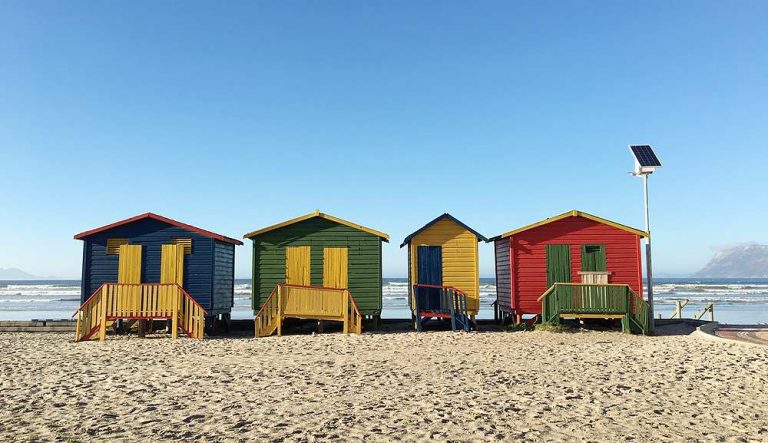 WHAT ARE THE LESSONS LIKE?
Each lesson lasts about 90 minutes, including theory. Ninety minutes can be either a long time or a very short time, even for beginners. I think it's the right amount of time to understand the technique and practice A LOT in the water.
What I appreciate about the lessons I've taken, is the fact that we don't spend a lot of time at the beach, "learning the theories" because ultimately, the best way to learn is practicing on the water, falling and making tons of mistakes. My instructors (I had 3 in four days, because I wanted to try different techniques) spent very little time (maybe around 5 minutes) at the beach, going over safety information including etiquette, safety, and shark spotting, before we went into the water. Once in the water, you just keep going until you stand up. The good news is that the instructors are very engaged, and will give you techniques and tips as you go. I've found that I've always gotten up just fine when I'm with my instructor.
It also seems like the instructors are having fun, because they do really want to see you succeed. It may not mean a lot to many people, but my instructors will always say, 3 more "GOOD" waves (you standing up), and not just 3 waves which could be 3 wipe-outs. I think it's incredibly valuable and such a great experience to know that they are rooting for you to succeed and not rushing to their next lessons which is often the case. Maybe because I've gone in the winter time, and there are fewer guests/students, I've just really enjoyed the vibe and how the lessons are paced.
The instructors are highly qualified, typically having years of experience with some who actually surf for South Africa! In Canada, when you are looking to learn with a more experienced instructor (Another obvious example is salon stylists), you typically pay more. Not in South Africa! Either ways, I worked my way through 3 instructors, not because they gave up on me (That would be hilarious) but due to timing (I wanted to get in the water earlier (9am) so that I can rent the boards for the day to practice (or as I say it, make all the mistakes before my next lesson). I also didn't find the right fit with the first 2 instructors and felt more comfortable with the techniques that my 3rd instructor showed me (he also happens to be the most experienced, and thus more in demand instructor).
HOW THE CLASSES WENT.
Know that you will fall in the water. A lot. You will make mistakes. A lot. You will feel frustrated. A lot. You will think you got 1 technique down, and then adding another element (I.e. Paddling) and you wipe out. The circle of frustration looks like it doesn't end but the most important thing to keep in mind is to have fun. It's also mind over matter. And everyone's been at your stage before.
I'm not speaking as someone who suddenly surf like a pro after 4 days. I got better on Day 3 (out of 4) and killed it on Day 4, managing to stand up with my instructor, and at least once by myself. It takes time, and lots of practice. I was intimidated because it feels Ike there are tons of people younger than me, and more fit than me, and more experienced than me (which were all true) but they are in no way judging you or your lack of ability to stand up. In fact, I've had more than a few cheerleaders, a few who would point out which waves to take, and a few that really go out of their way to say "Good for you for being in the water by yourself on day 3" Everyone is so encouraging, despite me constantly feeling totally out of my elements (which I was).
I think the reason that I managed to hang out for so long, and kept going was because I was having fun, and also because it would be another full year before I come back to practice surfing here. I might as well do my best, keep trying – after all, it was only for 4 days that I got to do this.
Everyone has different ways and techniques to catch a wave, so while it's good to listen to the basics from your instructors, you should try to make it your own. Catch the wave when it feels right, and stand up when you think is right.
My instructor say that surfing should be like water therapy, and that you should feel relaxed in every step of the way. That helps distribute the weight better, stand up more successfully, and keep you in good spirit. I definitely had tons of fun in the 4 days that I was in Muizenberg that I changed the end of my trip so that I would be back here instead of the city.
WHO I SURFED WITH.
I went with Surf Emporium, as mentioned earlier, due to the pricing of their 4 lesson bundle, which was the cheapest. I would highly recommend them – their shop was recently renovated, and they have all sorts classes, programs, camps, etc.