One of my favorite products that I don't hear a lot of in the blogosphere is the Make Up For Ever Mist & Fix Setting Spray.
I'm not sure why – I know that Urban Decay gets all the credits and fame when it comes to makeup setting sprays, but having tried the Urban Decay offering and Make Up For Ever's, I can confidently say that I much prefer to Make Up For Ever's!
That being said, does anyone else feel like their favorite beauty product gets lost in all the new launches? Share with me what your favorites are – maybe we can help each other discover new and exciting products along the way!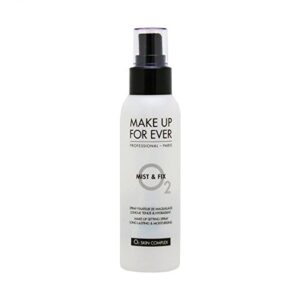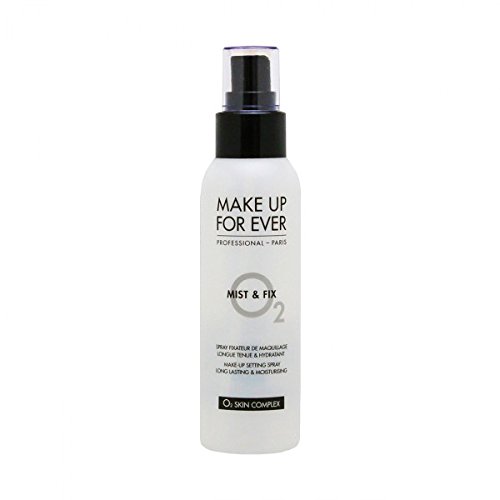 The Make Up For Ever Mist & Fix Setting Spray is available in two sizes, 4.22oz and a travel-friendly 1oz bottle. It's not a significant price/volume difference, but clearly, you're getting a much better value with the Make Up For Ever Mist & Fix Setting Spray.
The packaging is very basic, and I have absolutely no issues/problems with the nozzle or bottle like some reviews have mentioned – in fact, I really like the clear bottle that shows how much product you have left.
The formula feels like water on the skin but there's a really noticeable scent to it. The smell is unpleasant and was quite strong but disappears within seconds after application. The scent is a huge drawback for me but given how this product really works wonders, I can live with that. Once spritzed, it takes a few seconds to absorb and lock all your makeup into place.
What I really like about the Make Up For Ever Mist & Fix Setting Spray is the way it makes my makeup stay put all day and look more natural as the day goes by. When I'm using this product, I usually have a long day which means I'll set my makeup with powder.
The spray takes away any powderiness and leaves the skin looking very natural and almost "un-made up". I feel this spray melts away any powderiness and cakeyness of my makeup and melts them together to create a "second skin" finish on my face. No matter what kind of product I use, this setting spray works wonders! I don't know what kind of sorcery is going on in this bottle but my skin loves it and I love the finished result!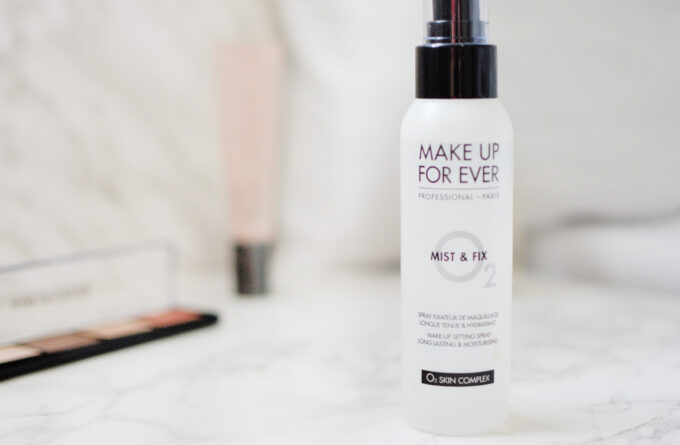 I have normal/dry skin and I haven't had any issues with breakouts or anything negative with this product. My makeup stays put and lasts much longer without looking like makeup as the day goes by. I put this on when I went skiing a few weeks ago, and it held up my makeup until lunchtime despite the very windy weather. I wasn't expecting much but it did what it said it would!
I typically use about 2-3 sprays on the face and am barely making a dent in this bottle even after owning it for a year. I use this on a daily basis before I go to work and I rarely have to touch up even if I have blogging events after work. Aside from the unpleasant smell, everything about the Make Up For Ever Mist & Fix Setting Spray is a true winner for me!
Have you tried the Make Up For Ever Mist & Fix Setting Spray?
Take a look at these Make Up For Ever beauty products also:
---
Disclaimer: This post features product(s) provided for editorial consideration. All opinions are my own. For more information about my review policy, please
click here
.
---