When it comes to having a multi-purpose lip product that nourishes and adds a subtle colour, I have a few recommendations which I have been obsessing over. There's a lot of occasions when I'm running after work to catch up with girlfriends or attend an event and need to look put together. A lip balm might do the trick, but sometimes you need just a little more oomph on your lips to kick up your evening a notch.
What I like most about these is that they don't wear off like a lip balm and doesn't wear like it's supposed to go on a 15 year-old starting out with makeup. All three enhances my natural lip colour, and makes it look like I put a little more effort than I really did. Curious about my picks? Here are three of my current favourites of the moment!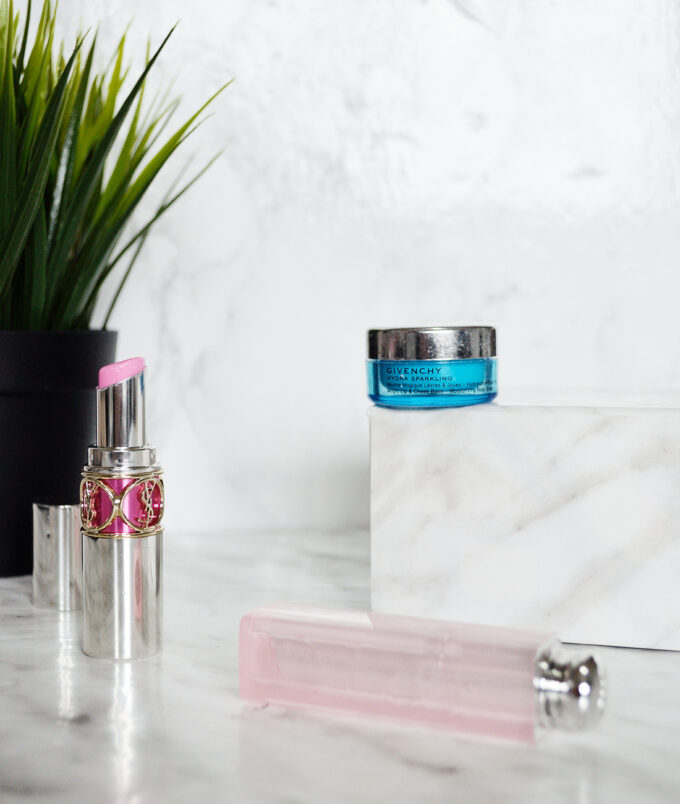 I dug out the GivenchyHydra Sparkling Magic and Lip Balm ($34, available here) a while ago, and it has immediately become a staple in my daily makeup bag. It's a 2-in-1 product that goes beyond just moisturizing the lip and adding a pop of colour. You can actually use this on the cheeks as well! The technology in this little pot of balm reacts to the natural colour of the surface it is applied on (i.e. your lips or cheeks) to create a natural flush. Not only does it add a very natural-looking sheer pink, natural-lip shade on the lips, it plumps it up too a la Angelina Jolie. Who wouldn't pucker up to that? The formula is neither sticky nor tacky, making it a delight to apply on the lips and cheeks.
The YSLVolupté Sheer Candy in #9 ($39, available here) is another one of those random discoveries that I would never have tried on my own had it not come in a value set. The silver, embossed tube is the epitome of luxury itself and the sheer application of the Volupté Sheer Candy leaves a natural sheer tint on the lips that enhances your natural lip colour without being overwhelming. I've worn this once and my friend (who is also a beauty blogger) cannot stop complimenting me on my lip colour -blushes- You know it's that good when 2+ beauty bloggers approve!
My most recently acquisition in this collection is the DiorLip Glow ($37, available here) which I purchased because it seems to be a staple in many beauty bloggers' arsenal. Plus, it had one darn beautiful packaging! The sheer lip balm hydrates the lip without much effort and adds colour by "waking up" the natural colour of your lips without wearing off as quickly as a lip balm. It softens dry skin on the lips and it's not something that you would be impressed with initially until you've realized that you're almost running out of it.
Now it's your turn! Have you tried any of the tinted lip balms mentioned above? Which ones are your favourites? As always, I'd love to hear your thoughts! Share with me comment section or through Twitter or Instagram!
---
Disclaimer:
This post features product(s) provided for editorial consideration. All opinions are my own. For more information about my review policy, please
click here
.
---