I tend to be my worst enemy when it comes to perusing the Duty Free shops at airports. The lure of tax-free beauty products is just too much to handle. Value packs with lipsticks / glosses / limited edition palettes? MAC with no 13% taxes? Don't even get me started on how often I almost miss my boarding call because I was too busy scanning the goodies at the duty free! MAC HAUL IT IS!! Please tell me I'm not the only one who gets sucked into duty free shopping all the time!
A recent trip to Cape Town involved flying through JFK airport in New York. Now let me tell you, Terminal 4 is my weakness. That's where all the best shops are – Longchamp, Jo Malone, MAC, Michael Kors, and where the best beauty finds including those from high end brands like CHANEL and Dior are to be found. Anyhow, I made a quick stop at MAC and walked away with a few new items. How typical.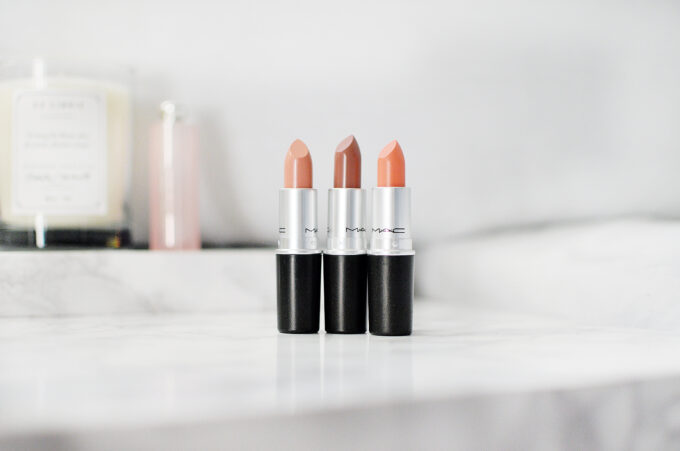 In typical Stephanie-style, I bought three lipsticks. I can never resist a MAC lipstick as it is one of those products that I consistently have a good experience with. Shy Girl is my staple colour – believe it or not, I forgot to pack it for my trip. While I didn't care too much about looking so done up on a trip, I wanted to look like I made the effort, you know? Into the basket it went even though I already have a backup. Plus, it is my all-time favourite colour so it's not such a bad colour to stock up on!
Pure Zen is a new addition – can you sense a theme here? The colour is very similar to Shy Girl with less pink. On my pigmented lip, this appears less nude and more wearable on a daily basis. Think of "Shy Girl" but paler. Lastly, I bought Patisserie, mostly because it sounds so French and chic. I kid, I kid. Patisserie is a really popular shade in the beauty world and it is on the opposite end of the spectrum to Pure Zen. It's still a relatively "nude" shade but with a little more pink than Shy Girl, falling into a "pinky-nude" bracket.
Overall, I'm pretty happy with my picks. I'm really into the whole nude-lip colours lately and these fit the bill perfectly!
Now it's your turn! What are your favourite MAC lipstick shades? As always, I'd love to hear your thoughts! Share with me comment section or through Twitter or Instagram!