With the obscene amount of makeup that MAC releases on an annual basis, it starts to get really difficult to pick a favourite or find a winner among the ocean of new releases. When last year's holiday collection came out, I was immediately intrigued by the MACColourdrenched Pigments ($22, available here) which resembles an eyeshadow, but packs a punch in the pigmentation department.
The new, limited edition MACColourdrenched Pigments formula resemble the Make Up For EverArtist Shadows so much (and if you missed it, I adore that impressive formulation!) as I wanted to see whether MAC was able to replicate the formula that made the Artist Shadows one of my favourite launches of the year!
At first glance, the pigments look like a regular eyeshadow – it is encased in a regular eyeshadow pot and is about the same size (at least when seen visually). Of course the devil is in the details – once you feel the texture of the product, you know that it's not like any other eyeshadow. The consistency is very similar to Make Up For EverArtist Shadows – dense, and gel/cream-like but dries down to a semi-powder satin finish.
Although not explicitly mentioned by MAC, you can use these eyeshadows either wet or dry. I think the darker colours doesn't need to be applied wet, but take a look at the swatches below – you'll be blown away by how much better the pigments look when wet!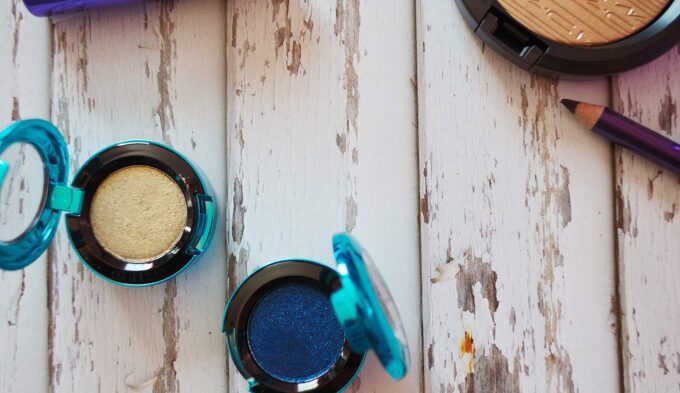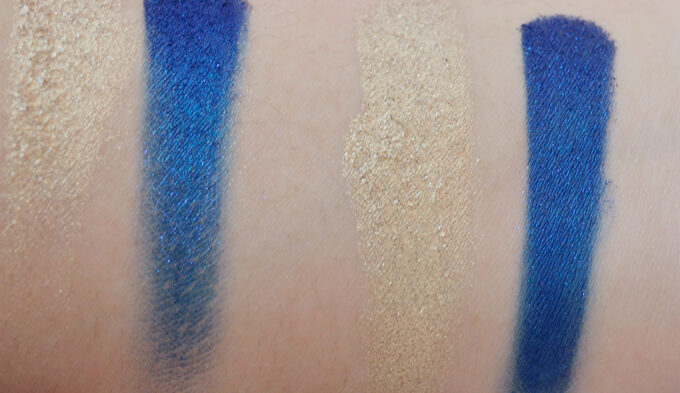 There are five colours that were released in the collection and I have two to share. The colours are very much in sync with the holiday theme, and centred around deep, sophisticated jewel tones ranging from a shimmery gold all the way to a deep aubergine purple.
The first shade, Night Thrill is described as a gold shimmer. I think this learns much lighter in the "gold" department so it is suitable even for those with medium/golden undertone. Most of us with this kind of skintone have difficulties wearing gold colours that don't make our eyes look sallow, so this shade is a keeper. I would say there's even a slightly cool-toned colour layered among this shade that makes it so impressive looking on medium-toned girls.
This shade is also one that had a very dry consistency and is not much of a looker when used dry. Used damp, it's a whole different ballgame!
The next shade is called Moon is Blue a deep navy blue that will give you heart palpitation due to its intensity. It's a stunning shade of dark blue and complements darker eyes a lot. It has a fantastic consistency so it's not something that needs to be used wet to get the level of pigmentation that we know it can deliver.
Overall, the MACColourdrenched Pigments is a step-up from your regular eyeshadow and is a worthwhile new release from MAC Cosmetics that's worth checking out. Considering this is a limited edition formula, they will consider bringing this out in future collections and potentially make it permanent!
What do you think of the MAC Magic of the Night Collection? Would you try the Colourdrenched Pigments?
---
Disclaimer:
This post features product(s) provided for editorial consideration. All opinions are my own. For more information about my review policy, please
click here
.
---