Throughout Christmas, my entire Facebook newsfeed and YouTube was very much a wall dedicated to all of my friends, former university classmates, YouTuber's I follow and family members getting engaged or married. I'm not alone in this – It's been reported that the most wedding proposals happen between November and February, which means couples are planning summer travel often when they start wedding plans.
I'm not exactly there yet, but I can imagine how exciting such a life-changing moment this is! Which is why I have a little Valentine's Day treat for you just in case you are, or know of someone who are at this exciting part of their life!
Keep reading to find out more and be sure to enter the giveaway at the end of the post!
The Lonely PlanetHoneymoon Handbook is available at: Amazon • Chapters
Do you know anyone who's recently just gotten engaged or married?
You might want to let them know (or pass along this blog post to them!) of a new release from the mother of all guidebooks out there, Lonely PlanetHoneymoon Handbook ($25.50, available here).
Honeymoon must be such an exciting time for any couples! Did you know that the founder of Lonely Planet (Tony and Maureen Wheeler) started their guidebooks after embarking on their own honeymoon in 1972? This is the first foray into the world of couple travel, and honeymoon travels for the publisher and judging by the amount of information included, this will be a great addition to any couples' honeymoon planning!
The Honeymoon Handbook features practical information on honeymoon planning from travel inspirations, budgeting, timing and it even includes a quick little quiz to determine where to start your honeymoon! The book includes over 25 of the most exciting locations for couples to visit during their honeymoon – from Andalusia to Zambia – and is divided into 5 sections to cater to a variety of travel preference and tastes.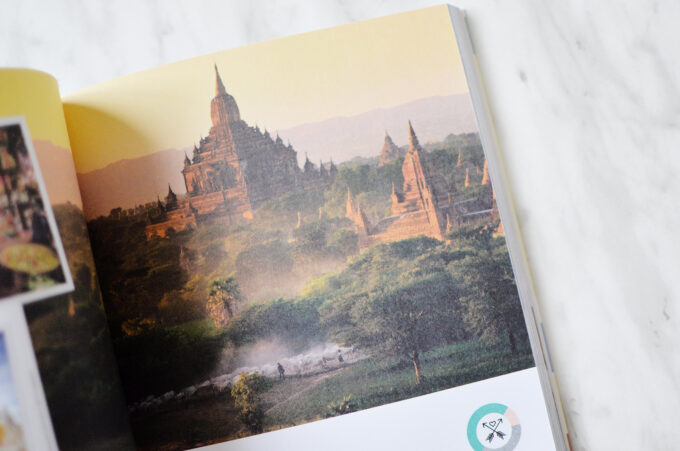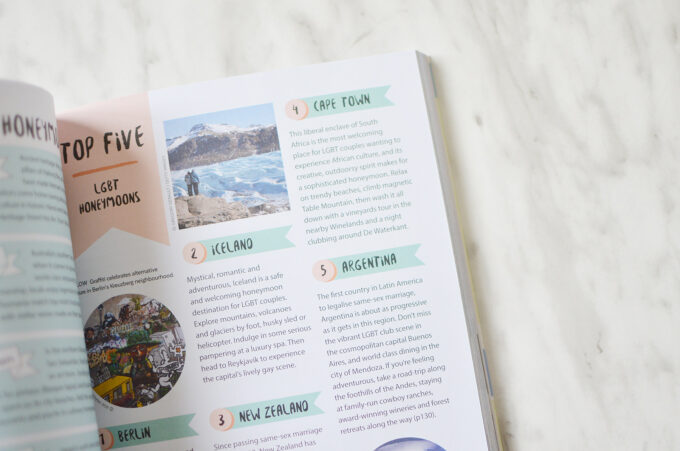 I really enjoyed reading and going through the Lonely PlanetHoneymoon Handbook which I found to be highly practical, inspirational and convenient to read and travel with. It is full of interesting insights and a variety of options, just in case we have a picky or a well-travelled traveller.
I've always found that most Lonely Planet guides and coffee books are a great starting point in planning your travel as it covers a many topics, and has a lot of breadth of destinations and activities you might not have thought about. Well-seasoned travellers will know to never rely 100% on a guidebook and allow some room for flexibility as things will and inevitably always change since the time of publication. This is why I still recommend, gift and read through Lonely Planet guides and coffee books to get inspired for future travels!
What I Enjoyed Most About the Lonely Planet Honeymoon Handbook
As a seasoned traveller, I know that travelling whether on a budget or a more splurgy one, can quickly become challenging and require compromises. I've been lucky that I travel alone (except for 2-3 trips) so I don't really worry about compromising on any activities and experiences. I can imagine the kind of pressure couples would have in planning the "perfect" honeymoon only to discover they have different tastes and preferences!
I find the Lonely Planet Honeymoon Handbook to pack quite a lot of information not only on getaway ideas, but advice on getting married abroad and minimoons. As mentioned earlier, condensing practical information such as destination tips (i.e. how LGBT friendly those destinations are), sample itineraries, alternative destinations and can't miss experiences, make this guide well-worth the investment!
Get Inspired!
[metaslider id=24781]
The 25 destinations are split into 5 lists to narrow down your options quickly.
Top Five Foodie Honeymoons
Top Five Romantic Road Trips
Top Five LGBT Honeymoons
Top 10 Budget Honeymoons
Top Five Instagram-Worthy Honeymoons
Want to Win the Lonely Planet Honeymoon Handbook?
Congratulations on making it this far! If you are or know of someone who's just gotten married or are planning their honeymoon soon, here is your opportunity to win one of these handbook!
Giveaway is only open to Canadian residents 18+
Winner will be notified via email and have 24 hours to get back to me to confirm their mailing information!
Giveaway is open from Jan 31 – Feb 18, 2017
Good luck!
---
Disclaimer:
This post features product(s) provided for editorial consideration. All opinions are my own. For more information about my review policy, please
click here
.
---