It's absolutely no secret to most of you that I'm in love with anything rose-scented or rose-infused in my routine. My skin just drinks up anything rose-infused and I can't live without my beloved rosehip oil so I was thrilled to give the LaCoupeMoroccan Rose Volume Loving Shampoo and Conditioner ($9.99, Walmart and Jean Coutu) a go – finally, something rose-infused for my hair!
I hadn't heard of the LaCoupe brand before but the next time I'm in a Walmart and Jean Coutu store, I'll definitely be on a lookout! As part of its new Naturals range, which are silicone-, paraben-, cruelty-free and features ecofriendly ingredients, this rose-infused haircare routine is going to be a total treat for your winter-stricken hair. With consistent sub-zero temps, snow storms / squalls that just keep coming back, I'm ready to refresh my hair routine asap!
P.S. Yes, I am the lucky one to get 2 of the conditioner instead of a shampoo and conditioner!
The LaCoupeMoroccan Rose Volume Loving range is available at: Walmart and Jean Coutu as of Feb 2018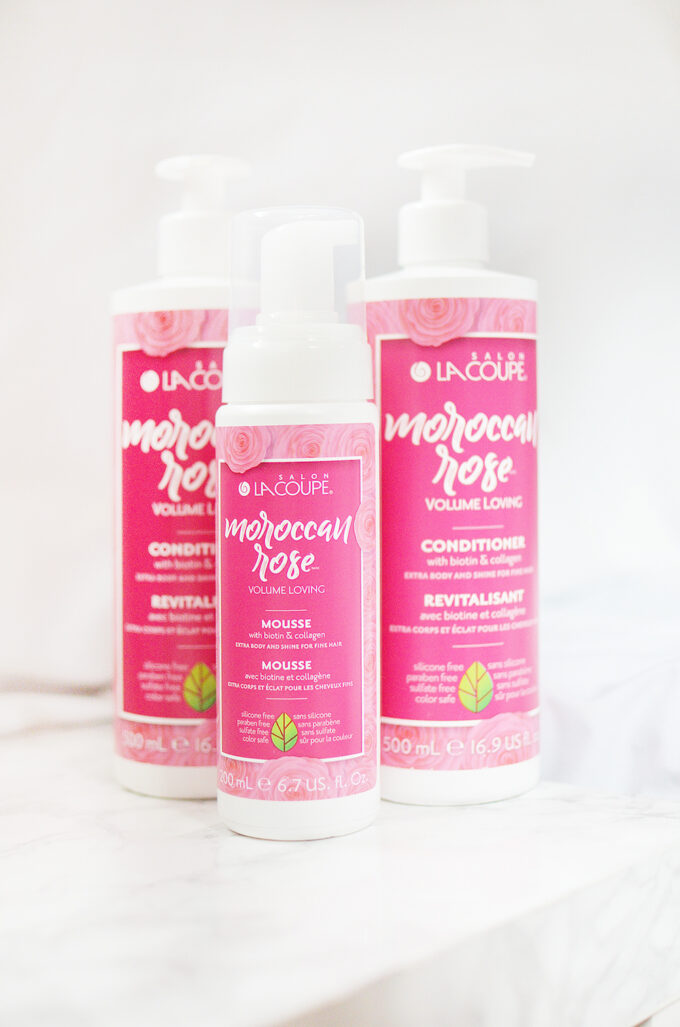 I'm obsessed with anything that keeps my hair healthy – I am fortunate that despite daily straightening, and washing (I can't go to sleep knowing there's all sorts of hair products in my hair!) my hair is relatively healthy. It's quite voluminous, and except for humidity, I don't tend to have a lot of issues to worry about. I do know that because of my constantly tying my hair or putting it up in a bun when I'm relaxing at home, it has created some damage on the top layer, making it even more fine than it needed to be.
The LaCoupeMoroccan Rose Volume Loving Shampoo and Conditioner features moroccan rose as its primary ingredient which not only will deliver a fragrant and aromatic experience in the shower, but also invigorate your hair by strengthening the strands allowing thinning and fine tresses to come back to life.
The rose oil infusion helps to add silkiness and shine to the hair that looks natural. The range is also infused with volume amplifying biotin and collagen which occurs naturally (though slows down with age) to strengthen the hair as well. To round up the fantastic ingredient list, we have 100% pure aloe leaf juice and coconut water to nourish and condition your hair naturally without the use of synthetic ingredients or lab-made chemicals.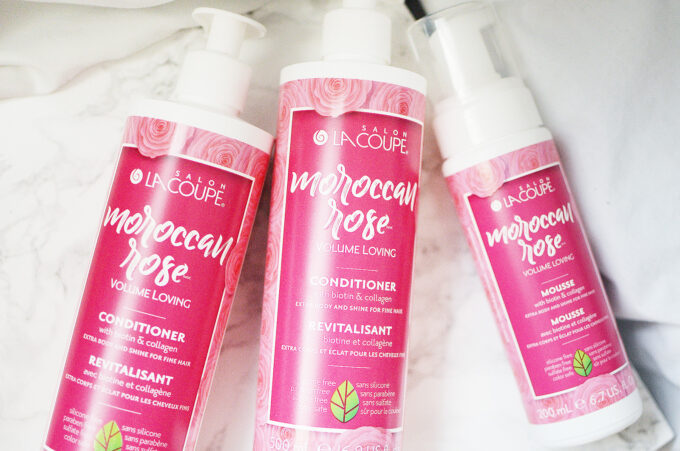 The LaCoupeMoroccan Rose Volume Loving range comes with 3 products: a shampoo, conditioner and mousse for styling. The shampoo and conditioner comes in a pump bottle which makes it absolutely perfect to use in the shower (I hate over-extracting products!) and the mousse has a foam-like nozzle to get just the right amount of product out.
The entire LaCoupe Naturals Collection (there are four in total, with this launch being the first) is sulfate-free, paraben-free, propylene glycol free and petroleum-free. The range is also safe to use for colour-treated hair.
This haircare range is a little bit more expensive than your usual drugstore offering. Priced at around $10 a product, that's probably double of what I would normally pay for a similar-sized shampoo. Although priced at the higher end of the spectrum, it's certainly not the most expensive when you consider other hair treatment products retail for a similar price. However, it is still affordable considering the natural ingredients packed in all three products. Plus, since they're available at mass-retail stores, keep an eye out for promotion or sales so you can try out these goodies for yourself!
Have you tried LaCoupe haircare products before?
---
Disclaimer:
This post features product(s) provided for editorial consideration. All opinions are my own. For more information about my review policy, please
click here
.
---