Repurposing old packaging and containers from around the house is to make cheap makeup storage is one of my favourite things to do and helps declutter my home. There are plenty of acrylic, wooden, and metallic holders that you can order online but why do so when you can make them for free and at the convenience of your own home? Here are some of my favourite ways to reuse old packaging, and repurposing items I have around the house.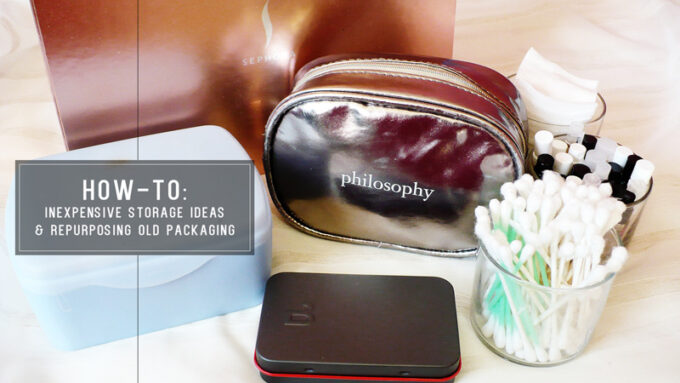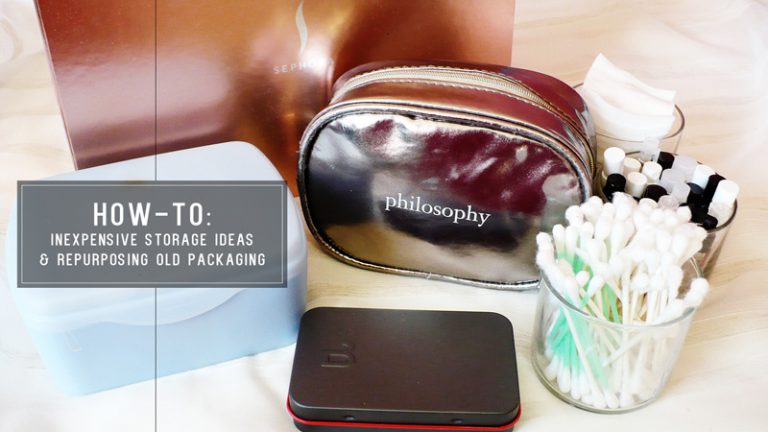 How To Make Cheap Makeup Storage Ideas.
The whole idea behind repurposing and DIY-ing your own storage system is not only for recycling purposes but also for the purpose of being environmentally friendly. Aside from the money savings, I DIY my make my own cheap makeup storage because I can customize it and if it gets dirty, throw it out! It was, afterall, cheap and practically free to make so there are no regrets there!
If I happen to change my makeup storage system, whether it be to a new drawer / dresser and whatnot, it would make any existing makeup storage obsolete! Here are a couple of my cheap makeup storage ideas – do you have any other? Share with me in the comment below!
1. Empty Candle Jars for Perfumes, Cotton Pads and Q-Tips

I don't doubt that this is probably the most popular, versatile and easiest repurposing project. Candle jars come in a variety of sizes, and are sturdy enough to keep anything organized. Here is how I use mine: storing q-tips, perfume vials so that they stand upright and organized, as well as a stash of cotton pads. I use the lid on the cotton pads so that there won't be any dirt build up on the pads that will go on my face.
2. Make Up Wipes Container & Lozenges/mint tins for Business Cards

The blue container that I have up here is from Neutrogena's Make Up Wipe refillable containers. Not sure if they have them in-store anymore, but I found it to be the perfect size to house business cards! The container is the perfect dimension for the business cards I have collected and received over time.
The other idea is using lozenge/mint tins (or in my case, the BITE Beauty 2013 Best of BITE lip pencil containers) to carry your business cards when you are going to networking events. I use mine to keep the cards crease and fold-free, plus there is a mirror inside so I can use it to check my make up as well. The BITE tin container is a great conversation starter, and is guaranteed to keep your business cards in pristine shape despite being thrown around in your bag!
3. Boxes for Samples
I have a lot of samples and the boxes from last year's Sephora Favourites Super Stars Set. When I wrote that review, I talked about how it was the perfect dimension for storage. Here is how I've been using mine, aside from keeping my vanity organized. Stash all your large samples/face masks in here so you remember to use them!
4. Make Up Bag To-Go/Emergency Kits
How many times have you found yourself in situation where you wished you had a band-aid, concealer, hair tie, hand sanitizer, pen or tissue? I have tons of small makeup bags lying around the house, and my favourite way to use it is to create make-up bag to go/emergency kits at home that won't cost a thing. Throw in your must-haves, and keep them visible in an easy-to-reach place, so that when you're changing purses/bags or rushing out the door, you'll always remember to grab them and prevent those "I wish I had…" moments. Also, why pay $15 for Sephora's Mini-mergency Kit when you can make one of your own?
Those are some very quick, simple and easy ideas to repurpose your old stuff and declutter your home.
Do you have other cheap makeup storage ideas? Share with me in the comment section below!