I've been ordering quite often from Sephora online, resulting in a rather large accumulation of sample stash in my drawer. Not to mention, I love value sets, and they often come with minis, and samples. The one thing that happens with samples is that it often gets forgotten, unloved at the back of my makeup drawers! I made up a quick system so you can use a few of these tips to organize your samples as well!
How To Organize Your Samples.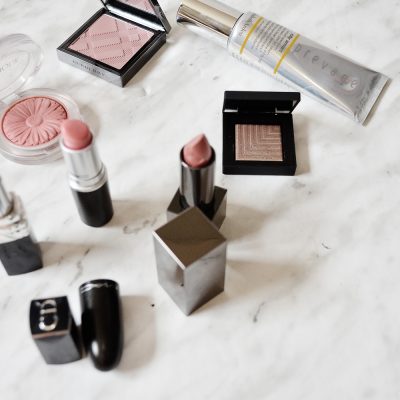 1. Candle Jars
I like to recycle old candle jars or decorative plates/utensils specifically for the purpose of storing my samples. The samples are often so small and that unless I can see them, I'll forget to get around to using them. Having them displayed prominently on my vanity helps me to actually use those samples. The small candle jars from Bath and Body Works work perfectly to store all my perfume sample vials (qtips, and more!) I can keep them standing upright with the collection I have accumulated. I use another to store some of skincare products that cannot fit on the plate. It looks so dainty and lovely sitting on my vanity.
2. Decorative Plates
I often find nice decorative plates from the Dollar Store for only $1-2 perfect for display on the vanity. Instead of leaving the plates empty, I often throw in my foundation samples so that I remember to use them.
3. Gift Boxes
When I'm at Sephora and I'm purchasing a lot items, I'll usually ask for gift boxes. They come in a variety of sizes, and the small ones are just the right size to store skincare samples and samples that come in sachets. They don't cost a thing, and they look amazing sitting on the vanity. Sometimes, I'll ask for the bigger boxes to organize my clothes in the drawers. Of course, the gift boxes don't necessarily have to come from Sephora – if you have old beauty boxes, or packaging, they definitely count. They're excellent organizational tools. The boxes from Sephora come with the flappy lids, and I usually cut them out so that they don't get in the way.
I also like to separate my samples depending on the type and what I want to test out for the moment. It may not look like a lot of samples, but it definitely adds up over time!
Now, it's your turn! How do you usually organize your samples? What are your favourite ways to make sure that they are always easily visible? Share with me in the comment section below!