Long time blog readers know that nail polishes don't often make an appearance on this blog. Nail polish application just seems to be the more high-maintenance of all beauty processes out there, and I'm terrible at keeping up a manicure beyond the first 24 hours, so this is how I usually feel when someone asks me why I don't wear nail polishes
I broke that rule when I featured the Guerlain La Lacque Couleur in Baby Rose so you know that I am a fan of the Guerlain formula. To really impress me, the nail polish formula needs to go above and beyond and allow me to do as little maintenance as possible. There tends to be a ridiculously parabolic relationship in these requirements – the better the formula, the more exponential the price is.
Rounding up the new Guerlain La Petite Robe Noire Makeup collection is the stylish set of nail polishes with 8 vibrant shades to choose from! These deliciously shiny, top-notch formula will charm you at first swipe, because it certainly swept me away and I don't say that very often!
Fortunately, the Guerlain La Petite Robe Noire makeup range is available as of April 1st, 2016 at Guerlain counters across Canada so you can check them out yourselves!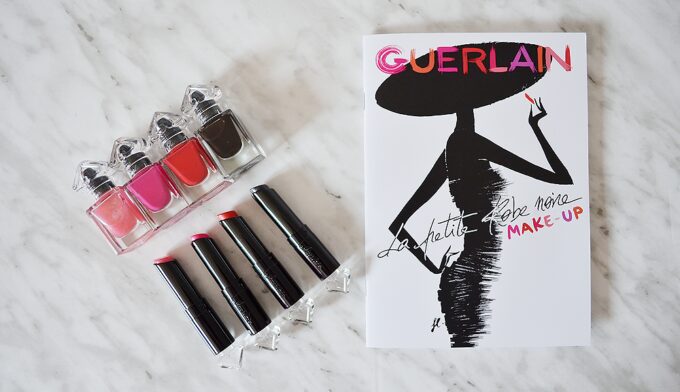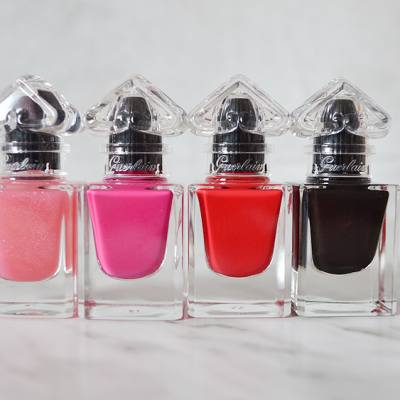 The GuerlainLa Petite Robe Noire Nail Polish ($27) collection has 8 vibrant shades that correspond to the lipstick shades should you ever feel like matching your nails to your lips. These statement-making colours are well-thought out and doesn't compromise on the wear, hold, and application. How do I know this? Well, I do a lot of house work (because I seriously secretly really enjoy cleaning!) so my nail polishes will always start chipping by day two. It doesn't help that I do a slap-dash job (and skip all those processes like buffing my nails ahead of time) with my nail polish application either. For this formula to hold it together by day five is really impressive, and certainly unique for me!
The GuerlainLa Petite Robe Noire Nail Polish has a shiny lacquer finish (even without a top coat) and hold really well on the nails, regardless of the basecoat you use. You want some proof? I use the essence cosmeticsgel nail polish base coat the first time on one hand, and did not have a base coat on on the other hand, and both held up really well. Even without a top coat, the finish is shiny and true to the bottle.
Nail polishes are notorious for being really bad-smelling. The Guerlain La Petite Robe Noire Nail Polish has that noticeable nail polish scent when it is first applied, however the difference (and price premium you're paying) comes in after the solvent evaporates post-application. You are left with the sweet fragrance of berries and petal accents in line with the original La Petite Robe Noire's original accord which holds up up to 24 hours. I thought this was so unique, and you can keep up the process by adding another layer of colour to keep the scent going should you wish.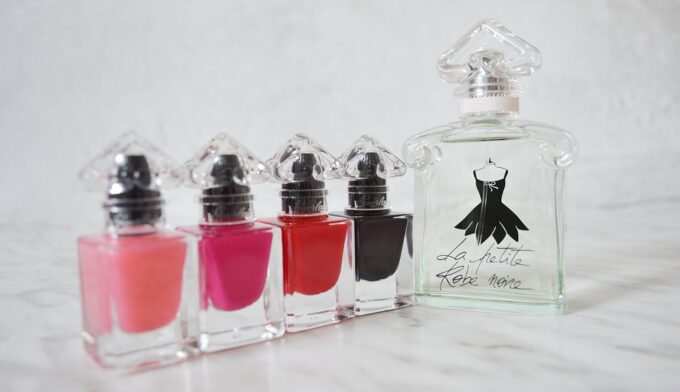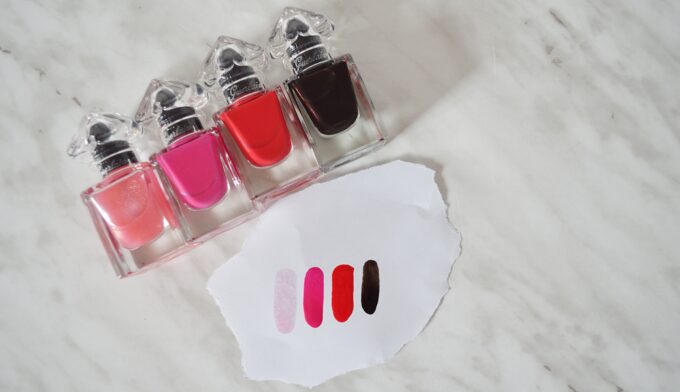 With 8 irresistible colours and a top and base coat to complement the colours, there is something for everyone. The colours include the 4 must-have shades (just like the four must-have lipstick shades) which is universally flattering across different skintones. Formulated with a special resin that promotes longetivity of wear, this is a unique range of nail polishes that isn't too outrageously expensive and worth the investment!
We've previously talked about how much of a eye-catcher this packaging collection is, and the nail polish bottle design is just as luxurious as the lipsticks and original perfume bottle! The lid has the iconic upside-down heart design that gives it is immediate distinction of belonging in the House of Guerlain. At the neck of the bottle is the signature silver Guerlain signature, adding that touch of ultimate couture detail!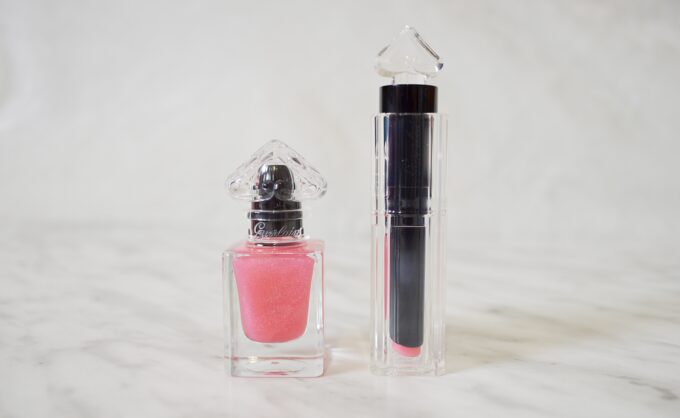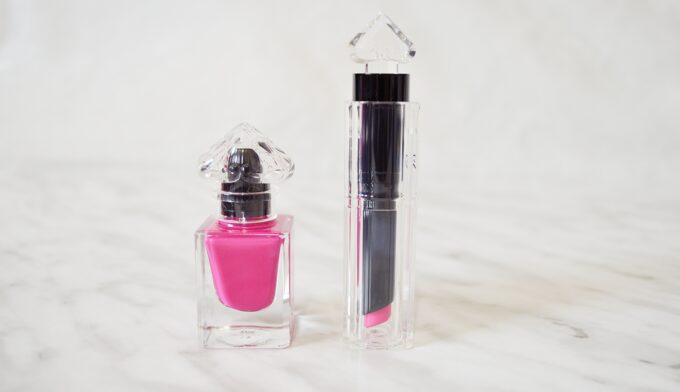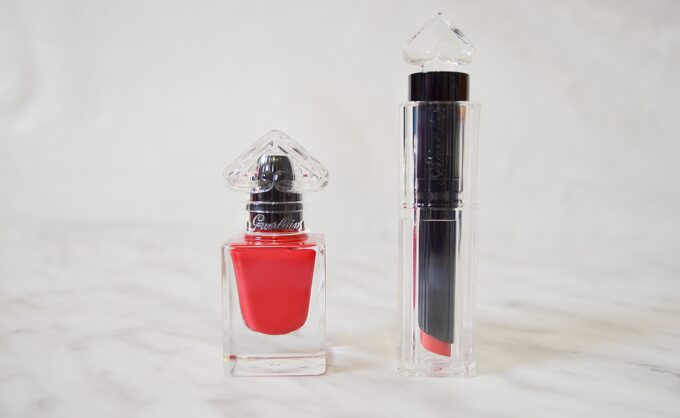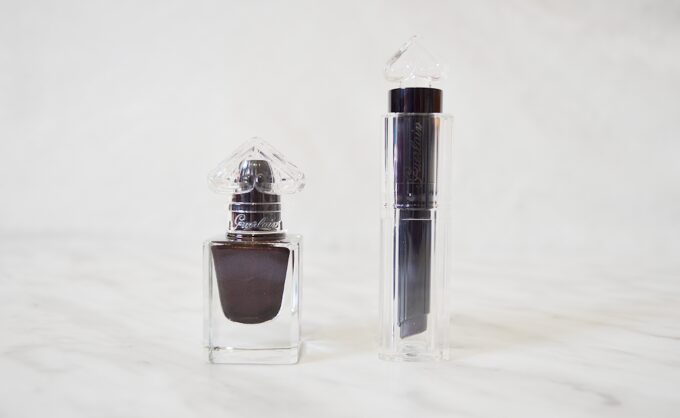 If I had to pick just one (maybe you'll let me recommend two?) colours to splurge on, I would go for #007 Black Perfecto! This unique dark-purple black nail shade is really fun to wear, and I love it when my nails catch the lights because it just transforms completely! With just one swipe of the brush, you get a really pigmented, and full-coat effect so you don't have to keep going over it again and again.
I love that you can easily layer #001 My First Nail Polish over the other colours if you don't want to wear it on its own!
What do you think of the new Guerlain La Petite Robe Noire Makeup range? Which shades are you most excited about?
---
Disclaimer:
This post features product(s) provided for editorial consideration. All opinions are my own. For more information about my review policy, please
click here
.
---